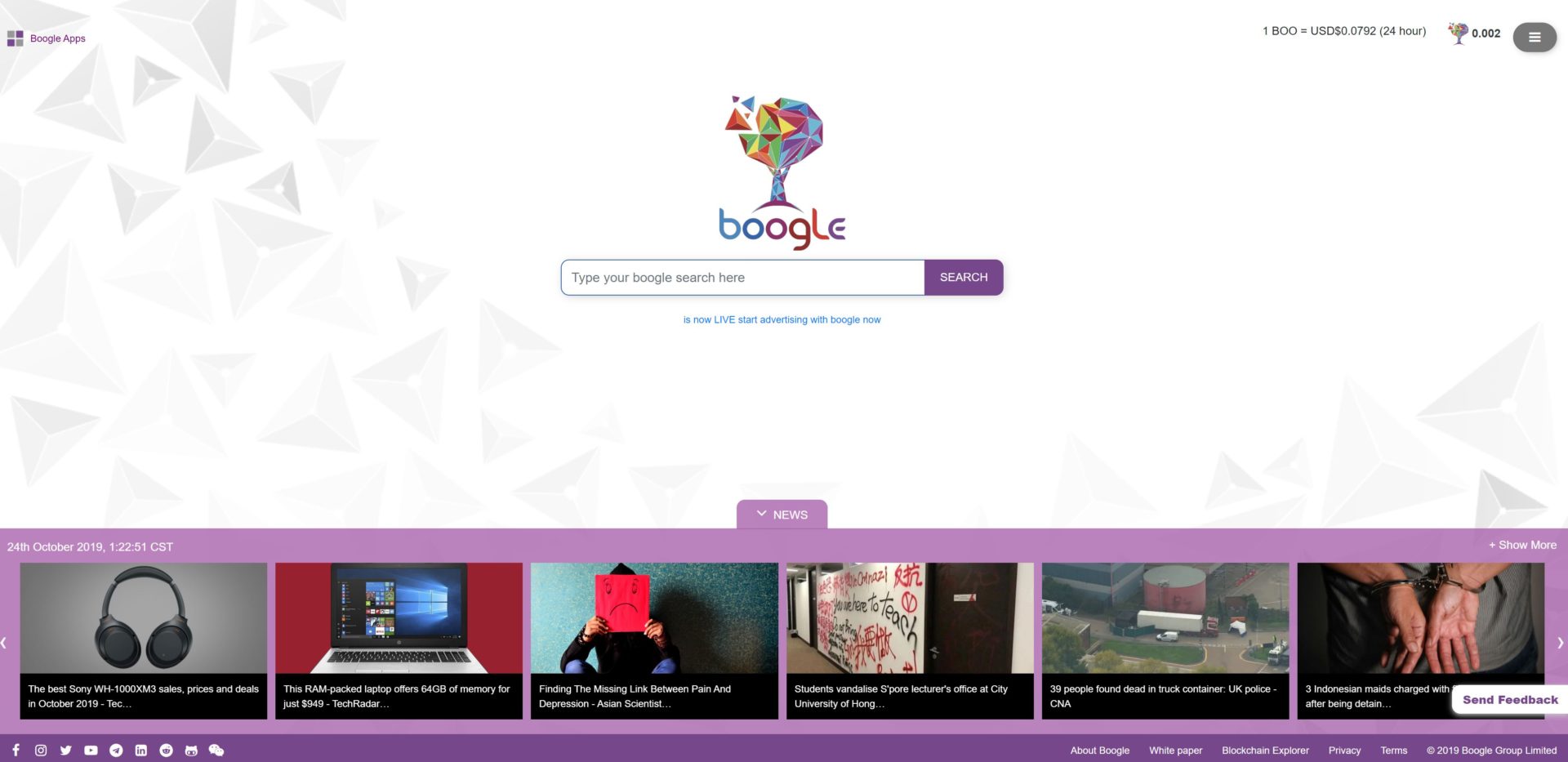 Boogle is a blockchain powered search engine that plays a cheeky tongue-in-cheek to it's primary competitor, "Google". The name Boogle is a combination of the words "Blockchain" and "Google". Currently the search engine is focused on Asian markets as the company is established in Singapore.
The Singapore based company, Boogle Group Limited is adding security and privacy by default to all searches. This is a direct response to Google's failure to address privacy issues, where data breaches in the past has lead to broken consumer confidence. The search engine is also making a firm stance on net neutrality – preventing big companies from monopolizing search results. In addition, users are rewarded for using searching via the Boogle Token ($BOO).
Will Blockchain improve search results?
"Boogle seeks to create a search engine built on a decentralized platform like blockchain which is secure, network-neutral and free from monopoly by any Internet organization"

Patrick Lee, CEO of Boogle
The key selling point of Boogle is that it uses blockchain technology to improve search results and reward users on the platform. Users can sign up to the platform by generating a private key (giving complete access to their account and funds). Users are then rewarded with BOO tokens, a valuable cryptocurrency as a reward for using the service.
Reward for simply searching?
We tried out the Boogle rewards program and during our one week of usage, we were rewarded 0.82 BOO (roughtly $0.064 USD, as of 24th October 2019). Admittedly this isn't a huge reward. We'll observe the platform over time as the search engine matures and gains advertisers (a key part of their revenue model).
Can Boogle win over an over-crowded Space
Internet search is a trillion dollar business, with major competitors like Google, Baidu, Bing and Duck Duck Go. In recent years, Microsoft has also employed an incentive drive promotion strategy via "Bing / Microsoft Rewards" with a luke warm reception. In order to succeed in the search industry, Boogle must be able to prove that it can deliver the results that people want.
Can Boogle deliver Results?
Will you sacrifice Better results for blockchain Rewards?

Benson Chan, Author
Doing a full scientific study of search engine results is difficult, as the search behavior of each user is different. We asked our contributors to do their daily search on both Google and Boogle and tabulated the results over a week. Here are our findings:
| | | |
| --- | --- | --- |
| | Boogle | Google |
| Relevant Material Found | 84% | 96% |
We found that Boogle only gave a 84% successful search result over our 1 week test, whilst Google scored higher at 96%. This means Google is still king for research and search relevancy. We'll be interested to see how this compares over time as Boogle gains more search data and user behavior.
Verdict
Boogle Review Score: 3.8/5
We give Boogle a 3.8/5 as our final rating for the search engine platform. We like the privacy options and VPN feature, this greatly improves user privacy by removing tracking. The idea of giving a cryptocurrency to reward active users to be novel, but the amount given isn't substantial. We hope search relevance improves over time as the platform garners more users.