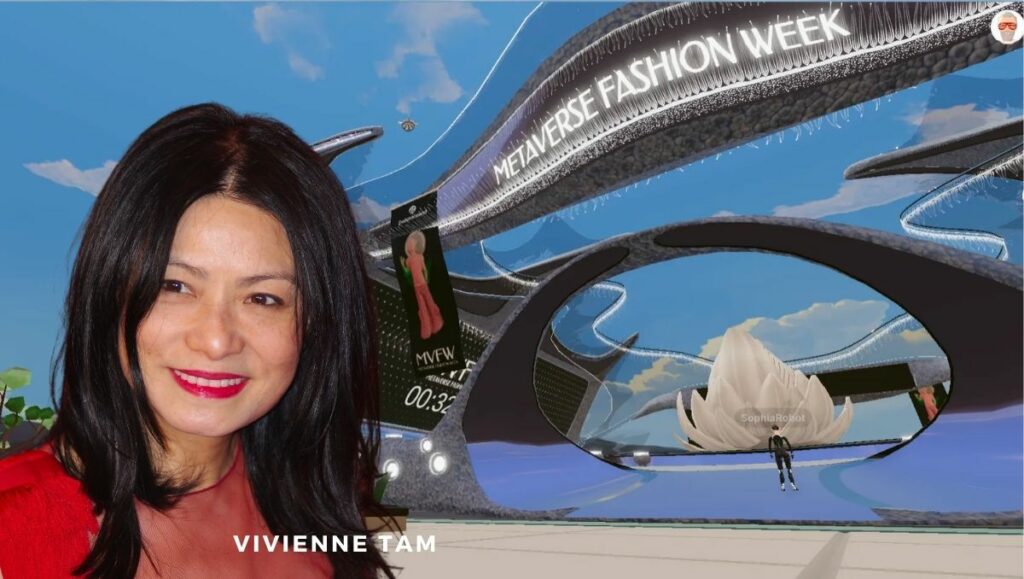 Over the last three decades, Chinese-American designer Vivienne Tam has made a name for herself with her groundbreaking East-meets-West fashion designs, which have been granted a place in the permanent collections of both the Andy Warhol Museum in Pittsburgh and New York's Fashion Institute of Technology. In recent years, however, the fashion world has been thrust into the virtual realm, and Tam has joined other designers from around the globe to explore the possibilities of the decentralized world of the metaverse. This year, Tam is taking part in the second-annual Metaverse Fashion Week and her unique Web3 debut is causing a stir on the virtual runway in Decentraland. Herpiece, a virtual qipao dress digitalized embroidered with the likenesses of three avatars from the popular Bored Ape Yacht Club NFT collection in a mandala pattern, is a one-of-one NFT.
The other designers participating in the event were tasked with creating digital versions of their classic pieces, but Tam used her knowledge of both physical and digital fashion to create an design that was entirely new and relevant to the Web3 space.
"Being able to bring harmony, heritage and my history to something so new is exciting," Tam told Decrypt. "But it's not just about being new. It's being a bridge from old to new, from East to West, from nature to digital."
The stunning fashion piece was purchased by Cathy Hackl, Chief Metaverse Officer at Web3 consultancy Journey and so-called "godmother of the metaverse". Hackl believes that virtual fashion should be focused on creating unique, one-of-a-kind pieces that are memorable, iconic, and exclusive.
"I wasn't just getting an NFT," Hackl told Decrypt of the purchase. "It's a moment in fashion history living on-chain," she said.
Brand New Vision (BNV) was tasked with converting Tam's design into a digital wearable compatible with the particular visual style of Decentraland, where many of the Metaverse Fashion Week's events take place. Richard Hobbs, CEO of BNV, noted that while there were tradeoffs with the adaptation, it would allow the design to reach a wider audience.
"Even though it isn't as high-resolution as the first edition, the point is for people to engage with the fashion," said Tam. "There are tradeoffs, but now it might reach more people. That's more democratic."
Web3 fashion has been steadily picking up steam, with companies and brands working to bridge the gap between physical and digital fashion. This has included experiments in digital tailoring and NFTs, sustainable and ethical solutions to traditional fashion's environmental problems, and other innovative technologies like NFC chips that expand the reach and discoverability of virtual fashion.
An added benefit of virtual couture, of course, is that it can be appreciated by a far greater audience than that of physical fashion. Indeed, Web3 couture offers the opportunity not only to express the singularity of the designer's original pieces, but also to share them with a much larger audience, who then have the opportunity to enjoy and experience the beauty of the design in their own way.
The Metaverse Fashion Revolution is only just beginning, and Vivienne Tam's debut piece is proof of the exciting possibilities that the virtual realm can offer to the burgeoning fashion world. From combining traditional craftsmanship and Web3 technology, to reaching a larger and more diverse audience than ever before, metaverse fashion is about to become something truly special.