YoBit is a cryptocurrency exchange launched in 2014 and is one of the oldest in the market. YoBit's philosophy is to keep things simple. The Exchange only offers spot trading on its relatively intuitive and uncomplicated platform. The exchange is popular around the world, with an especially large community in Russia and Europe. However, YoBit does offer some unique non-trading related features such as investment plans, a dice game, and ongoing opportunities for users to earn free cryptocurrencies.
Registered in Panama as YoBiCrypto Corp, the Exchange was the creation of a group of European developers with a passion for cryptocurrencies. According to CoinMarketCap Yobit has a trading volume of more than USD$50 million every 24 hour
In this review, we look at the various features of YoBit exchange and give users a guide on how to get started. We also look at whether YoBit is a reliable and safe choice for cryptocurrency traders in 2020.
Key Features
No frills approach: YoBit distinguishes itself from its competitors by being simple. This notion of simplicity can also be seen in its interface. Once you log in all the necessary features and information is displayed clearly and is easily accessible in 1 click.
No KYC required: No KYC procedures are required for registering an account and they do not collect any data from users. The Exchange's aim is to protect users' anonymity and respect their privacy and confidentiality. New users can register with their email and start trading within minutes.
Unique features: In addition to spot trading, the Exchange has unique features such as InvestBox, a dice game, FreeCoins, "YoPony" and collaboration with CryptoTalk forums, etc.
Let's take a look at their major unique features in turn.
InvestBox- a simple how-to guide
According to YoBit, InvestBox allows users to grow their portfolio and potentially earn from 0.1% up to 7% per day. The purpose of InvestBox is to bridge the gap between cryptocurrency traders and developers by helping the latter popularise their coin, and so traders can benefit from its popularity. The Exchange claims that payments from these plans are from a special fund which is replenished from commissions earned by the Exchange. Users can withdraw their funds from the plans at any time and withdrawals are not subject to any commissions payable to the Exchange.
Plans differ in terms of what coin you can earn, the minimum investment amount and time required, and the actions required to obtain the payments. As seen in the below image, each InvestBox plan has its own "rules" as follows:
Coin: The type of cryptocurrency to be invested
Percent: The percentage you will get
Period: When you will get your payments e.g. daily, weekly etc.
MinInvest: Miniumum investment required
MaxInvest: The maximum you can invest
Action: What actions are required to get the payments. Taking YOMI in the below image as an example "YOMI/BTC: 10 buy trades + no YOMI sells + BTC: 10 ds" means that users: (1) must buy YOMI tokens 10 times on the YOMI/BTC market; (2) cannot sell their YOMI tokens until payment is received; and (3) play the DICE game 10 times (though it doesn't matter if you win or lose).
Status: Whether the plan is active or not.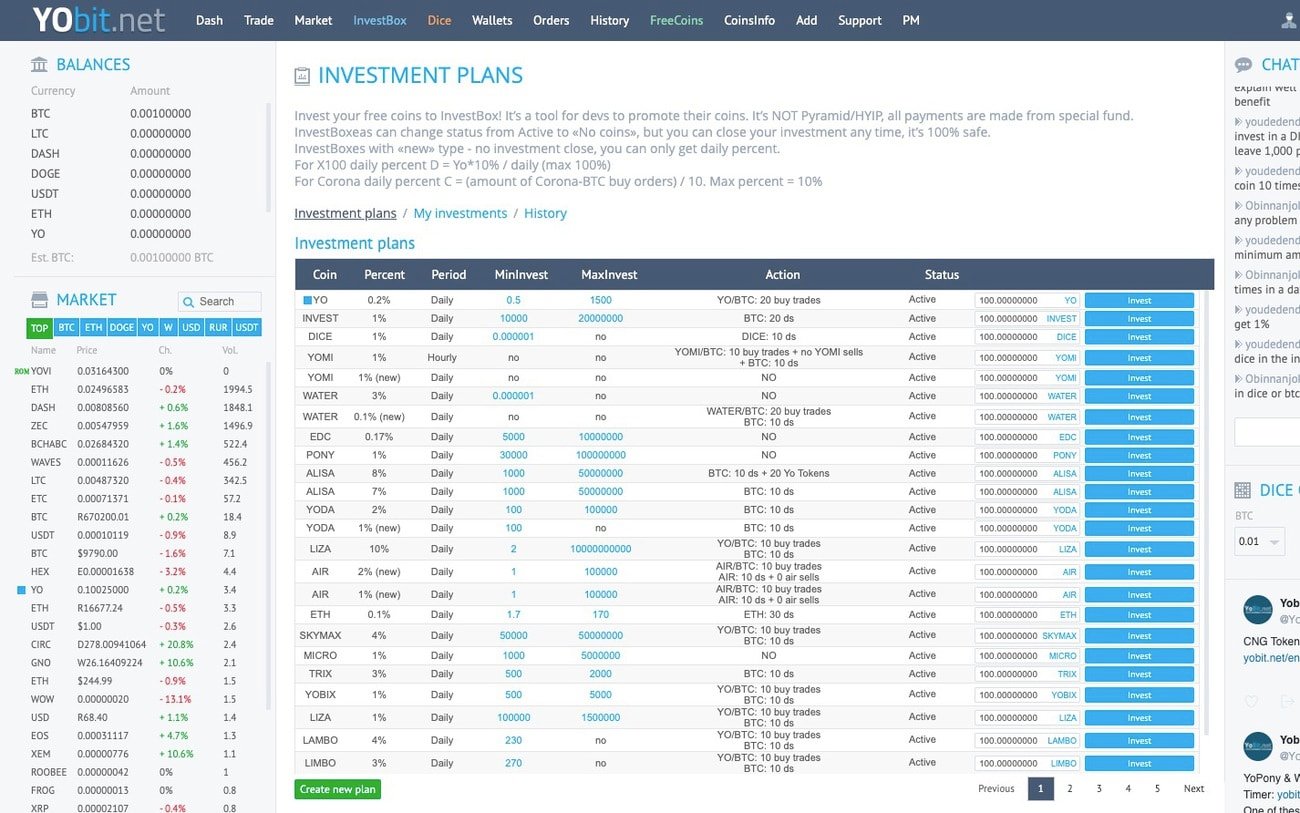 Dice game and YoPony
A popular feature on the Exchange is their dice game where users guess if an upcoming dice roll is going to be less than 48 or more than 52. As mentioned in the InvestBox section, some plans may require users to play this game for a specified number of times. YoPony is a crypto racing game, where you guess which horse will win a race.
FreeCoins- how to earn cryptocurrencies on YoBit
To encourage more people to trade on YoBit, the Exchange gives out free coins for users who share the Exchange on social media. All users need to do is to choose which free coin they would like to get and click "Get free coins".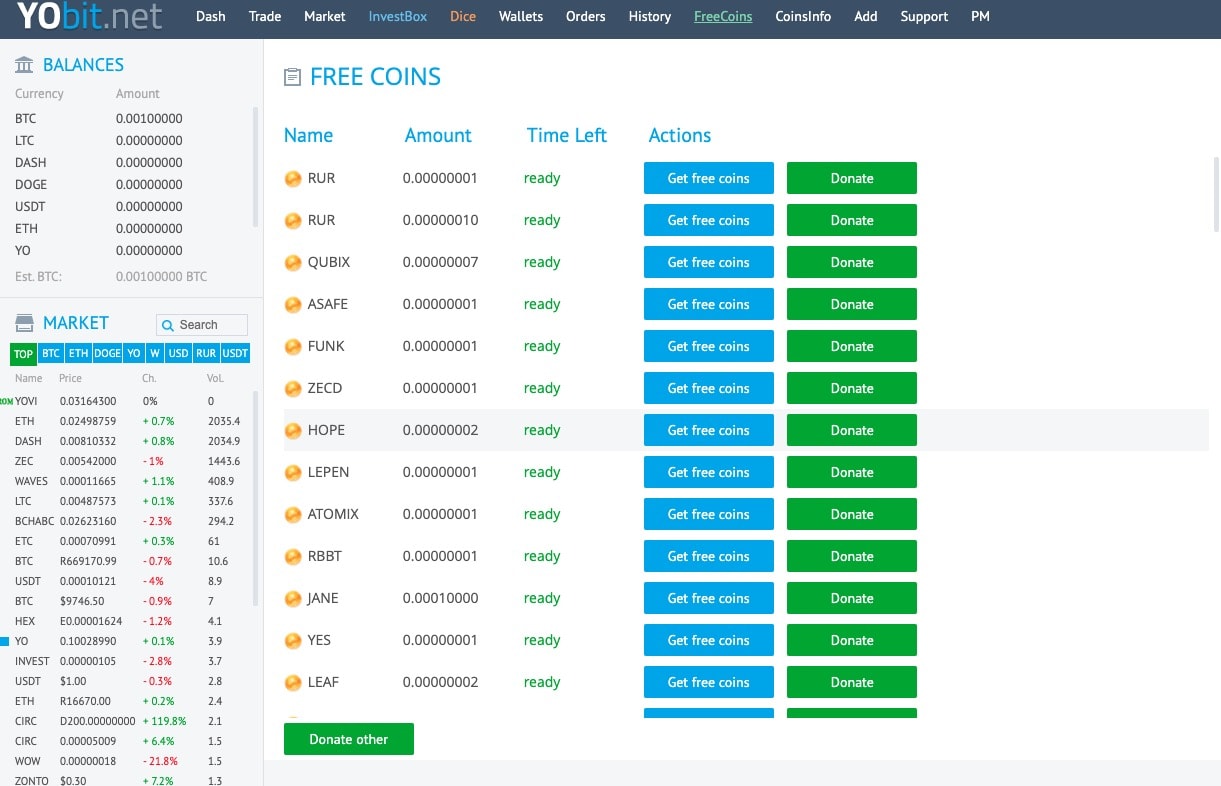 Then in the pop-up window choose whether you want to make your post on Twitter, Facebook or Vkontakte. You will then automatically be directed to your social media website to put up the post. Afterwards you will need to paste the link of your post into the address bar and press "Check" so that YoBit can verify you have posted.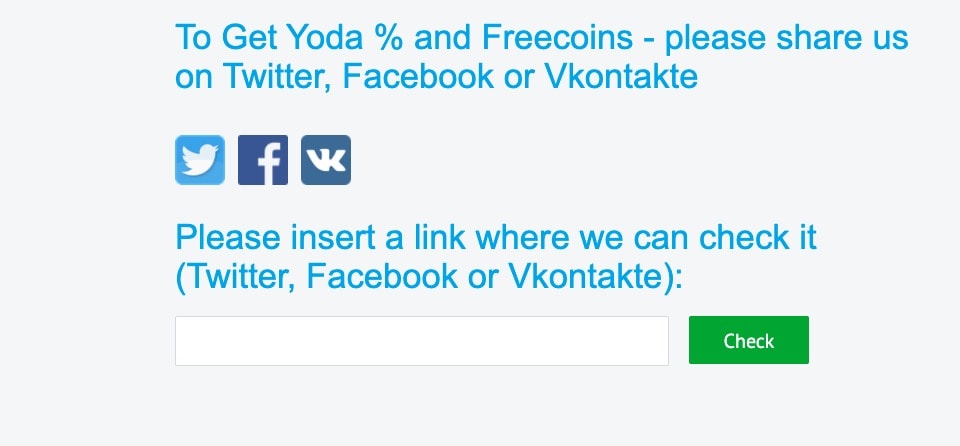 YoBit CryptoTalk campaign- another way to earn free cryptocurrencies
Yobit also has reward campaign with CryptoTalk.org, a cryptocurrency forum where people can earn Bitcoin by engaging in discussions. YoBit will reward users with 0.00001 BTC per post, for up to 30 posts per day. Once you have posted, you will need to enter your CryptoTalk UID into the CryptoTalk campaign page for your posts to be verified. After verification by the moderators on the CryptoTalk forum, rewards will be given to eligible posts and you will be able to send this directly to your BTC balance on the Exchange.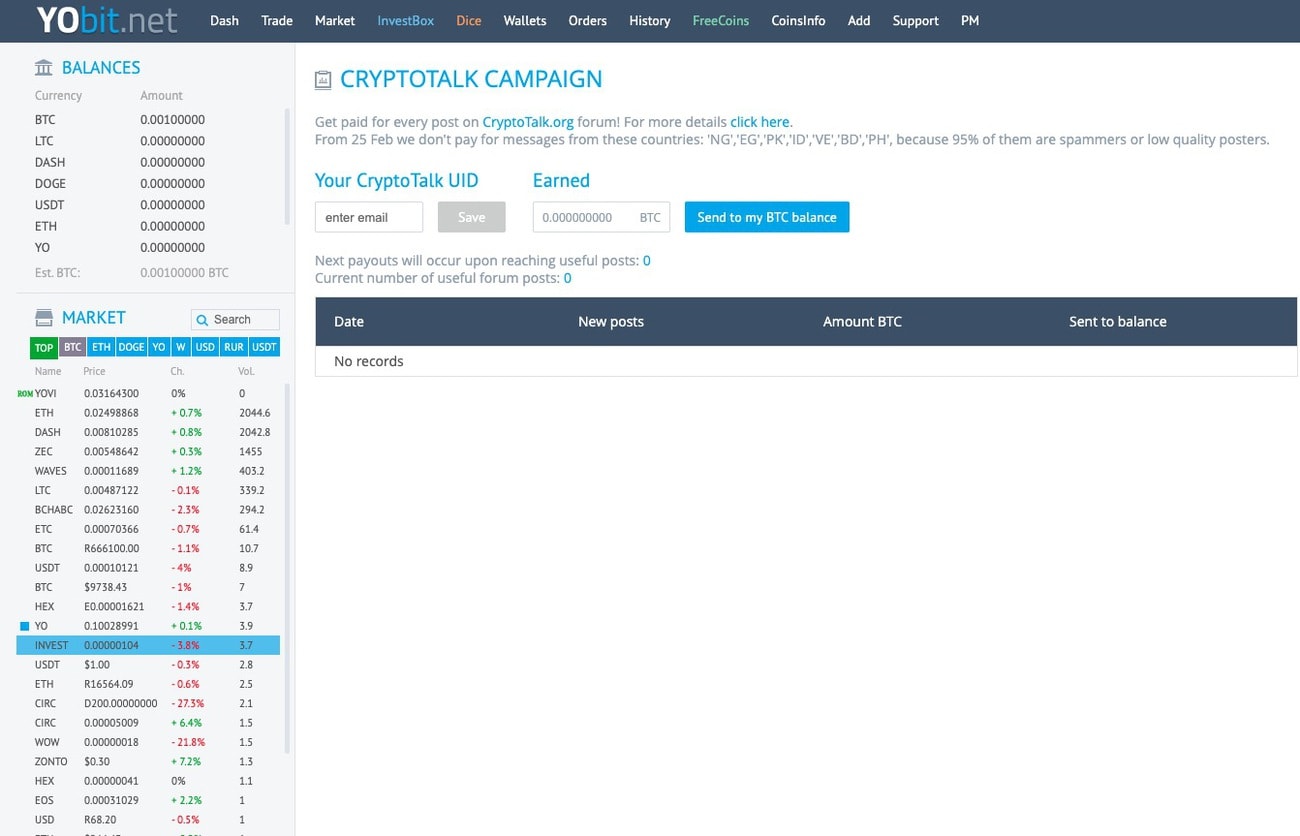 Supported cryptocurrencies
YoBit offers trading for over 442 cryptocurrencies, more than twice as many as competitors such as Binance exchange. These include some altcoins which are relatively unknown, potentially making it one of the only options available for serious altcoin traders.
What also makes YoBit exchange stand out is its number of trading pairs available. It has more than 4,600 trading pairs making it the most trading pairs of any exchange in the market according to CoinGecko.
Supported currencies and payment methods
YoBit accepts both USD and RUB (Russian Ruble). As for payment methods, the Exchange accepts Visa/Mastercard, AdvCash, Payeer, Perfect Money, Capitalist, Yandex and cryptocurrency deposits.
YoBit Fees
Deposit and withdrawal fees
Deposits onto the Exchange are free of charge for most major payment methods such as Visa/Mastercard or cryptocurrency deposits. For withdrawals however the fees can range from 0.0005 for cryptocurrencies, to 7% (USD) using Payeer or USD $6 and 5% using credit cards.
Here's a list of YoBit's deposit and withdrawal fees.
Trading fees
YoBit charges 0.20% for every buy and sell order on the Exchange. Compared with its competitors, this is generally average. Some exchanges such as KuCoin or OKEx charge a bit less at 0.10%, whilst other exchanges such as Coinbase Pro charge a lot more at 0.50% plus other fees.
Supported countries
The Exchange is available to users from all around the globe, including the USA. To cater for its international clientele, the Exchange supports English, Russian and Chinese languages. One of their unique features is its live chat in the sidebar where you can chat with other traders in real time. The live chat is available in English, German, Arabic, Chinese and Russian.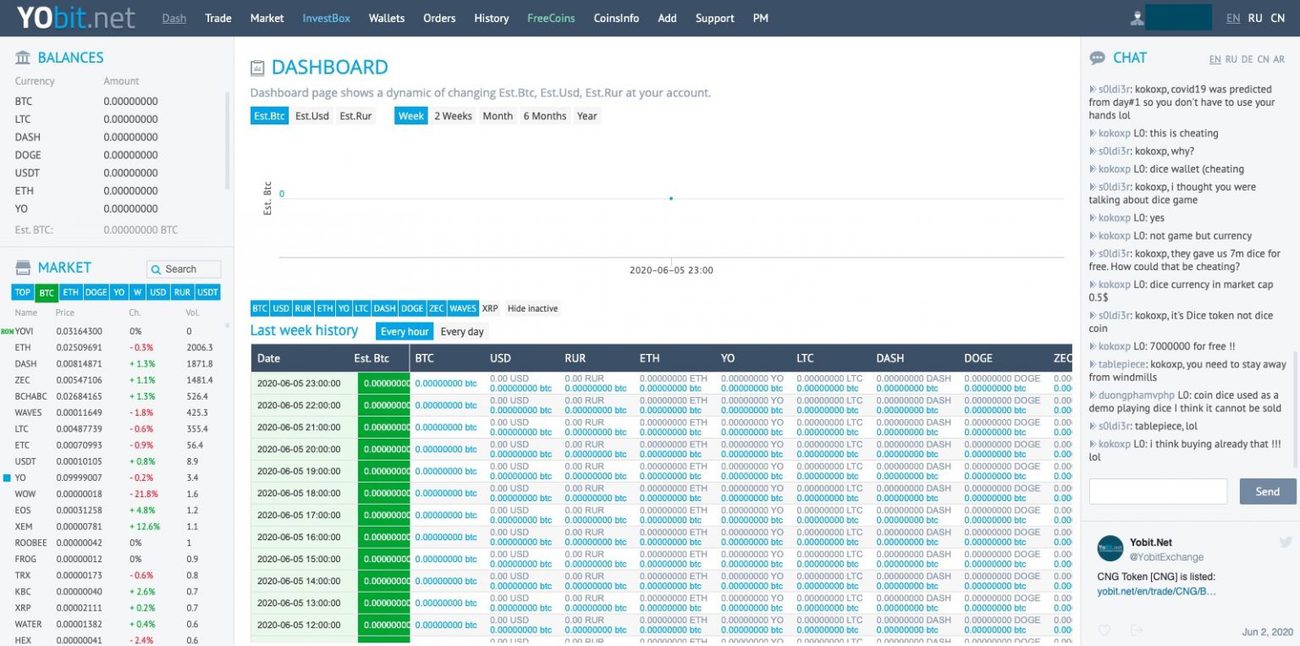 Security- Is YoBit safe?
YoBit has a good track record of no hacks in the 6 years it was launched. The Exchange has the following features to protect its users.
Email login confirmation: After logging into the Exchange, they will send you an email letting you know you have successfully logged in together with details of your login such as your IP address, location and login time. This means you will be notified if someone else has wrongfully logged into your account.
2-Factor Authentication (2FA): Users can set up the Google Authenticator app on their phones to be used with the Exchange. So when a user makes a deposit or withdrawal, they would also be required to type in a one-time password to complete the request.
Freeze withdrawals: A unique feature, the freeze withdrawals function can prove to be very useful if you suspect your account has been hacked. In the Settings page, you can select "Freeze withdrawals from my account (I suspect hacking)". Upon selecting this option, any withdrawals from the Exchange would be frozen and users can only enable withdrawals again by going through customer support.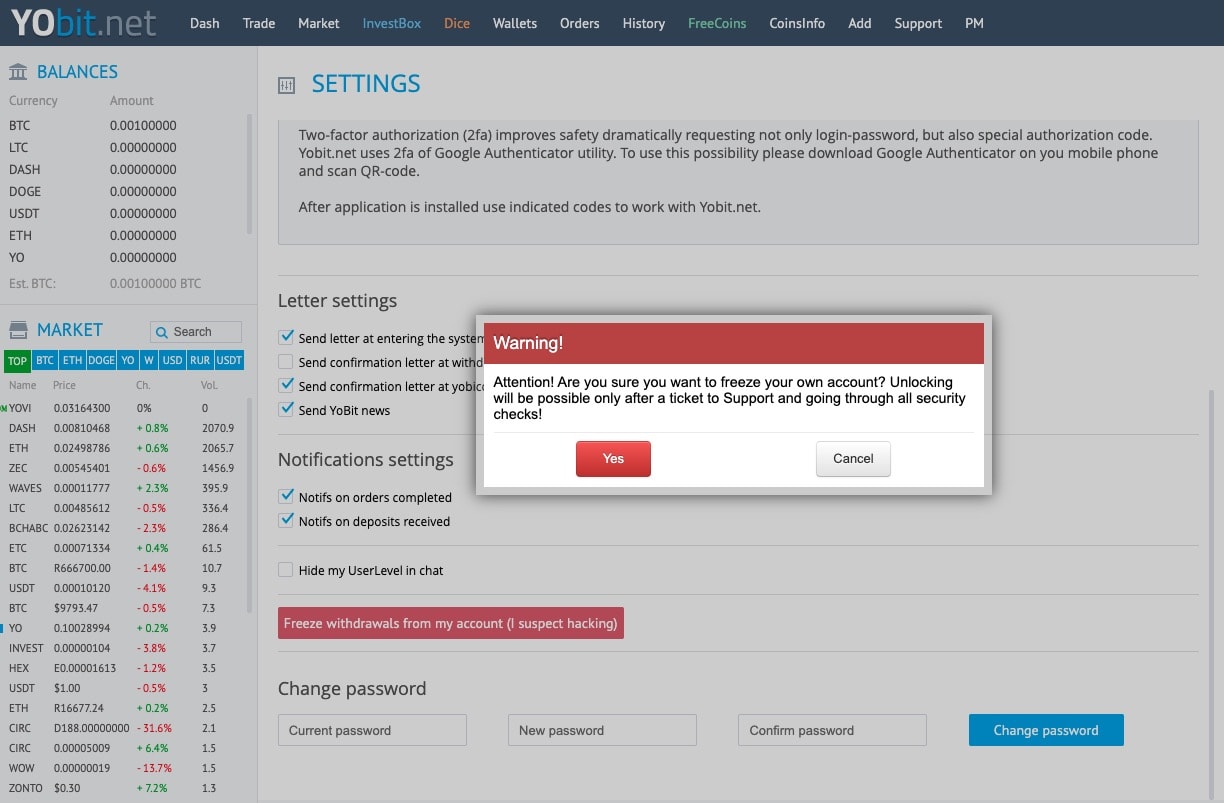 Insurance fund: In the Support page, there is an option to request compensation from an insurance fund.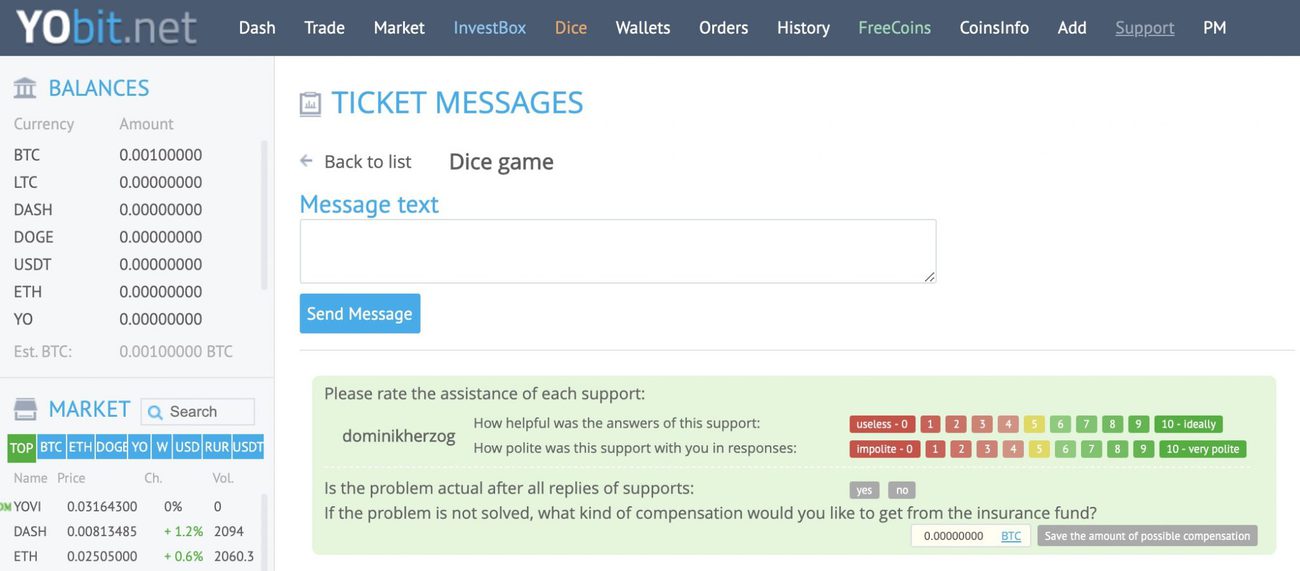 Not many details are known about the insurance fund. But from our research, the Exchange did suffer a 51% attack in January 2019 and according to YoBit, the losses suffered were covered by the Exchange's insurance fund.
User Experience
The Exchange really takes it to the next step with its simplicity. So much so that there are virtually no tutorials or instructions available on the Exchange or elsewhere. So if users are confused about the Exchange's features and functions, they will have to look up external websites, figure it out themselves or ask the active and helpful YoBit community. However since the interface is very simple very self-explanatory, most experienced traders should be able to master using YoBit fairly easily and maybe come to appreciate its no-frills approach.
How to register for a YoBit account
Registration is staightforward. On YoBit's main page, simply click "Registration", fill in the form and click "Register".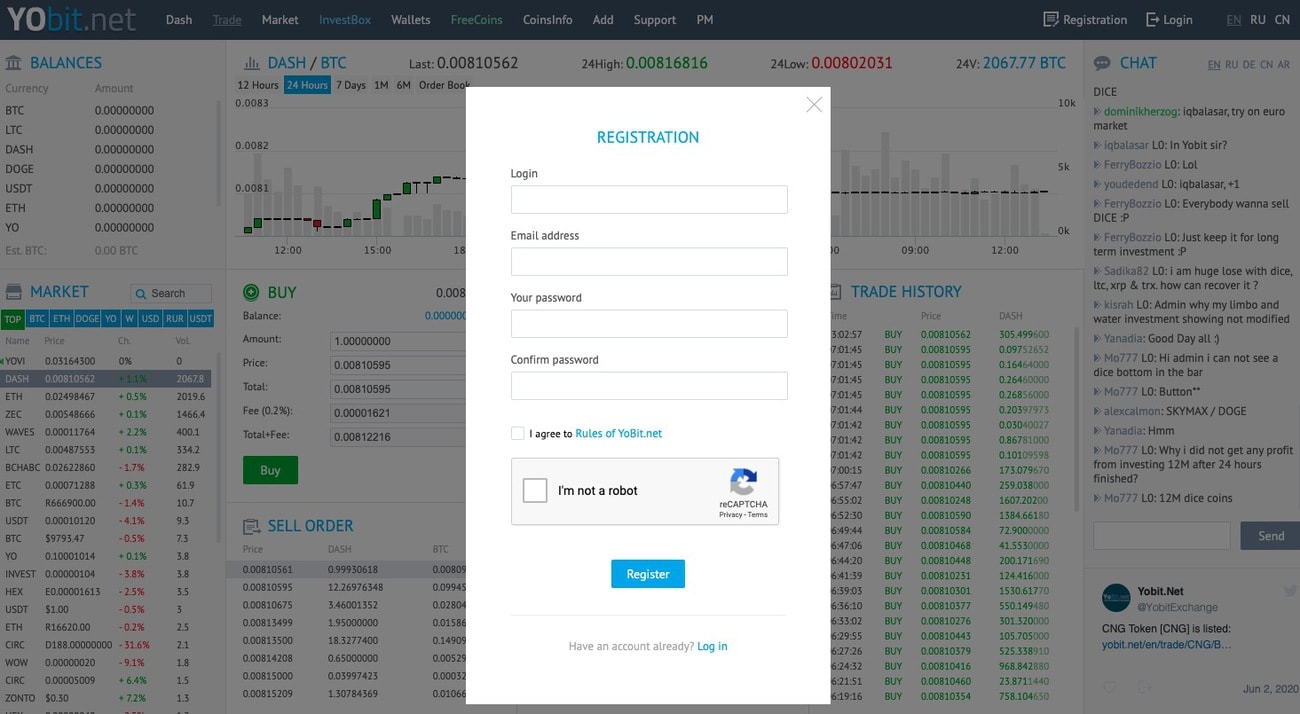 Afterwards you will receive an email asking you to click on their link to activate your account. On the webpage, select "Activate" and you are all set!
The registration process was very simple and we were able to register for an account in less than 10 minutes.
How to deposit and withdraw cryptocurrencies on YoBit
Deposits
On the top bar, click "Wallets" to view your balances. Choose which coin to deposit and click "+". A popup window will appear showing your cryptocurrency address and a QR code. From there either enter the address or scan the QR code with the wallet you want to send from.
Withdrawals
Withdrawals on YoBit are just as simple. Click on the "Wallets" page on the top bar, choose which coin to withdraw and click "-". A popup window will appear for you to fill in your withdrawal address and the quantity you wish to withdraw. YoBit will automatically calculate the withdrawal fees payable and show the amount that the recipient will actually get. Then click "withdrawal request".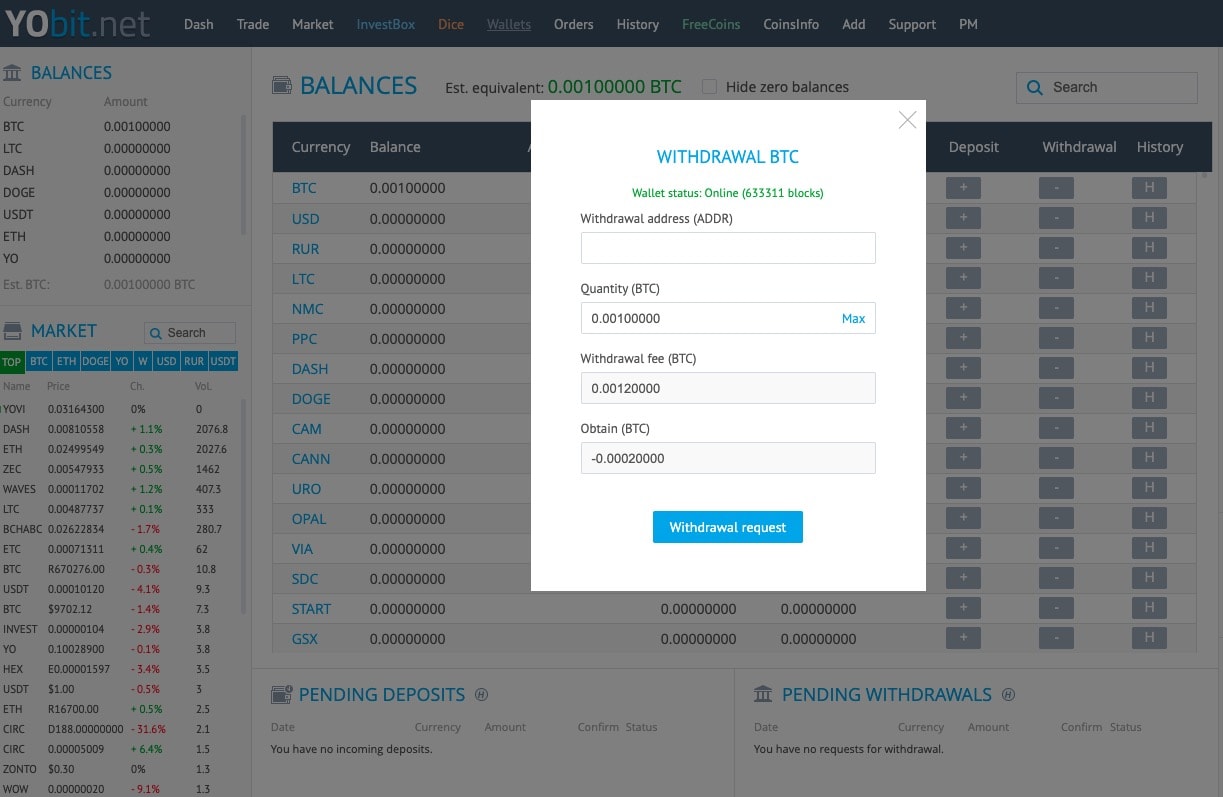 Customer support
YoBit has encountered some controversy with users complaining that the Exchange is slow to respond to requests on their support page. From using the Exchange we can see that they have taken this comment on board and tried to make improvements. YoBit customers can get support through the following means:
Send a customer support ticket on their Support page;
Ask the community on the live chat on the Exchange's sidebar;
On their telegram chat, PM an admin or ask in the main page; and
Contact their official support account @YbtSP on Telegram (currently in test mode).
To test out their customer service, we tried asking for help using all the methods mentioned above. We got a response from the Support page in under 10 minutes, which is quite impressive. We also got replies from other YoBit users on the Telegram community and the live chat who were all very helpful.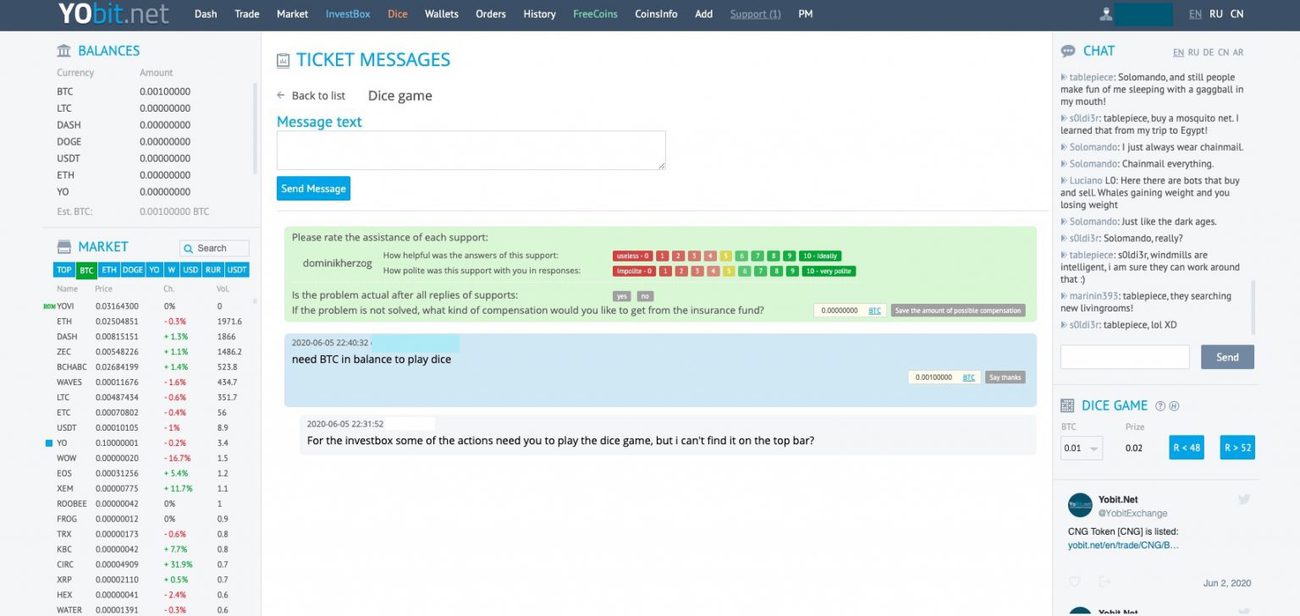 Conclusion: Is YoBit a safe and legit exchange?
YoBit certainly does live up to its repuation of keeping things simple. Here's some pros and cons of the Exchange based on our research and user experience.
Pros
Compared with other exchanges, they have a long history and a track record of no hacks.
Signup is simple and can be done in 10 minutes.
Clean and relatively intuitive interface.
Huge number of trading pairs making it a good option for serious altcoin enthusiasts.
Very responsive customer support.
Cons
Only offers spot trading and other non-trading related functions such as InvestBox or FreeCoins.
Virtually no information about themselves or tutorials on their website. We had to find information about the Exchange from external sources, or figure it ourselves.
All in all, YoBit is suited for users who have at least some experience with cryptocurrency trading or serious altcoin enthusiasts. YoBit does have a good security record with the usual security features expected of any legitimate exchange. YoBit is certainly an exchange worth looking into.
Frequently Asked Questions (FAQs)
Where can I find YoBit on social media?
YoBit can be found on Twitter and Telegram, where they have one of the largest communities with over 77,000 members on their English channel. The Exchange also has a Russian Telegram channel.
Can I find any other reviews on YoBit exchange?
Websites such as Trustpilot, Blocknomi and Cryptocompare have also written detailed reviews on YoBit's features and functions.
Disclaimer: Cryptocurrency trading involves significant risks and may result in the loss of your capital. You should carefully consider whether trading cryptocurrencies is right for you in light of your financial condition and ability to bear financial risks. Cryptocurrency prices are highly volatile and can fluctuate widely in a short period of time. As such, trading cryptocurrencies may not be suitable for everyone. Additionally, storing cryptocurrencies on a centralized exchange carries inherent risks, including the potential for loss due to hacking, exchange collapse, or other security breaches. We strongly advise that you seek independent professional advice before engaging in any cryptocurrency trading activities and carefully consider the security measures in place when choosing or storing your cryptocurrencies on a cryptocurrency exchange.