The increasing popularity of cryptocurrencies has led to the emergence of numerous crypto exchanges, making it challenging to find a reliable platform with essential features, necessitating a detailed Upbit review. The Upbit review will evaluate the cryptocurrency exchange's quality by examining various aspects and provide an overview of the company's objectives, followed by instructions on creating an account.
Sign up here to get started
What is UPbit?
Upbit, a South Korean crypto exchange founded in 2017 by Song Chi-Hyung, one of South Korea's richest men, has become one of the leading cryptocurrency exchange platforms in terms of 24-hour trading volume. With the help of Bittrex, an American crypto exchange platform, Upbit was able to launch successfully and within two months of its launch, it had already become a major player in the crypto market. Upbit offers a secure and reliable platform for users to trade cryptocurrencies, making it a popular choice for crypto traders.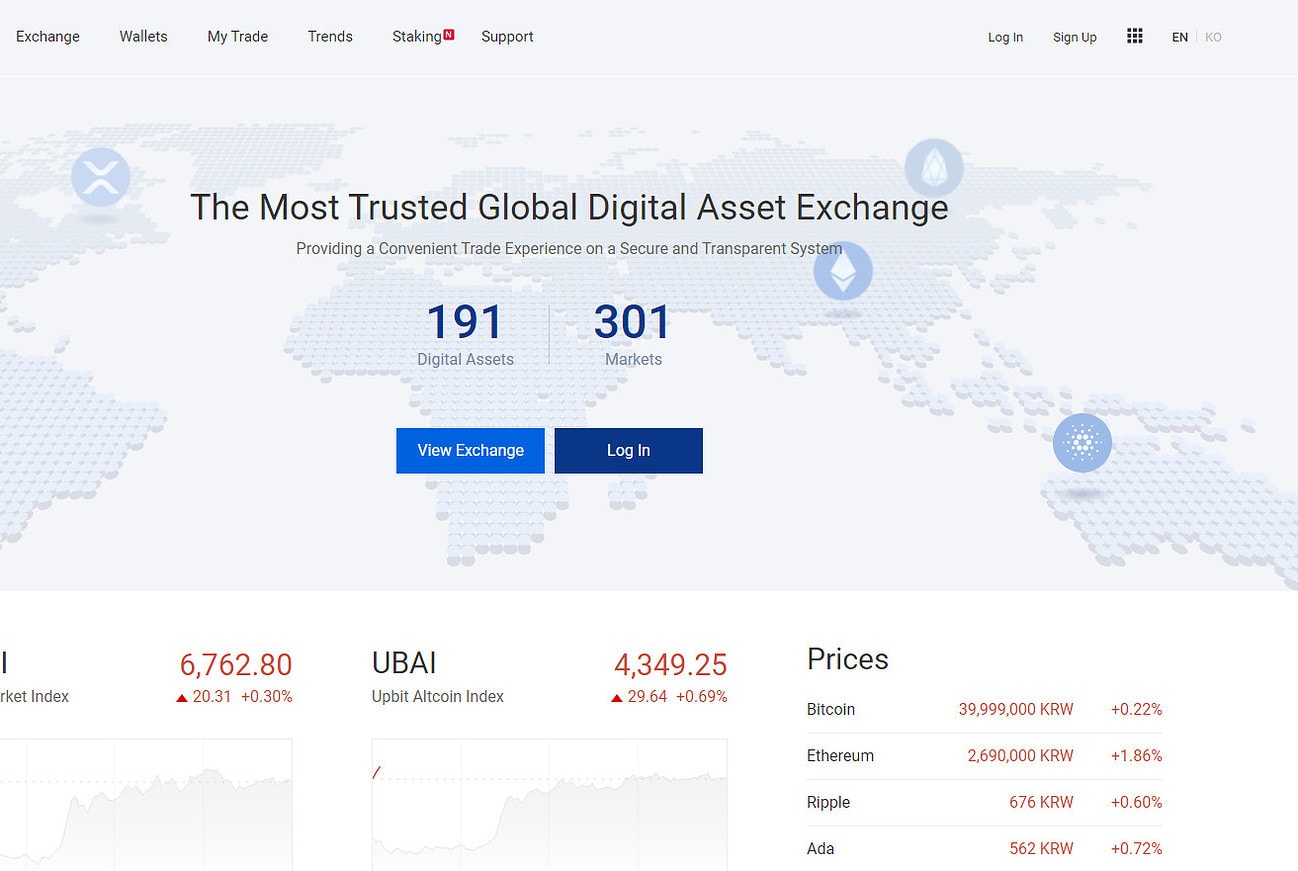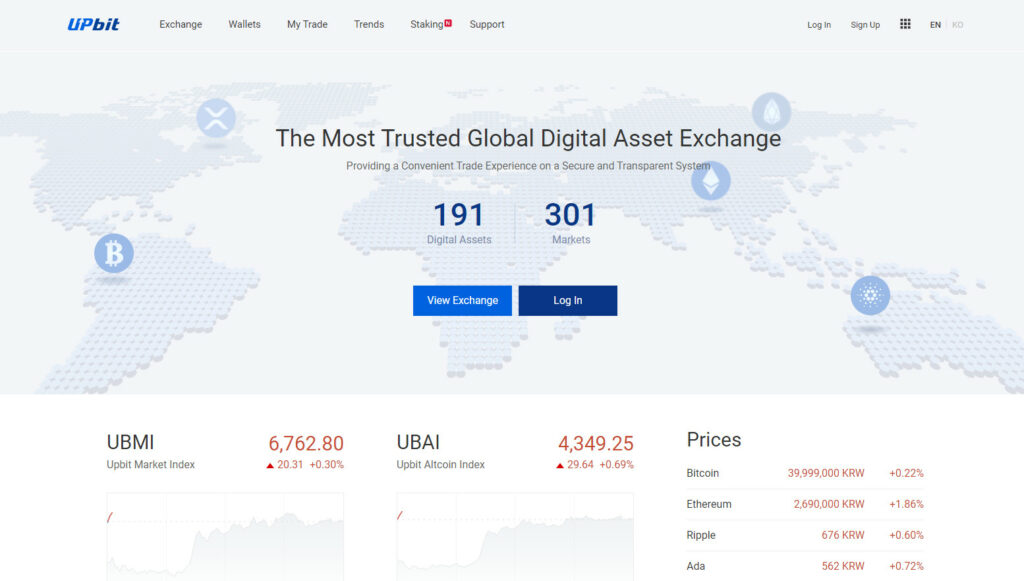 Upbit embarked on expansion in Southern Asia in late 2018, starting with Singapore and later Indonesia. One unique aspect of Upbit is that it became the world's first crypto exchange to receive Information Security Management System (ISMS) certifications from the Korea Internet and Security Agency.
Key Features of UPbit
Although Upbit is not the most eccentric or extensive exchange, its affiliation with major tech companies has resulted in a unique and focused set of features.
Various trading options. Upbit presents a wide range of cryptocurrencies and assets for users to select from.
No deposit fee is charged. Users of the platform can deposit funds without incurring any fees, making it a cost-effective option for investors looking to trade in the crypto market.
Upbit's ecosystem. Products, services, and features provide a comprehensive digital solution, making it an ideal platform.
A key factor in its potential. Leveraging its affiliation with Kakao, Upbit has access to a vast potential user base that could propel the platform to new heights, solidifying its position as a leading crypto exchange.
Clean interface. The Upbit's view is straightforward and uncluttered, offering users a simple and clean interface to execute trades.
Monitor various analytics. On its trading platform, Upbit offers a feature that enables users to track multiple analytics and statistics, access the latest market trends, and make more informed trading decisions.


Key Advantages of UPbit
As previously noted, I will commence this Upbit review by highlighting the platform's positive attributes. Considering the breadth of features available on Upbit, it is essential to assess each one thoroughly.
Sturdy Security
Upbit is a cryptocurrency exchange with reliable security features, including a 24/7 monitoring system, 2-step verification, and an additional fund password for withdrawals. Completing level 4 verification is necessary for SGD deposits or withdrawals. While Upbit previously relied on BitGo to secure its wallets, the company no longer uses its services following a security breach in 2019 that resulted in the movement of $50 million worth of Ethereum to an anonymous wallet. Upbit responded by updating its wallet's security, introducing new addresses, and transferring assets to more secure cold wallets. The company also offered full refunds to affected users, demonstrating its commitment to security and restoring trust in its platform.

To ensure the safety of your cryptocurrency, it's suggested to choose cold or hardware wallets instead of online ones. Cold wallets keep your private keys offline and prevent hackers from accessing your wallet. Reliable options include Ledger Nano X and Trezor Model T. Although Upbit is considered one of the safer crypto exchanges, it has experienced a cyber attack, so it's recommended to purchase a reliable crypto wallet to protect your assets.
More than 200 Assets Supported
Upbit is a top-rated crypto exchange that supports deposit and withdrawal of more than 200 assets, including BTC, ETH, LTC, and EOS. It offers a wide range of options, allowing users to find the asset they need without being limited to only a few. Upbit is one of the few exchanges that offer such a large selection of cryptocurrencies, making it a great choice for those looking for a reliable and secure platform.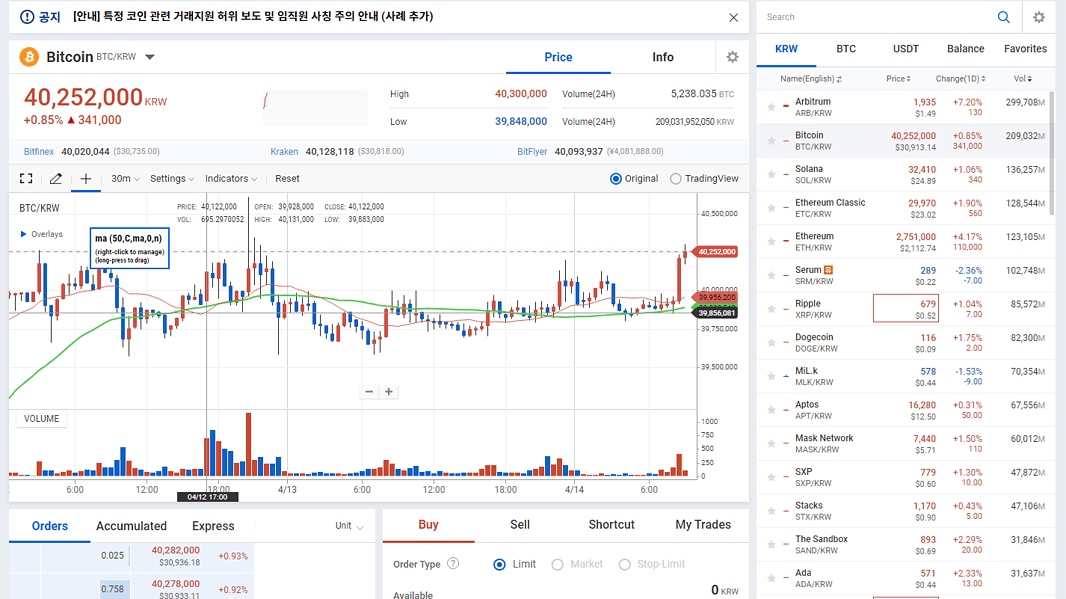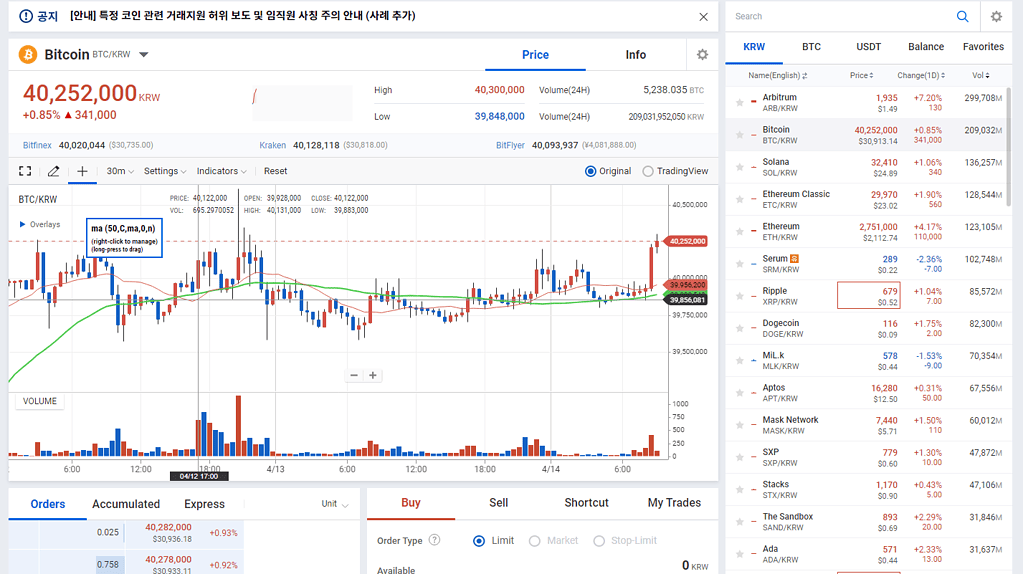 Low Transaction Fees
Upbit is a reliable crypto exchange with industry-standard fees of 0.25% for both makers and takers. Withdrawal fees differ depending on the cryptocurrency, for example, BTC withdrawal fee is 0.0005BTC, ETH – 0.01ETH, LTC – 0.01. Upbit is a good platform for maximizing your profit, as fees are considered to be industry standard and in most cases, higher rather than lower. The company's official site provides more information about the fees for other cryptocurrencies.

High Liquidity
One of the top crypto exchanges in terms of trading volume, currently ranked 63rd with a 24-hour volume of $323,555,840. It is also one of the top exchanges based on market cap. Upbit provides high liquidity, meaning that the asset can be sold for its market price very quickly. This is one of the reasons why Upbit Exchange is so recommended. The platform also interrelates trading volume and liquidity, meaning that trading volume indicates the liquidity level of a specific asset. Upbit is a reliable and secure platform for trading cryptocurrencies.
Beginners Are Welcome
Upbit is mentioned as a good option for beginners as it provides a clear interface, helpful customer support, market data, real-time trends, and analyses of different cryptocurrencies. It is emphasized that having these features will help traders make the right decisions when buying and selling cryptocurrencies. Other exchanges mentioned that may be even more beginner-friendly include Binance, Kraken, and Coinbase. The article aims to educate and encourage beginners to research and choose a trading platform that is easy to use and suits their needs.
Helpful Customer Support
Upbit has been praised in customer reviews for its polite and efficient customer support, which can be contacted through phone, email, and KakaoTalk. The platform also has an extensive support section on its website, including a user guide, trading guide, deposit & withdrawal guide, and an FAQ section covering topics such as account, security, 2FA, exchange, deposit & withdrawals, and trading.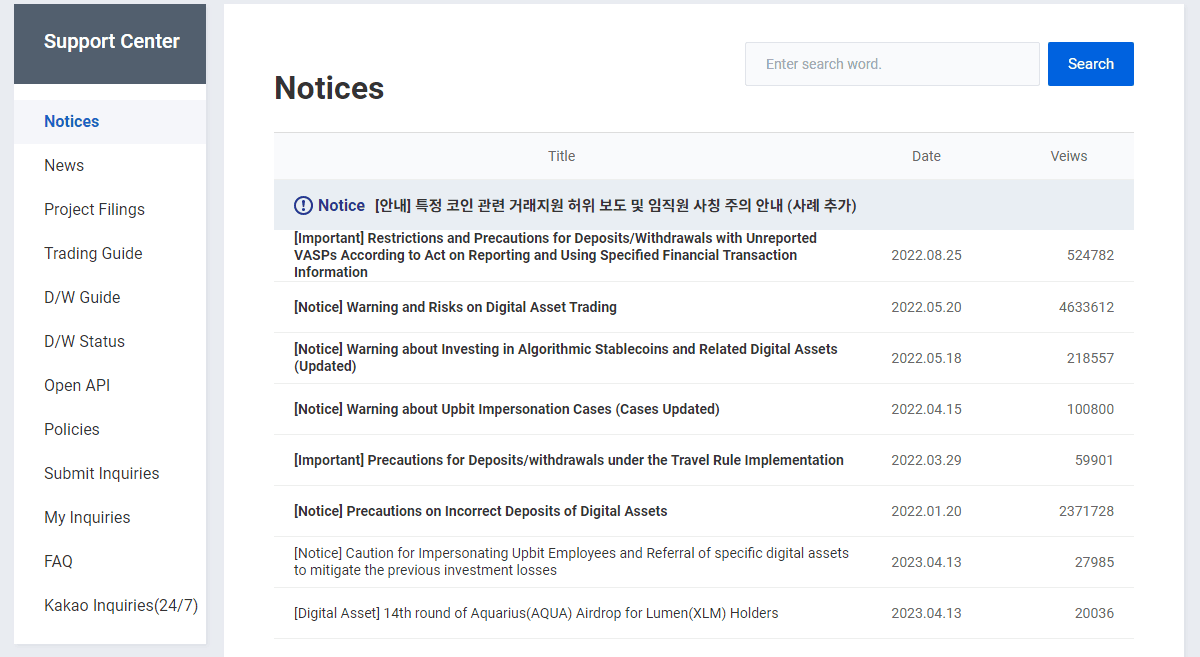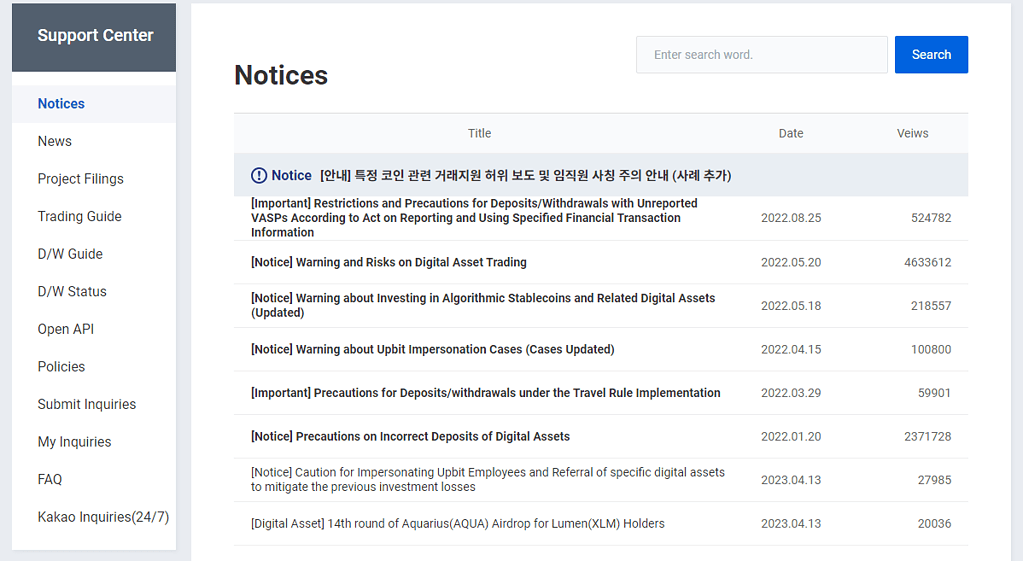 The FAQ section is helpful for generic questions, but for more specific inquiries, it is recommended to contact customer support. Upbit's customer support was tested and found to be responsive, providing clear answers and additional material for self-improvement. Upbit is an easy-to-use and beginner-friendly platform, but other highly-recommended exchanges such as Coinbase, Binance, and Coinmama should also be considered.
Available in Mobile App
Upbit is a crypto exchange that offers a desktop application for Mac and Windows devices, as well as a mobile app for iOS and Android devices. The app has 4.3 stars on the Google Play store and provides users with access to more than 150 assets and 220 markets. Security is improved by 2FA and fund password, and users can also benefit from a multi-signature cold wallet.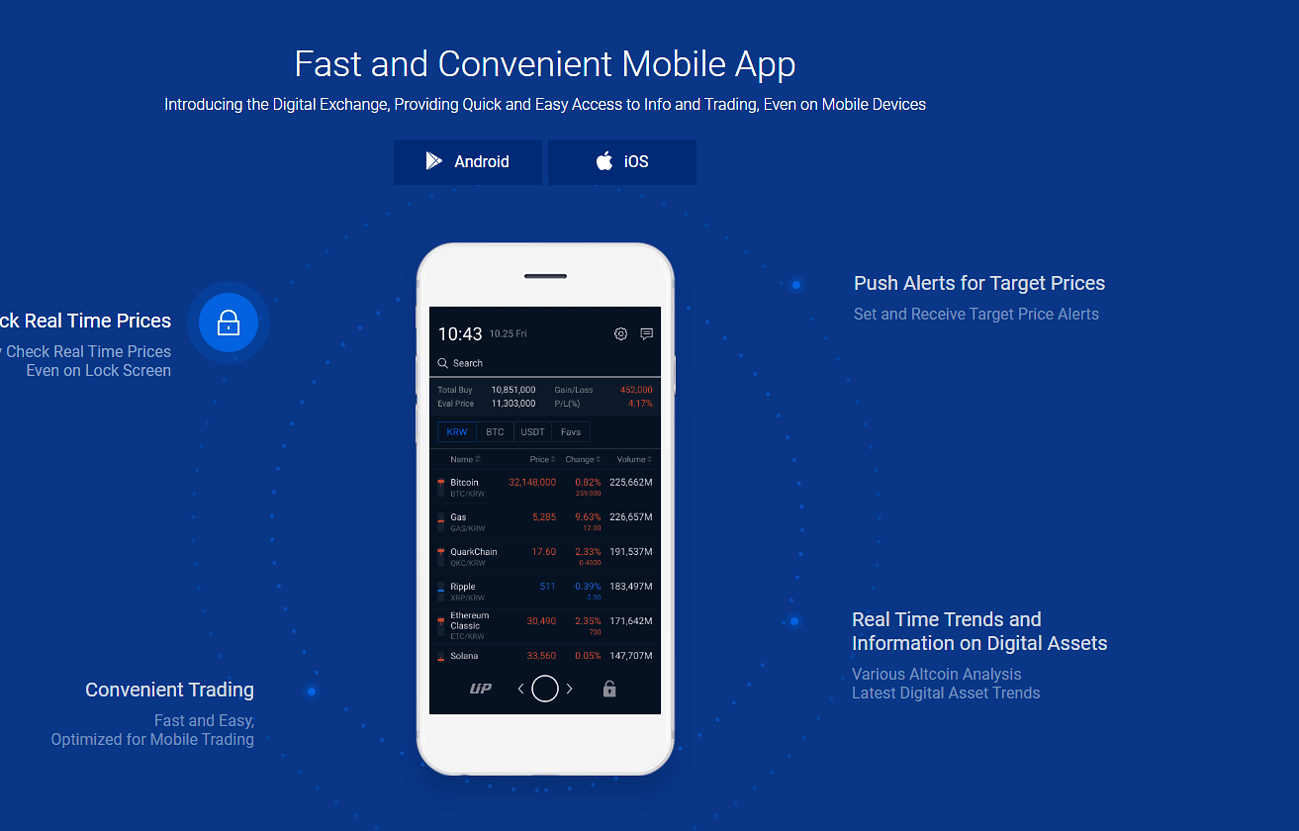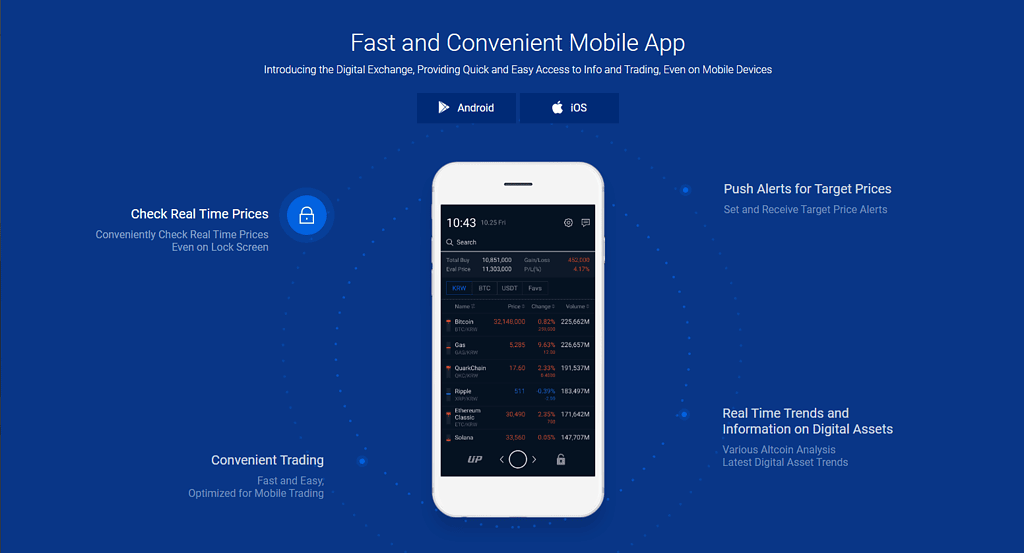 The majority of customers claim that the app has a clear interface that is easy to use and navigate. However, some people have had issues with the verification process and changing the password. Overall, Upbit is a reliable crypto exchange that provides a secure and user-friendly experience.
Key Disadvantages of UPbit
This Upbit review continues with a look at the potential drawbacks of the platform.
Trading With Leverage Is Not Available
Leverage trading, also known as margin trading, is a type of trading where you can trade higher amounts than you have available. It increases the potential reward but also increases the risk of losing everything. Upbit exchange does not offer margin trading, which is beneficial for beginner traders who lack the experience to make such risky investments. Negative balance protection is recommended for those who do decide to take advantage of margin trading, as it will stop them from going into minus.
Only South Korean Won Supported
This platform only supports the South Korean Won as a fiat currency. This means that if you want to purchase crypto using EUR or USD, you won't be able to do that on Upbit. However, you can still purchase crypto using other exchanges that support fiat currencies and then transfer them to Upbit to start trading. Before doing that, you should consider other reliable crypto exchanges such as Coinbase, Binance, and Coinmama, which offer robust security, attractive features, and support multiple fiat currencies.
Not the Best Reputation
When choosing a crypto exchange, it's important to check out customer reviews. Upbit crypto exchange has quite a good amount of negative reviews, with people mostly saying that they experience issues with the verification process and some even lost cryptocurrencies while using the platform. Additionally, Upbit has a bad reputation due to the huge hack in November 2019, which cost the company 342,000 ETH valued at about $50 million. Therefore, users should take this into account when considering Upbit crypto exchange.
Residents of the United States Are Not Eligible
When selecting a crypto exchange platform, it is important to consider not only the features it offers but also its availability in your country. Unfortunately, Upbit is only available to South Korean customers due to strict regulations. If this platform is not available to you, there are other crypto exchanges to choose from. A full list of recommended platforms can be found online, so you can find the most suitable option for you.
How Does Upbit Exchange Work?
When selecting a cryptocurrency exchange platform, it's important to verify if it's accessible in your location in addition to the features it offers. Regrettably, Upbit is only accessible to clients in South Korea due to stringent regulations and cannot provide services to US citizens.
If Upbit is inaccessible to you, you should consider exploring other cryptocurrency exchanges. A comprehensive list of suggested platforms is available, which will help you choose the most appropriate option based on your preferences.
How to Create an Account on Upbit?
Create an account on Upbit, the customer-friendly exchange, with ease by following this step-by-step guide.
Step 1. Click "Sign Up" at the top of the Upbit main page.
Step 2. Please enter your email address, create a password based on the requirements, confirm that you are at least 18 years old, and check the "I'm not a robot" box.
Step 3. Navigate to your inbox and click the verification link. You have 30 minutes to complete this task.
Congratulations, you now have your own Upbit account!
Conclusion
Upbit is a well-known South Korean crypto exchange that offers over 200 supported assets, strong security, high liquidity, low trading fees, and a user-friendly interface suitable for beginners. However, despite its benefits, there are some concerns to consider. In 2019, Upbit experienced a hack that resulted in the loss of 342,000 ETH worth around $50 million. This is a significant event that should be taken into account.
Additionally, the exchange does not provide leverage trading, only supports one fiat currency, South Korean Won, and is unavailable to US residents. Therefore, it is important to carefully weigh the pros and cons before using the platform. Alternatives such as Kraken, Coinbase, and Binance should also be considered.
Disclaimer: Cryptocurrency trading involves significant risks and may result in the loss of your capital. You should carefully consider whether trading cryptocurrencies is right for you in light of your financial condition and ability to bear financial risks. Cryptocurrency prices are highly volatile and can fluctuate widely in a short period of time. As such, trading cryptocurrencies may not be suitable for everyone. Additionally, storing cryptocurrencies on a centralized exchange carries inherent risks, including the potential for loss due to hacking, exchange collapse, or other security breaches. We strongly advise that you seek independent professional advice before engaging in any cryptocurrency trading activities and carefully consider the security measures in place when choosing or storing your cryptocurrencies on a cryptocurrency exchange.