Trustswap is the next evolution of Decentralized Finance (DeFi) transactions solving major problems with subscriptions, split payments, and cross-chain token swaps. A cross-chain "smart swap" system is used to wrap any token or coin (Bitcoin, Litecoin, Monero, Ripple, Cardano) into an ERC20. A trustless decentralized escrow service at the core of Trustswap provides an easy way to split payments into timed batches. The project provides an easy way for developers to accept payments for annual subscriptions where both parties can trust that payments are completed in a timely manner. This technology is essential for the investment space as token distributions are split into tranches. Trustswap conducted an Initial Liquidity Offering for the SWAP token in June 2020.
Trustless escrow and split payments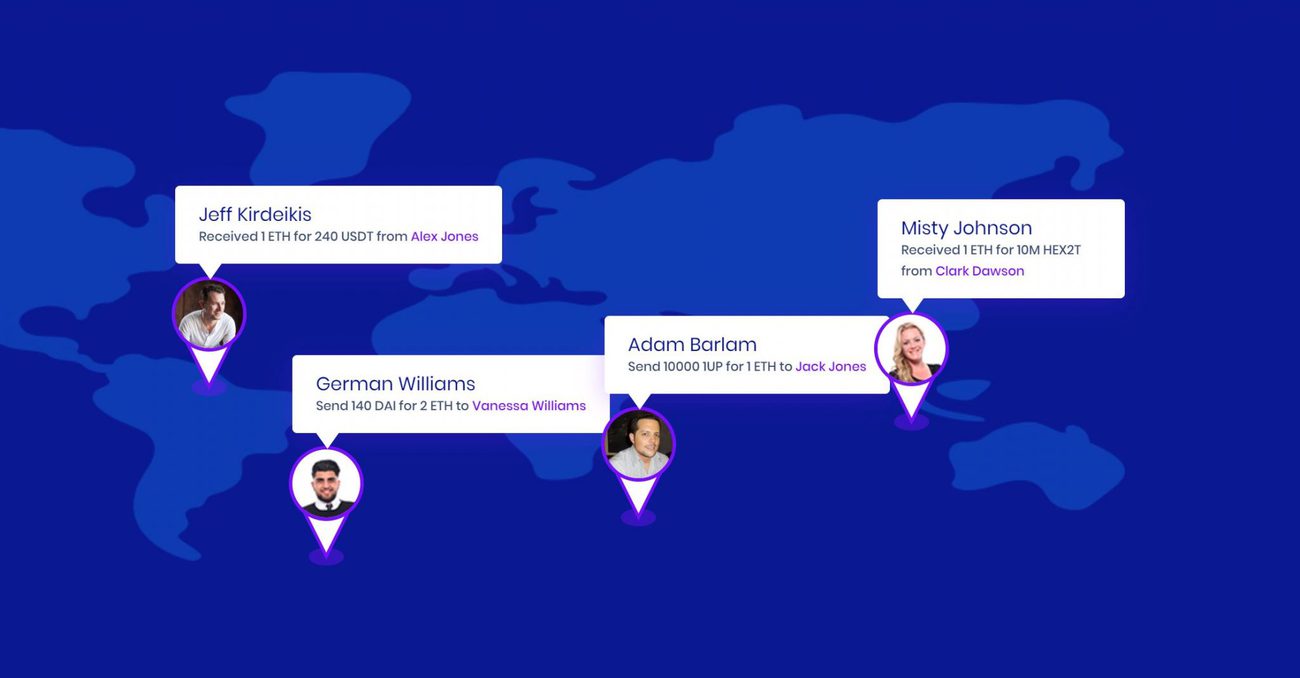 The initial application of the Trust Swap is within the ICO & cryptocurrency investment space where token distribution needs to be split into tranches. Trust swap does this automatically, cutting out the need for lawyers and contract underwriters to complete the transactions. This means that instead of trusting expensive third parties, VC and projects and directly complete their transactions on the blockchain.
Decentralized Subscription and payment model
Trustswap is implementing a "Two-party time-release payment" geared towards subscription payments and consumer transactions. The current industry trend for services is transitioning towards a monthly subscription model (such as Adobe Creative Cloud, Spotify, Apple TV). Currently, cryptocurrency transactions are single payment – a model that doesn't suite service-based networks very well. Trustswap will allow an easy method for developers to add support for accepting annual subscriptions – improving how cryptocurrencies can be spent and used.
Cross-chain and multi-currency support
TrustSwap supports a multi-currency future with the ability to customize payment services in a wide range of cryptocurrencies and tokens. Trustswap will be able to wrap different cryptocurrencies such as Bitcoin, Ethereum, Monero, Vechain, and other different cryptocurrencies to trade. This will make it easy for different communities to collaborate with each other and complete payments.
Founders and Team

Jeff Kirdeikis (CEO): Jeff is the Founder and CEO of Uptrennd, the world's most engaged blockchain-based social media platform. He is the host of The Bitcoin and Crypto Podcast and runs the world's most engaged FB crypto group.
Adam Barlam (CTO): Adam is the dev and founder behind the projects Bravocoin, a platform that allows users to earn crypto for writing reviews and Rebuzz, a decentralized social network. He has previously worked as a Sr. Architect at Godaddy and Intel.
Advisors

Michael Gu – Boxmining Founder is currently a strategic advisor for Trustswap. Michael is the Founder of Boxmining – one of the top crypto YouTube channels with over 200,000 subscribers and 15 Million Views. Michael has been providing top tier independent coverage of the cryptocurrency scene. Micheal has participated in the first wave of cryptocurrency investing, with a mining operation in 2012 and key investments in 2017.
Ivan Liljeqvist – is a Swedish blockchain influencer and developer based in Stockholm. He is known for his YouTube channel, Ivan on Tech.
Mauvis Ledford – Mauvis is the former CTO at Coinmarketcap, as well as the former Technology and Research Consultant at the Bill and Melinda Gates Foundation. He currently serves as an advisor at the first full-service blockchain accelerator, MouseBelt.
References:
Altcoins to Watch – AltcoinBuzz
FAQ:
Where can I buy / trade trustswap?
Trustswap can be directly traded using the Uniswap Exchange. This decentralized exchange has the most liquidity for SWAP tokens. On top of this, SWAP can be traded on exchanges such as MXC and Biki
When will Trustswap Launch
Trustswap is expected to complete an initial testnet in August 2020 with a full mainnet launch later in the month. Additional features such as Cross-chain integration, tokenized assets and event-released payments are expected in the future.
Which cryptocurrencies will be supported by Trustswap
Trustswap's goal is to support a wide network of different cryptocurrencies, including coins that are not on Ethereum. This will be done through a process called "Wrapping", a method of creating cross-chain assets that can be traded on Ethereum as ERC-20 tokens
Where can I find the Price of SWAP
SWAP is listed on CoinGecko.
What was the ICO price of SWAP
SWAP was sold via an Initial Liquidity Offering.
I don't see SWAP on Metamask, I can't find it
You need to add the $SWAP token manually on metamask using the "Add token feature". Enter the official contract address of swap: 0xcc4304a31d09258b0029ea7fe63d032f52e44efe
Decentralised Finance (DeFi) series: tutorials, guides and more
With content for both beginners and more advanced users, check out our YouTube DeFi series containing tutorials on the ESSENTIAL TOOLS you need for trading in the DeFi space e.g. MetaMask and Uniswap. As well as a deep dive into popular DeFi topics such as decentralized exchanges, borrowing-lending platforms and NFT marketplaces
The DeFi series on this website also covers topics not explored on YouTube. For an introduction on what is DeFi, check out Decentralized Finance (DeFi) Overview: A guide to the HOTTEST trend in cryptocurrency
Tutorials and guides for the ESSENTIAL DEFI TOOLS:
More videos and articles are coming soon as part of our DeFi series, so be sure to SUBSCRIBE to our Youtube channel so you can be notified as soon as they come out!
Disclaimer: This article is written using publicly available information by our writer David Lancaster. Our Founder is currently a strategic advisor for Trustswap. Writers and staff have cryptocurrencies holdings mentioned in articles on this site.