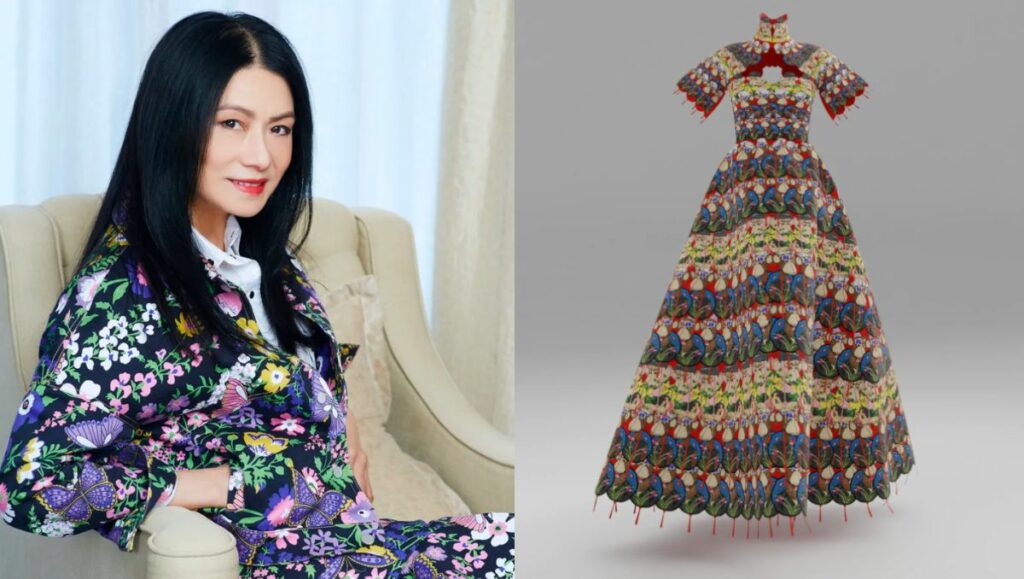 Vivienne Tam's "Lighting the Path of American Fashion" NFT has climbed to the pinnacle of the metaverse, thrusting her and her impeccable designs front and center in the world of virtual fashion. Making history as one of only seven legendary designers invited to commemorate the Council of Fashion Designers of America's 60th anniversary with a one-of-one, Tam's digital qipao dress is a poignant reminder that fashion, even in the virtual realm, is still a matter of awe and singularity.
The iconic Chinese-American fashion designer created her piece in a stunning partnership with Brand New Vision, carefully crafting an NFT that fused the unique East-meets-West aesthetic Tam is known for with the pixelated spectacle of a virtual mandala pattern featuring three avatars from the popular Bored Ape Yacht Club NFT Collection.
The breathtaking artwork made quite the splash debuting to cheering crowds at the second annual Metaverse Fashion Week. For over 30 years, the legendary designer has created provocative, exclusively physical, pieces that reside in countless galleries including the Andy Warhol Museum in Pittsburgh and New York's Fashion Institute of Technology.
And yet, the dream of a metaverse filled with digital fashion has been much, much longer than 30 years. Leading brands such Adidas and Dolce & Gabbana have added digital wearables to their collections, while tech savvy customers have taken full advantage of NFT fashion, AR filters and digital tailoring, creating a digital landscape deserving of a fashion legend like Vivienne Tam.
With Tam's qipao dress, her signature style has been combined with Web3 technologies to elegantly bridge the gap between physical and digital worlds. The piece was purchased by Cathy Hackl, Chief Metaverse Officer at Web3 consultancy Journey, and BNV (Brand New Vision) was able to convert the dress into a digital wearable compatible with Decentraland, the pixelated universe in which Metaverse Fashion Week's events are taking place. Even with the slight downgrade in visuals, Tam was perfectly content.
"It's not just about being new. It's being a bridge from old to new, from East to West, from nature to digital," Tam said. "Even though it isn't as high-resolution as the first edition, the point is for people to engage with the fashion. There are tradeoffs, but now it might reach more people. That's more democratic."
Tam's custom creation is one of many stunning creations raising the skirt of traditional fashion and poking out the edges of convention through Metaverse Fashion Week. Richard Hobbs, CEO of BNV, applauds Tam's innovative take on digital fashion, describing it as "completely relevant to Web3."
What stands out most in the qipao dress is its singular nature, a perfect embodiment of virtual couture as an extension of physical couture absorbed into a Web3 ethos. Hackl, who chaired the event a year prior, recognizes the significance of her purchase, saying it is "a moment in fashion history living on-chain."
The transformation of fashion in the virtual age has been exciting and controversial in equal measure, taking whatever it touches to new creative and technological heights. With Metaverse Fashion Week steadily evolving each year, amidst new experiments with digital styling and sustainability, Vivienne Tam's journey to one-of-one fashion greatness is paving the way for a shift in aesthetic toward the creation of fashion moments of impact in the virtual space.