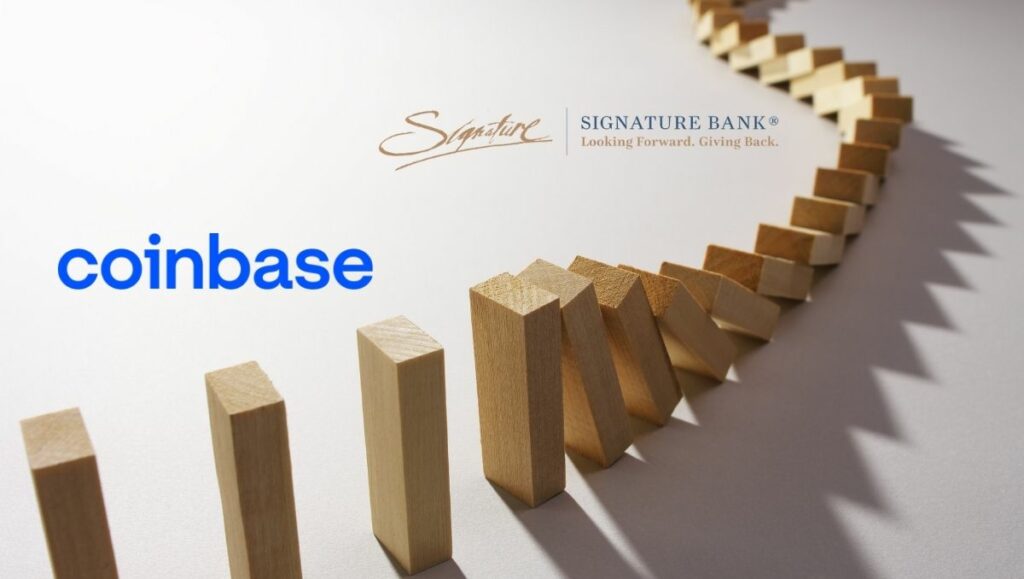 Crypto is oftentimes a roller coaster of news stories, with events often leading to other events in succession. The latest news to shake up the cryptosphere is the forced closure of the crypto-friendly Signature Bank, the move of U.S. regulators to address a "systemic risk" from the bank. In the aftermath of such a move, it is no surprise to see other dominoes fall, the latest being the news of US-based crypto exchange Coinbase has cut off support for Signature's Signet payment platform.
The news of Coinbase's rejection of Signet comes in the wake of reports that the Federal Deposit Insurance Corporation (FDIC) had accepted steps to protect the U.S. economy from the crypto-friendly bank. For Coinbase's part, the exchange claimed that it had had $240 million in corporate assets locked away in Signature's coffers, money that the company reckoned would be "fully recovered".
Paxos and Celsius would also report exposure to Signature's banking woes, yet both companies clarified that they held private insurance to cover any losses. Other firms such as Theta Network, Immutable X and Crypto.com each announced their non-exposure to Signature Bank. As Forbes writer Michael del Castillo remarked, such a pattern of disclosure is "evidence the crypto sector is maturing".
The FDIC countered by transferring Signature's deposits and loans — except those connected to crypto deposits — to Flagstar Bank, a subsidiary of New York Community Bancorp. As far as crypto deposits are concerned, the government entity will strive to see them delivered "directly to customers" with a digital banking account in their possession.
In what may likely be an attempt to extradite the reasoning behind Signature's closure, the United States House of Financial Services Committee will be convening a hearing by March 29th to explore the failures of Silicon Valley Bank and Signature Bank.
However, Coinbase's removal of Signet support was not just related to the Signature Bank incident. In a March 20 report, the Wall Street Journal claimed that Coinbase users will no longer be able to use Signet to send funds outside of banking hours due to "technical delivery issues". When questioned, a Coinbase spokesperson replied saying, "while not ideal, this shows a need for an updated financial system."
The lesson from the Signature Bank shakedown and Coinbase's subsequent pairing-down of Signet support is one of caution for crypto companies. Such an incident proves that crypto firms need to consider the need for a safety net in events of failure or financial restrictions. The crypto-industry is becoming increasingly entrenched in the financial mainstream, making such prudent decision-making essential at this stage.