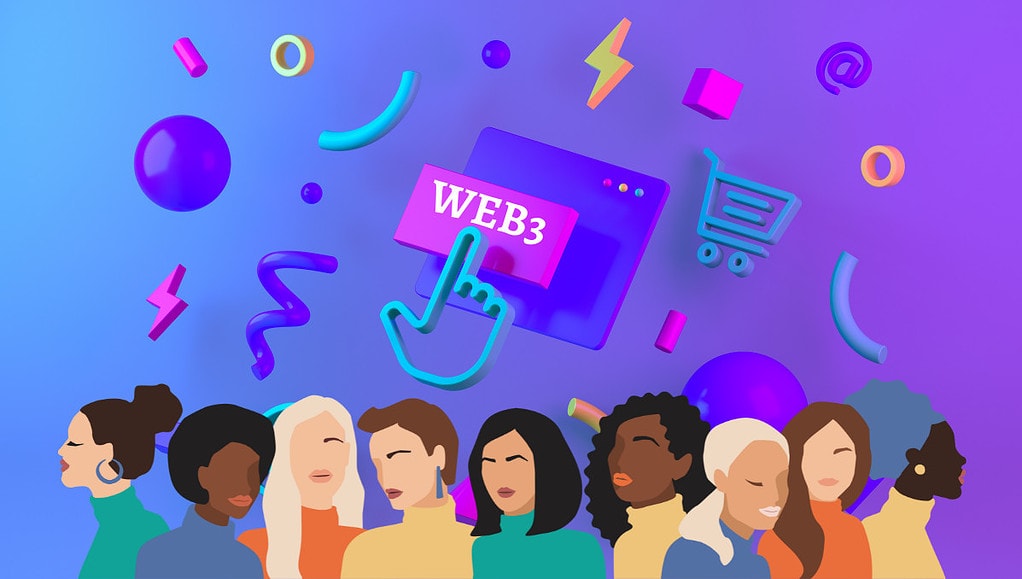 The world of Web3 has ushered in a new era of online accessibility and wealth creation, opening unprecedented opportunities for individuals to have a stake in this emerging decentralized web. Yet the crypto industry has been marred by a lack of diversity, especially when it comes to the involvement of women in Web3 startups.
A recent study by BGC and People of Crypto Lab concluded that women make up only 13% of Web3 startups and hold only 27% of jobs, which is lower than those in other major tech and financial services industries.
Women also face obstacles that make it more difficult to succeed, such as bias and stereotypes. Women often have to work harder than their male counterparts to be considered for the same roles and challenges, with many noting that they are subject to different expectations due to perceived gender roles. But there are many organizations and communities that are actively supporting female crypto professionals and providing resources to help them learn the necessary skills to thrive in the Web3 space.
It's time to shed light on the hurdles, challenges and successes of the amazing women who are playing a part in shaping the future of the crypto industry, and to celebrate their incredible stories. Cointelegraph spoke with some of these "She Dragons of Web3" about their unique career paths, struggles, and motivations for doing what they do.
Take Seema Khinda Johnson, for example, co-founder and COO of Nuggets, a decentralised identity wallet. Khinda's story starts in 2016 when her husband's credit card information was stolen – a security incident that opened her eyes to the potential of crypto and led her to pioneer the Nuggets project. Rebecca also contacted Ethereum co-founder Vitalik Buterin, an approach that 10 years ago most people would have assumed would never get a response – yet, 20 minutes later, she got her reply with a developer recommendation.
This example highlights the importance of taking risks, even in the face of overwhelming odds. It also demonstrates how having strong male allies in the Web3 space can help women break into the industry and make a significant contribution. Khinda believes it's also important to fund and support female entrepreneurs in order to boost crypto adoption.
Sandra Leow, a researcher analyst at Nansen, was introduced to crypto by her sister and has since invested in altcoins and NFTs. While Leow still sees many of the same stigmas from Web2 embedded in Web3, she believes the tide is starting to turn and more women are becoming involved in the industry.
Devon Martens, principal blockchain engineer at Sweet, is also a huge advocate for women in the crypto world. She argues that a diversity of role models can inspire more women to consider Web3 as a career option and create wealth for themselves. She also highlights the unique opportunity for women to change the world through blockchain technology.
Daniela Barbosa, executive director of the Hyperledger Foundation, points to the tremendous potential of diversity in technology, noting that "study after study reveals that diversity in technology creation produces better outcomes and more robust technologies – that diverse communities are simply stronger communities." She also addresses the need for organizations to get more women involved in the space in a variety of roles, and not just as developers.
Finally, we spoke with Sandy Carter, COO and head of Business Development at Unstoppable Domain, who has made a strong impact on the web since the dawn of Web2. Her experience in the tech industry has demonstrated to her the need for greater diversity, as the lack of it creates a bottleneck for innovation and creativity. She is now using her experience and knowledge to power the Unstoppable Women of Web3 initiative, which focuses on the education and mentoring of the next generation of female crypto leaders.
Women are increasingly taking a prominent role in the crypto industry, and their stories give us insight into the challenges faced by those who pursue a career in Web3. Despite the social and structural challenges faced by women in the Web3 space, there are numerous resources and communities available to support them, and the potential rewards of even a small amount of representation in this nascent industry are great. As Alicia Kao, managing director and head of Strategic Partner Development at KuCoin, put it "The more women get involved, the more likely these challenges will start to dissipate and more effective industry solutions can be achieved."
This is why Cointelegraph hopes to do their part in acknowledging, honouring and celebrating the She Dragons of Web3 for the incredible work they do and hope to inspire others to join their ranks. They have the power to reshape the industry and create a more vibrant, innovative, and prosperous Web3 ecosystem.