Refinable is the first major Non-fungible Token (NFT) platform built on Binance Smart Chain (BSC) that provides an affordable way for users to leverage, trade, discover, and create NFTs.
The NFT market is growing exponentially. Notably, the market is responding to an increase in in-game purchases. For example, a report by Messari noted that digital game spending reached $127 billion while NFT-based gaming accumulated $55 million in 2020. The occurrence indicates an increase in appetite for digital items.
Apart from in-game purchases, NFTs are riding on the growth of decentralized finance (DeFi) due to their rareness. However, non-fungible token projects have to balance key metrics such as creation, discovery, trading, and leverage. Refinable appears to be one of the very few projects getting all these ingredients right.
In this guide, we take a closer look at the project's unique qualities.
Background
A team with extensive experience in different industries backs the Refinable protocol. For instance, Nicholas Chan has over six years' expertise managing operations for SMEs and corporates in the e-commerce, media, and hospitality space.
Maxim Geerinck, another team member, has more than nine years of experience as a software engineer. Before joining Refinable, he worked with Ernst & Young and other firms in the digital currency industry.
Other notable forces behind the NFT project include Jonas Snellinckx, a full-stack software guru, Nick Au, a former tax expert with KPMG, and Albert Chan, a reputable blockchain engineer and the winner of EOS Global Hackathon in 2018.
Its major investors include popular YouTuber Mr. Beast with over 55 million YouTube subscribers and Binance.

What Is Refinable?
Refinable is an NFT platform built on Binance Smart Chain (BSC). The project provides an affordable way for users to leverage, trade, discover, and create non-fungible tokens. Notably, it accommodates both individual and corporate users. The protocol supports three types of users; creators, traders, and collectors.
Creators tokenize new content while traders buy and sell the tokenized items. On the other hand, collectors are users who purchase and hold onto their rare items.
What Sets Refinable Apart?
With so many new NFT projects, what differentiates Refinable from the crowd? The project pegs its success on critical features such as:

Scarcity – The protocol ensures that every piece of content has a known circulating supply. Interestingly, the platform supports content access from other supported NFT-based decentralized networks.


Customizations – Refinable supports customized distributions for creators and users operating storefronts on the platform. Customizations include conducting a free airdrop for trusted buyers and making the goods available through a one-click purchase process.


Content variety – The project is open to various content types, from domain names, artworks, to 2D/3D formats. As such, it becomes a one-stop place for NFT lovers.


Decentralization – Refinable puts all of its business on the blockchain and safeguarding all processes using quality smart contracts.


Community voting – The protocol's users have a say in the decision-making process.


Low transaction fees – By operating on BSC, the project can provide low transaction fees without compromising on the speed.
How Refinable Works
The project works by interfacing its different features. Below are the top features and how they fit into the project's overall success.
NFT Creation
Refinable employs a customizable NFT creation process to capture the juices of all creators. For instance, it supports Ethereum's ERC-721 and ERC-1155 token standards. Additionally, it offers customization options to dictate uniqueness, royalty payment options, combining NFTs, preview options, and storing private files.
NFT Discovery
To make it easy to discover NFTs on the platform, Refinable makes the process fun and frictionless. For instance, it features community-recommended NFTs, groups NFTs with the same theme, and provides social channels for community discussions.
Enhanced Trading
The project enhances trading in a variety of ways. For example, it allows NFT creators and owners to choose their preferred transaction methods, automate royalties, and dictate the settlement currency. Note that the currency defines the supported crypto when trading a non-fungible token.
Low Service Fee
The protocol charges a transaction fee based on users' status. For example, standard buyers pay a 2.5% fee while verified token holders incur a 1.5% charge.

On the other hand, standard primary sellers part with 2.5% of every transaction, but verified token holders pay 0.5% less.
More NFT Possibilities
Refinable expands the possibilities presented by NFTs by allowing partial NFT ownership supported by a secondary token. Also, it opens the door to NFT leasing and using NFTs to collateralize loans.
Refinable's Native Token (FINE)
The network's base asset is known as FINE. FINE holders can use the token to settle transactions, receive discounted service fees, and have first access to new products.
Additionally, the token has governance powers allowing holders to vote or propose new features. However, the number of FINE tokens held determines a user's voting strength.
FINE has an initial total supply of 500 tokens. The initial token distribution event allocated FINE to the Refinable team, community minting, token sale, liquidity fund, reserve, and treasury fund.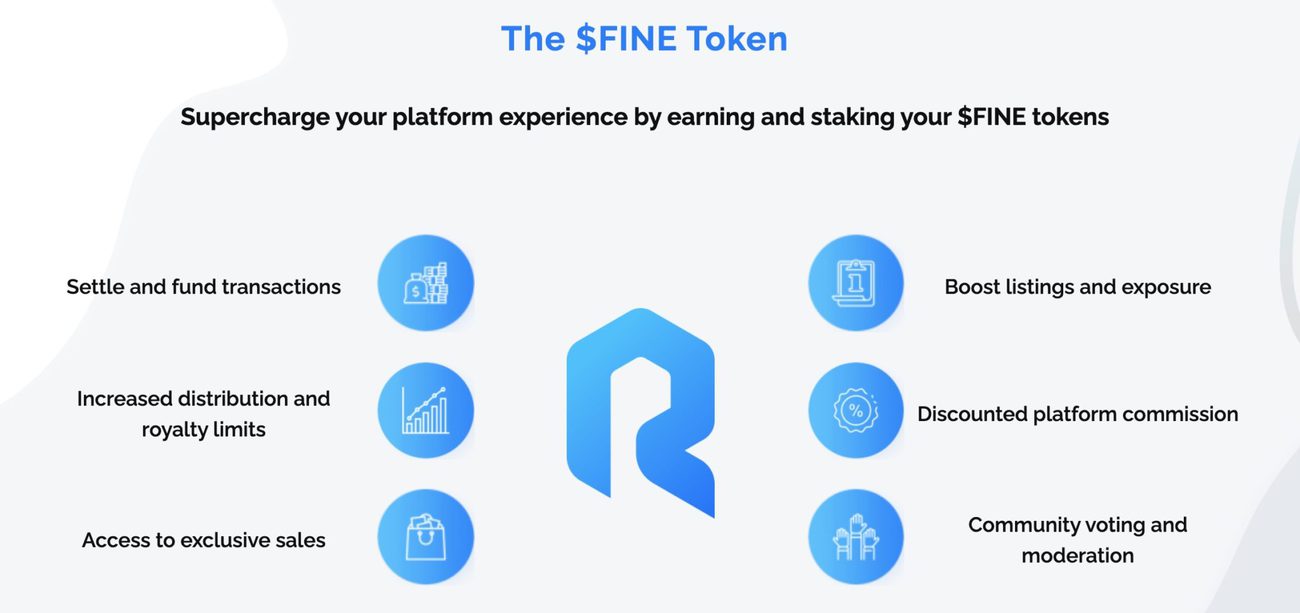 How to participate in the Refinable IDO?
Refinable is set to become the first Polkastarter Initial DEX Offering (IDO) to launch exclusively on Binance Smart Chain on 23 April 2021.
To participate, you will first need to hold Binance Token (BNB) and connect your MetaMask to Binance Smart Chain. Afterwards, you will need to connect to the Polkastarter App on their website, select "BSC" under the Ethereum drop-down menu and confirm.
Detailed instructions on how to connect to Binance Smart Chain.
Key Refinable Partnerships and Moments
Conclusion
Refinable is among the few unique projects truly revolutionizing the NFT space. From creating a conducive environment for NFT creators, traders, and collectors, to significant partnerships and listing on decentralized exchanges.
Additionally, the NFT project lives on Binance Smart Chain, thus evading the high transaction costs haunting developers when providing similar products on the Ethereum blockchain. Furthermore, BSC is also known to provide high transaction speeds.
Disclaimer: Cryptocurrency trading involves significant risks and may result in the loss of your capital. You should carefully consider whether trading cryptocurrencies is right for you in light of your financial condition and ability to bear financial risks. Cryptocurrency prices are highly volatile and can fluctuate widely in a short period of time. As such, trading cryptocurrencies may not be suitable for everyone. Additionally, storing cryptocurrencies on a centralized exchange carries inherent risks, including the potential for loss due to hacking, exchange collapse, or other security breaches. We strongly advise that you seek independent professional advice before engaging in any cryptocurrency trading activities and carefully consider the security measures in place when choosing or storing your cryptocurrencies on a cryptocurrency exchange.