PrimeXBT is based in the Seychelles and was launched in 2018 as a Bitcoin-based exchange platform offering various products such as leveraged trading in cryptocurrencies, Forex, indices and commodities. Today they are ranked no.24 of all derivatives exchanges with over USD$250 million in daily trade volume according to CoinGecko. They serve clients from over 150 countries and the platform is available in 16 languages: . The Exchange was also recently recognised as the Best Bitcoin Platform for Margin Trading at the 2020 ADVFN International Financial Awards. In this review and guide we look at several features of PrimeXBT, our user experiences and give you a step-by-step guide on how to get started.
Key Features
No KYC required: You only need to provide your email and country of residence to register for an account. No address proof is required.
Customisable trading interface: Users can enable, disable or move various information panels on their trading page. They can also add various widgets such as orders, watchlists or positions etc.
Annotate trading charts: On their Analysis page, you can overlay different trading pairs, insert up to 50 technical indicators, mark and save trading charts for further study.
Up to 1000x leverage: PrimeXBT offers up to 100x leverage for trading cryptocurrencies, stock indices and commodities. For Forex trades, up to 1000x leverage is available.
Wide range of products: PrimeXBT offers cryptocurrency trading, as well as trading indices, Forex and commodities. For fast results, traders can also try out Turbo, one of PrimeXBT's unique trading features.
Let's look at some of PrimeXBT's features in detail.
PrimeXBT offers more than cryptocurrency trading
PrimeXBT offers cryptocurrency trading, as well as trading indices, Forex, and commodities. PrimeXBT supports trading in 5 cryptocurrencies: BTC, ETH, LTC, XRP and EOS; with trading pairs between these cryptocurrencies and USD and BTC only. Unfortunately, the Exchange does not seem to be jumping onto the DeFi train, unlike their competitors. So unless they start listing some DeFi coins and fast, we are concerned they may be overshadowed by more aggressive exchanges.
For Forex, the following 7 foreign currencies can be traded on PrimeXBT: USD, EUR, GBP, AUD, NZD, CAD, CHF and JPY. However the Exchange does also offer trading pairs with other currencies such as SGD, RUB and TRY. Traders can also trade the following 10 stock indices: S&P 500, NASDAQ 100, FTSE 100, EURO STOXX 50, CAC 40, NIKKEI 225, DJI, ASX 200, GER30 (DAX30), IBEX 35 and HK-HSI.
Lastly, the Exchange provides commodities trading, this is done entirely digitally through the Exchange and its CFDs without having to physically handle gold bars and oil barrels etc. The following 5 commodities are available for trading on PrimeXBT: Gold, Silver, BRENT, CRUDE and NAT. GAS.
Margin trading is offered by PrimeXBT. The Exchange offers up to 100x leverage for trading cryptocurrencies, stock indices and commodities. For Forex trades, up to 1000x leverage is available. Obviously there are serious risks involved in doing this because if the position goes against what you traded your losses will be correspondingly magnified. Hence margin trading should be for very experienced traders only and even so, extreme caution must always be exercised.
Turbo trading: How to guide
PrimeXBT offers a unique product called Turbo trading, and as the name suggests it is basically trading on turbo mode. All you need to do is predict if a chosen asset's price will be higher or lower than the current price after a specified period. Both the specified period (which will be between 30 seconds to 15 minutes) and the potential profit ratio will depend on the asset chosen and this will be calculated and displayed to you before you confirm your trade.
Taking the below image as an illustration, I predicted that BTC/USD prices would go up in 10 minutes (i.e. when the chart reaches the circular green arrow). I invested 0.0002 BTC and the potential profit was calculated for me at 0.000013 BTC, or 65% of what I put in if my prediction was correct. However if my prediction was wrong, I would lose the 0.0002 BTC I had put in.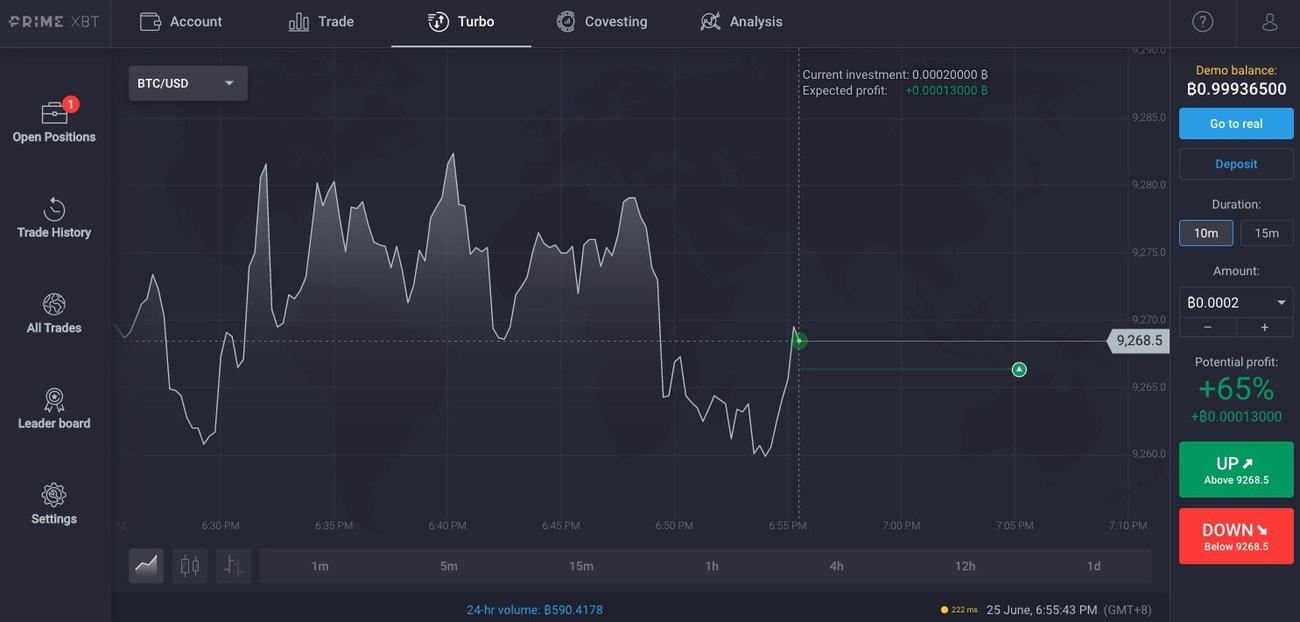 We think this feature would be very attractive to novice traders, and even advanced traders who something quick and simple for a change. We tried out this feature and enjoyed knowing what the potential outcomes would be before we put in the trade and found ourselves excitedly fixated on the trading screen during the whole period.
Note that PrimeXBT Turbo trading is not available to citizens and residents of the following countries: .
Supported currencies and payment methods
PrimeXBT only supports BTC deposits. For some locations, you can buy Bitcoin with your credit (Visa or Mastercard) or debit card and deposit this directly to your Exchange wallet. PrimeXBT only accepts payments in USD, EUR and GDP and a minimum purchase of 0.002BTC is required. You will be required to select your location beforehand and the Exchange will let you know if your location supports this feature.
For security reasons, to buy BTC on PrimeXBT you will need to provide the following personal details: email, country of residence and identification document (ID card, driver license or passport). The Exchange will also email you a code to enter at checkout to confirm your email.
PrimeXBT Fees
Deposit and withdrawal fees
PrimeXBT does not charge fees or deposits into your Exchange wallet or for transferring from one wallet to another on your own PrimeXBT account. The Exchange charges 0.0005 BTC for withdrawals.
Trading fees
PrimeXBT charges 2 types of trading fees: a trade fee and overnight financing fee. Trade fees are 0.05% for cryptocurrencies, 0.01% for stock indices and commodities, and 0.001% for Forex.
Overnight financing fees are charged if traders do not open or close their leveraged position within the same trading day (i.e. 0:00 UTC) and it is a percentage of the daily funding rate depending on the liquidity of the underlying asset. Taking BTC/USD for example, the overnight financing fee is 0.04166% of the daily funding rate for both long and short positions.
PrimeXBT has competitive fees compared to other exchanges if you are a casual or small volume trader. However most other exchanges have discounts for high volume traders by way of VIP tiers, or discounts for holders of an exchange's native token. PrimeXBT does not have such discounts so there is little incentive for users who trade more, especially if other exchanges have comparatively cheaper trading fees for larger trade volumes.
Here's a breakdown of all PrimeXBT's fees and trading conditions.
Supported countries
PrimeXBT offers its services to over 150 countries except for citizens and residents from the following locations: USA, Canada, Seychelles and countries currently under economic sanctions by either the United Nations or the European Union.
Security: Is PrimeXBT safe?
PrimeXBT uses numerous security tools and measures. From our user experience, we can see on the front end that the Exchange uses 2-factor authentication (via. Google Authenticator) and sends a confirmation email letting us know we've logged in. We do see some additional security features not typically found elsewhere. One such feature is mandatory whitelisting of destination addresses for Bitcoin withdrawals i.e. users can only withdraw their Bitcoin to addresses they have previously whitelisted.
On the back end, PrimeXBT utilises cold storage of digital assets using multi-signature technology, DDOS protection and cryptographic hashing for all passwords and encryption of all other sensitive data, among others. They also conduct full risk checks after every order placement and execution, and regular testing and assessments by their technical team.
We also note that the Exchange currently has a good track record of no hacks or discovered vulnerabilities so far. Nevertheless users should still remain careful and vigilant with their security measures e.g. not leaving all their funds on the Exchange.
Learn more about PrimeXBT's security features here.
User Experience and guide
We found PrimeXBT to be very open and transparent about themselves and what they do. For example answers to any questions we had about them can be found on their website. Their website and tutorials are a detailed one-stop resource for how to use their platform and their explanations are very clear and well organised. This is very positive and it certainly points to the Exchange being reliable.
How to register for a PrimeXBT account
PrimeXBT claims their registration process only takes 40 seconds and indeed we found it to be very fast and convenient. No KYC procedures were required. To register, simply fill in your email and choose a password.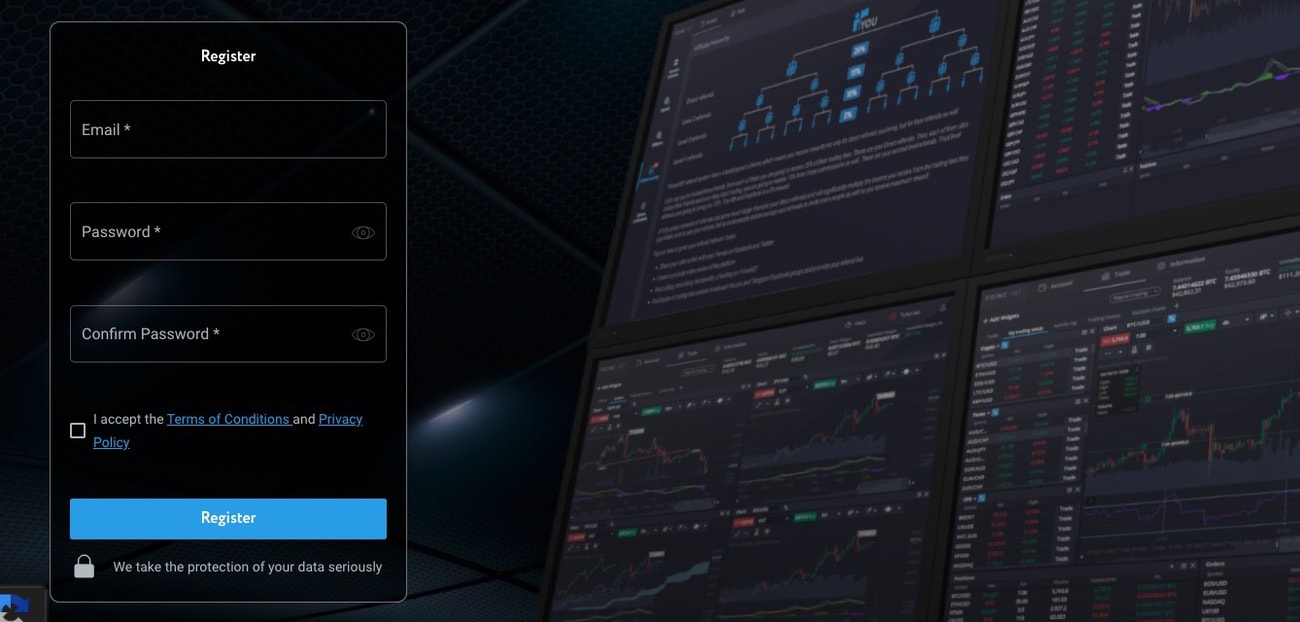 The Exchange would then send you an email asking you to confirm your email address. Confirm this and you will be brought back to the main page where you would be asked to select your country of residence. No address proof is required for this step.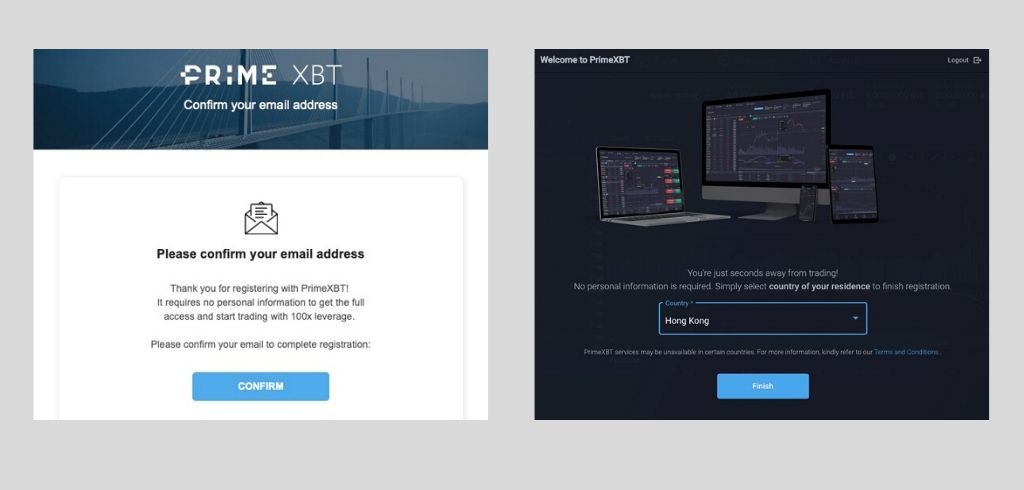 Once you have confirmed these details you are all set!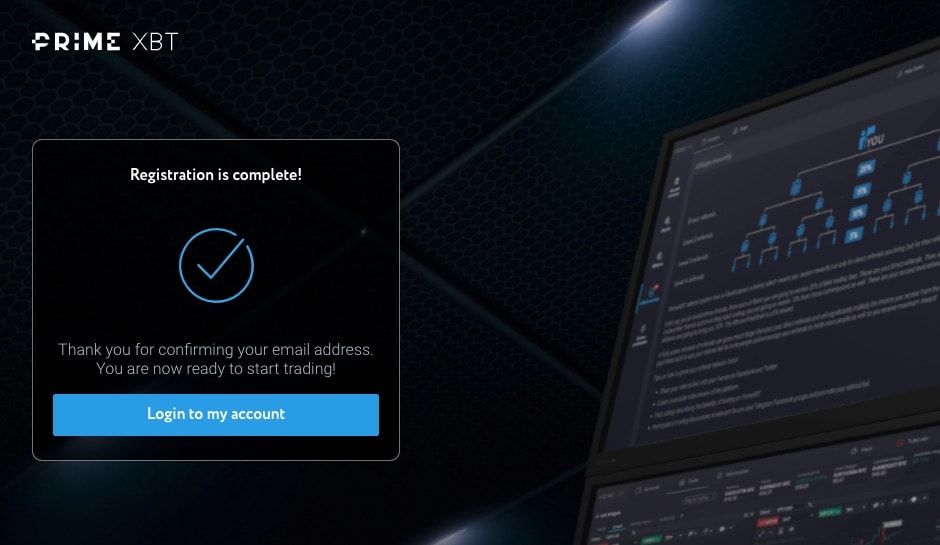 How to deposit and withdraw cryptocurrencies on PrimeXBT
Deposits
As a Bitcoin-based exchange, PrimeXBT only allows you to deposit Bitcoin. Users can either deposit Bitcoin directly from another cryptocurrency wallet or if their location is supported, purchase Bitcoin with their credit/debit cards.
To deposit Bitcoin from another wallet, click on "Account" on the top bar and "Deposit" on the sidebar. There you will find your Bitcoin wallet address.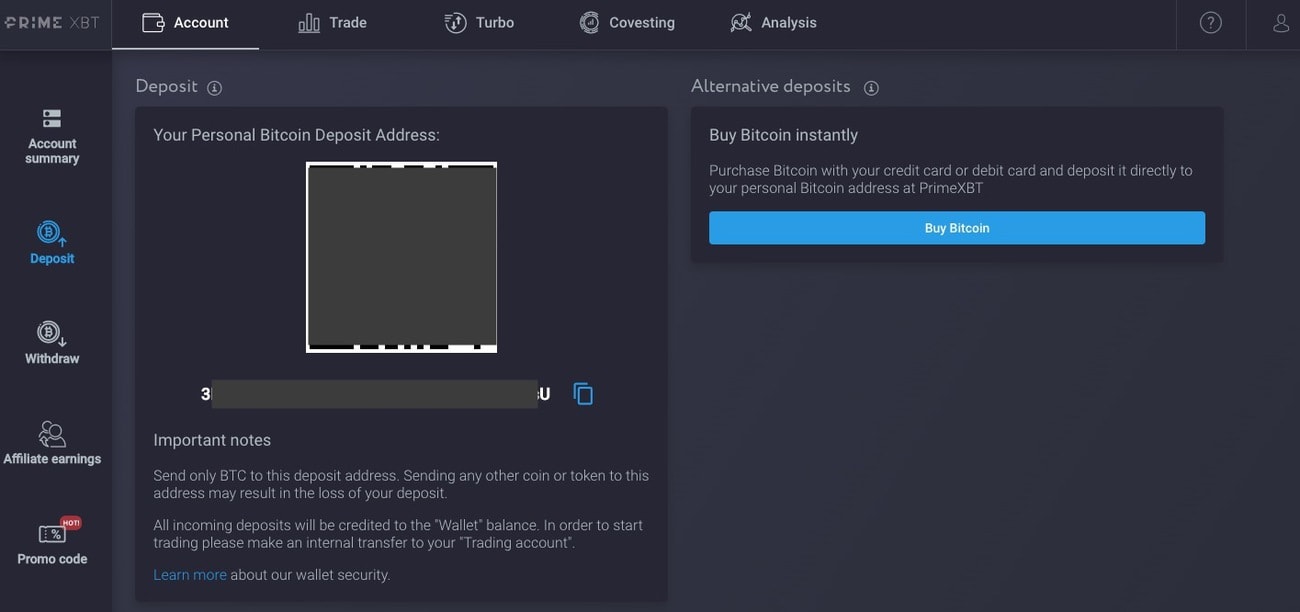 For some locations, you can buy Bitcoin using your credit (Visa or Mastercard) or debit card. To do this click "Buy Bitcoin"on the Deposits page. You will then be required to input how much Bitcoin you wish to purchase. Confirm this by clicking "Buy". Please note that PrimeXBT only accepts payment in USD, EUR and GDP and a minimum purchase of 0.002BTC is required.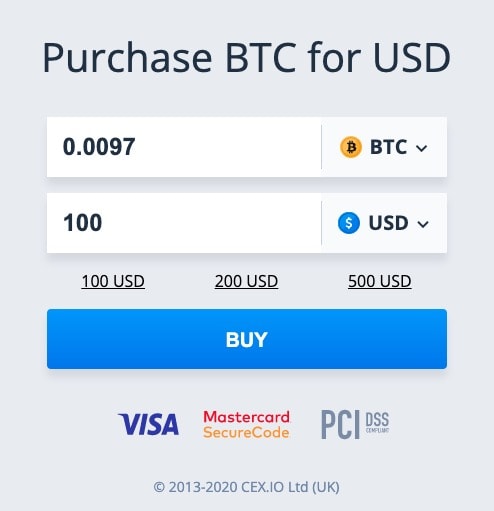 You would then be asked to provide your email and country of residence. The email address is so that the Exchange can send you a code to enter at checkout as a security measure. You are required to choose your country of residence because some locations do not support Bitcoin purchases, and the page will instantly let you know if this is the case. If Bitcoin purchases are supported you would be required to provide photographs of your identification document (ID card, driver license or passport) and your payment details.
Afterwards you would be required to confirm your purchase and at checkout, enter the code previously sent to your email address. The Bitcoin you purchase would automatically be sent to your Exchange wallet.
We found depositing Bitcoin from another wallet to be very simple. As for buying Bitcoin, the steps were easy to follow but we found it excessive in terms of all the information you need to provide. After all, we are depositing Bitcoin into an account, not withdrawing. We don't expect to require an ID copy AND a picture of us holding said ID when buying items from other online retailers. So in all honesty, unless you do not use any other exchanges and you are buying Bitcoin for the very first time, we foresee most people would just buy Bitcoin elsewhere and transfer it to the Exchange.
Withdrawals
Withdrawals from PrimeXBT require a few additional steps compared to other exchanges because they have a mandatory whitelist of destination addresses. Note also that the Exchange only supports Bitcoin withdrawals, so any other asset must be converted to Bitcoin first before withdrawing.
To withdraw, go to "Account" on the top bar and "Withdraw" on the sidebar. Select "Add new address" and type in the address you wish to send your Bitcoin to together with a name for this address in the "Comment" field, then click "Add new address".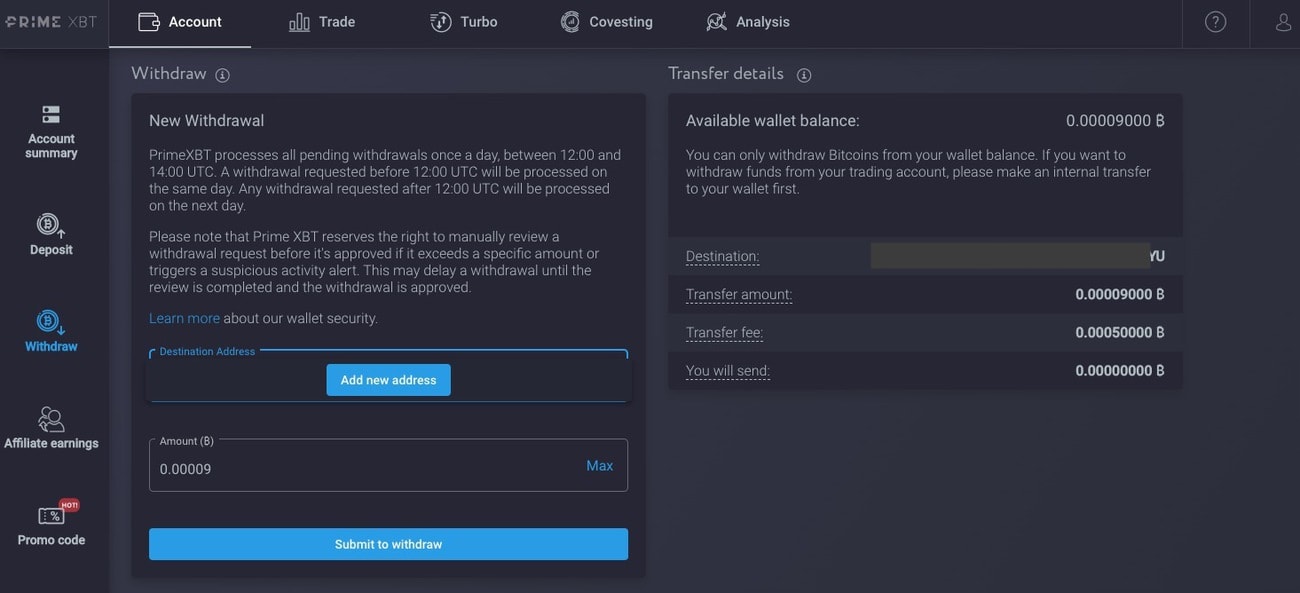 The Exchange will send you an email asking you to confirm the new Bitcoin withdrawal address. To confirm, click "Confirm new address".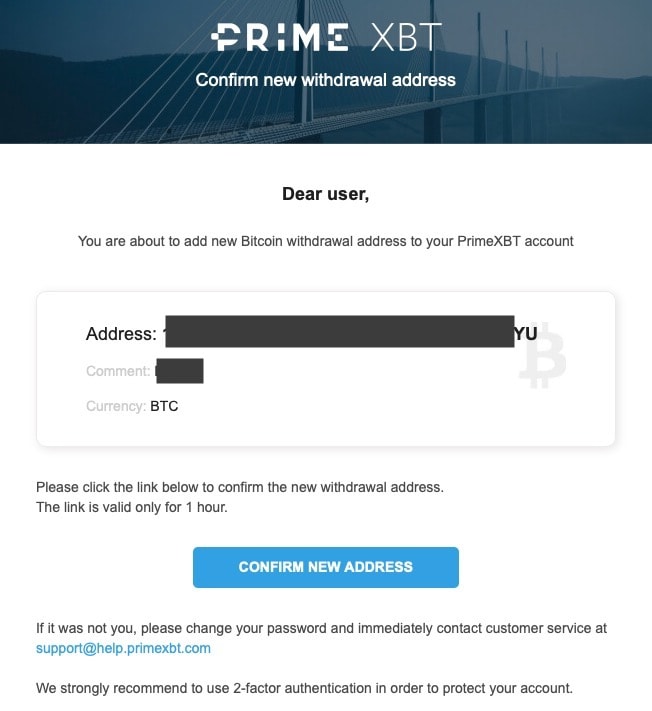 Back on the Exchange's Withdraw page, the new address will show up on the list of destination addresses. Select the address you want to send your Bitcoin to and the amount you wish to send. On the right, you would be able to see details of the send i.e. the destination address, the transfer amount, transfer fee and the actual amount which would be sent. To confirm, click "Submit to withdraw".
The Exchange's limitation of only allowing Bitcoin withdrawals can be troublesome since you would need to first convert everything to Bitcoin, which may result in losses if prices fall. We also found the whitelist process to be a bit annoying at first, but as it is for security we consider it a fair tradeoff. It however won't cause that much inconvenience in the long run if you usually only send Bitcoin to a few specific addresses e.g. your hardware wallet.
Trading on PrimeXBT
One thing we really liked about PrimeXBT is that when you log in to your account for the first time, each page will have a pop up tutorial covering topics such as how to fund your trading account, how to place your first order etc. For a subsequent refresher, you can always click the question mark "?" on the top right hand corner for more tutorial videos. So getting started with trading was relatively easy.
A feature that some traders might like is their one-click or double-click trading feature. This allows you to open and close positions, and cancel orders with literally one click i.e. bypassing the confirmation process. It is a really convenient feature for those who are impatient or need to lock in their positions quickly. On the flip-side you could suffer huge losses if you misclick since it is irreversible.
The main feature of PrimeXBT is its ability to customise. As mentioned above the Exchange lets users customise their trading interface and charts. For the trading interface, you can move, add and remove various widgets e.g. charts, watchlists and orders etc. You can also add new "workspaces" i.e. tabs by clicking "+". Workspaces can be renamed, and you can add widgets onto them and customise their location.
This feature is very helpful for experienced traders who wants all their necessary information displayed in one place, or even more casual traders who want to customise their trading page so it is similar to other exchanges they may be more familiar with.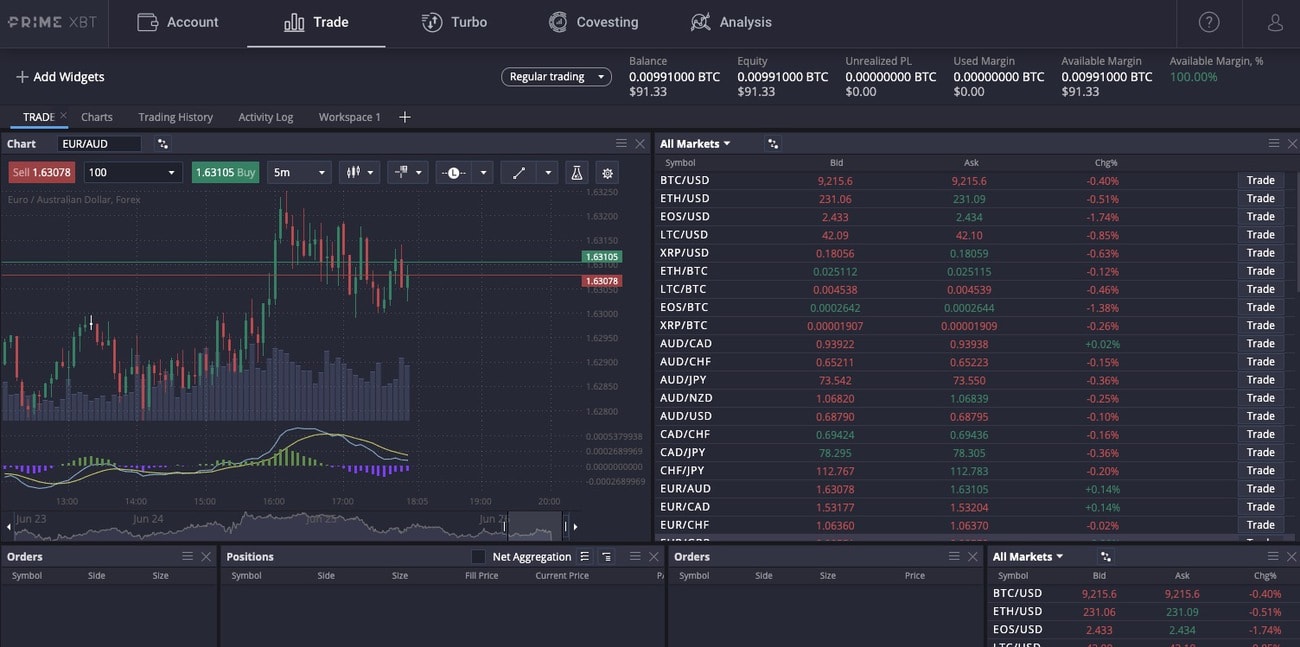 PrimeXBT also allows users to customise and annotate trading charts. Users can overlay different trading pairs on top of each other for comparison, e.g. in the below image we put together the charts for BTC/USD and ETH/USD. Users can also write notes, draw lines and choose from up to 50 indicators to put onto the charts etc. There are lots of features which will certainly keep technical analysts very occupied and finally, you can save a picture of your chart for a later date. This is certainly a feature designed by pro traders with other professionals in mind.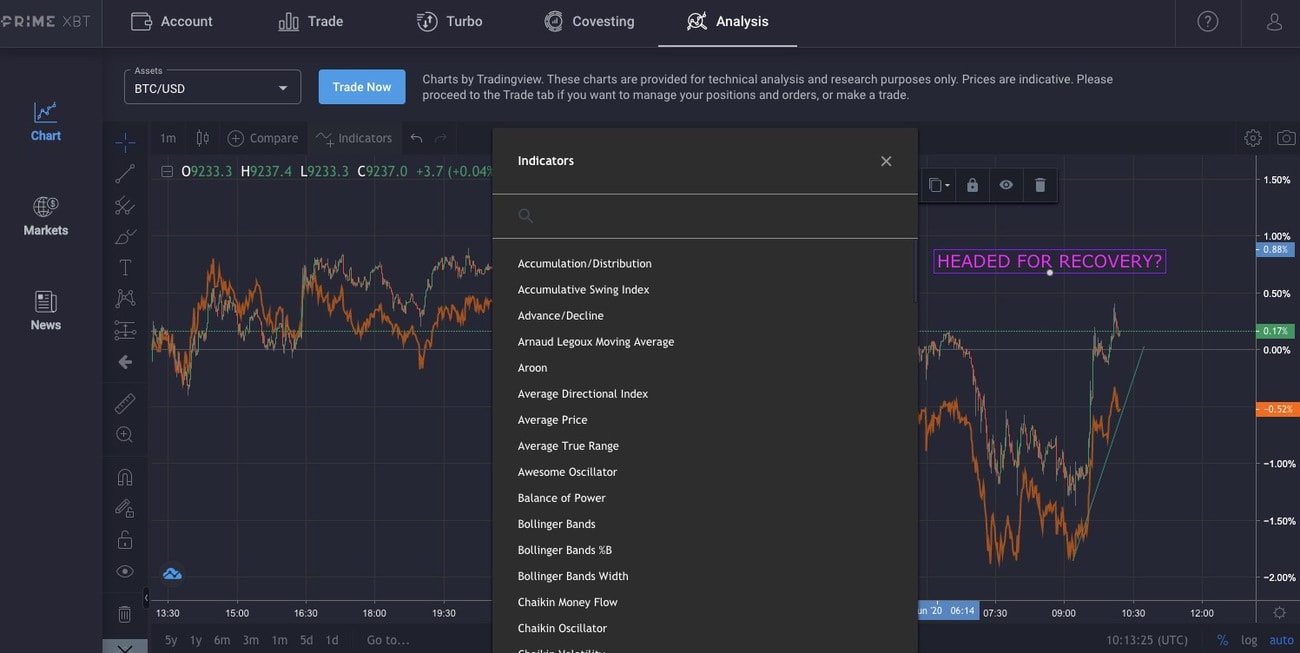 Welcome bonus
PrimeXBT currently has an enticing welcome bonus to encourage more users. New users who deposit more than 0.009 BTC into their trading account within the first 6 hours of registration are entitled to a US$50 trading bonus. The Exchange will automatically deposit the Bitcoin equivalent of this into your trading account.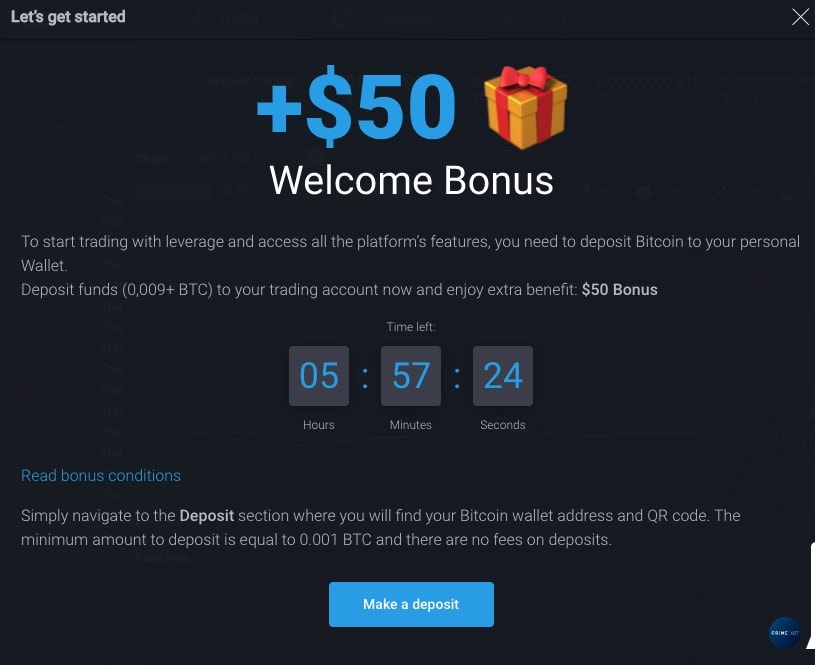 Conclusion: Is PrimeXBT a good exchange?
Here's some pros and cons of PrimeXBT based on our user experiences.
Pros
Good track record without any hacks so far. The Exchange has additional security features not usually found elsewhere such as mandatory withdrawal address whitelisting.
The Exchange is one of the most open and transparent we have come across. Almost any question we had on the Exchange is answered on their own website.
Customisable trading interface and charts. This feature is likely to be very attractive to seasoned traders.
Cons
Even with the Exchange's helpful tutorials, there is still a steep learning curve if you want to make use of the many features the Exchange has to offer.
Very limited cryptocurrency support and only Bitcoin deposits and withdrawals are supported.
Requiring photo ID and KYC process just to buy Bitcoin is a bit excessive.
In conclusion, we find PrimeXBT definitely geared towards traders with a bit more experience, particularly those who trade the major cryptocurrencies and other markets such as stocks and commodities on the side. We also find Turbo to be a very novel and interesting feature which we may revisit in the future. The Exchange's interface is very clear and intuitive, and in any event you can customise it to your needs and preferences. Users will need a bit of time exploring all of the customisation features that PrimeXBT has to offer which may seem overwhelming at first, but is certainly worth it in the long run. With this high level of customisation, we think once users overcome the initial learning curve, they are likely to come back to this exchange time and time again.
SIGN UP TODAY!