ETH 2.0 is armed to launch
The ETH2 deposit contract address is finally here! Although the final version of the new era for Ethereum is still far away (probably a few years), users are now able to stake their coins and get rewards if they wish to become validators. Learn everything about ETH2 and we answer all your FAQs in this article. A few important things need to be reminded:
The staked funds won't be redeemable for ETH anymore. Once they're sent, they will be gone for a long time. Since there are no other functionalities already available on ETH2, the only possible thing to do is use them as a passive source of income.
If you want to become a validator, you need to have at least 32 ETH to start with and fulfill the requirements. There are possible penalties if you fail at that (you can run into them in different ways), although Vitalik himself, founder of Ethereum, recently tweeted reassuring that the sanctions are not as bad as people might think.
Phase 0 "Beacon Chain" is supposed to start on 1 Dec 2020 (as opposed to previous speculations which dated it to 2021), but one condition has to be met in order to trigger the action: 524,288 ETH (16384 validators) have to be in the deposit contract 7 days before the planned date.
Learn 5 important things about ETH 2.0 in under 10 minutes!
Election Madness is over! Markets react to Biden win
Bitcoin broke through $15000 area for the first time since the beginning of 2018 on 5th November 2020 a short while after the 12th anniversary of the release of its Whitepaper by Satoshi Nakamoto on 31 October, 2008. The rally continued until $16000 before pausing for what it looks like a possible healthy retrace. It has been moving in the 14-15k range ever since, leaving people wondering whether the bottom is in or not.

This bullish action started long before the US elections craze and before there was a clear winner. If we look at the chart, we see that $BTC has been in an uptrend for weeks and has decisively broken the $12000 resistance a couple of weeks prior to the elections, stopping only around the weekly resistance in the $16000 area.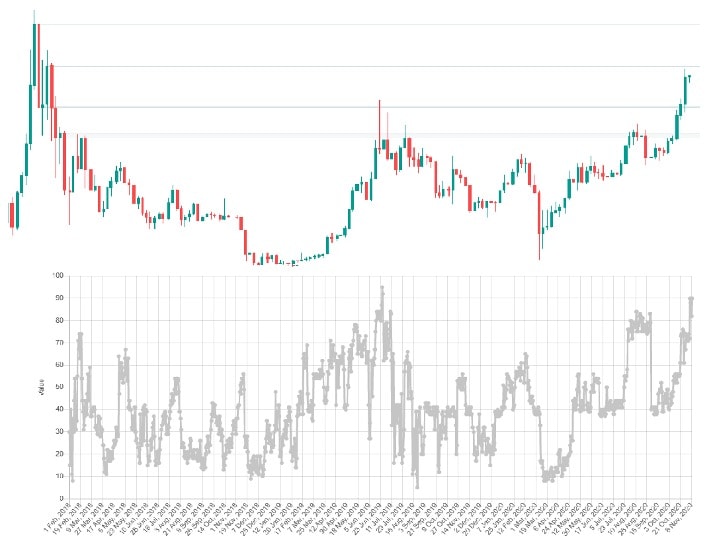 A comparison with the Fear and Greed Index, reveals that the level, now at 90, is its second highest ever. A major pullback was then to be expected soonish rather than later but as always with $BTC, and especially in a parabolic phase, trying to predict the price action is useless if not even dangerous for non-professional traders.
Following the spike in price, Bitcoin's market cap has risen to $283B and it is now bigger than some major US companies, like Coca-Cola, Netflix, Disney and PayPal (which recently announced crypto payments will be possible within their platform).
Crypto Exchange CEO among the top donors for Biden's campaign
In a report disclosing the top donors to Mr. Biden's Democratic Presidential Campaign, FTX.US (the US arm of FTX exchange) stands out as a familiar crypto face amongst the donors, with a total contribution of $5,22M.
This donation came directly from Sam Bankman-Fried, the CEO of the Exchange, and it's the second-largest contribution from a CEO in the list, behind Michael Bloomberg, who donated $56M.
Hopefully this is a good push for positive publicity for cryptocurrencies. Showing that cryptocurrencies and the various industries surrounding it should be taken seriously and can be highly profitable ventures.
Red flags of the week
Tron suffered attack
On 2 Nov around 6 am HK time, the Tron Network suffered an attack by a malicious smart contract during a routine update to the new 4.1 mainnet version. As Justin Sun himself declared on Twitter, the attack used "the authority granted to the contract developer. The attacker initiated malicious transactions and caused the Super representative to suspend the production of blocks".
As a consequence, all transactions were halted and users couldn't interact with the network.
The community was very helpful in identifying the attack and fixing it. The nodes had then been upgraded and everything went back to normal in less than 4 hours.
This incident raised once again a question regarding the real level of decentralization of Tron, as it uses DPoS (Delegated proof-of-stake), and the "Super Representatives" (which validate transactions and are in charge of blocks production), whether individuals or companies, are mostly related to Justin Sun himself.
Cred Files for Chapter 11 Bankruptcy Protection
Cred, the US cryptocurrency lending service has filed for "Chapter 11 Bankruptcy Protection" on 7 November 2020.
This comes not long after they announced on Twitter a halt on all inflows and outflows from the platform in relation to a "fraudulent incident". The day after, they also declared that the company was "not under investigation", but that the halt was voluntary.
Cred assets are credited around $50-100 million and its users are left worrying about their funds as the situation is unclear. Alex Mashinsky, Founder of CelsiusNetwork, tweeted that they will try to help their community as he understands that many users have deposited funds with Cred.
Other news
Banks ditching gold
There is a shift in central Banks in that, as Michael Sonnenshein (Grayscale managing director) tweeted, they are now more willing than ever to ditch Gold ETFs for Bitcoin. This, and the multiple news we had about Investment Funds buying crypto to diversify their portfolio, is definitely not something to underrate.
Record $1 billion crypto seizure by US Government
US Attorney David Anderson has confirmed that officials have sized crypto assets moved from a Silk Road hack related wallet a few days ago. The wallet owner is an unknown hacker and has been referred to as "Individual X".
Silk Road used to be a known website for criminal exchange of goods. On the black marketplace users could buy and sell drugs, stolen credit cards, weapons and more. The website was shut down in 2013 and the founder, Ross Ulbricht, is currently in prison serving two life sentences. The last time funds were moved from a Silk Road related wallet was in 2015.
The assets consist of Bitcoin, Bitcoin Cash and Bitcoin SV, for a total net worth of around $1B, making this the biggest seizure in the history of crypto.
Source BBC.
HK new regulations proposal
Hong Kong is proposing newer and stricter regulations for cryptocurrency exchanges in its Public Consultation on Legislative Proposals. This regulation will target all the trading platforms operating in Hong Kong that cover virtual assets, together with overseas platforms involved with Hong Kong's investors.
Most worryingly to Hong Kong cryptocurrency enthusiasts is the proposal that virtual asset service providers should only offer services to "professional services".
Learn more about these proposals and how Hong Kong's crypto community are reacting.
Keep3r.network ($KP3R)
Andre Cronje, the well-known developer and the most prominent name behind yEarn Finance($YFI), has recently launched another experiment- Keep3r Network ($KP3R).
Keep3r Network is basically a network consisting of "Jobs" (smart contracts that need an external entity to perform an action) waiting to be operated by "Keepers" (usually knowledgeable teams that are able to perform these tasks). The token is simply the reward for Keepers as they complete assigned Jobs.
As it usually happens, as soon as the father of Decentralised Finance (DEFI) wrote a new Medium revealing a new product, investors jumped on the boat pouring money at it, hoping to increase their portfolio size. As a result, the token raised to almost $400 in 48 hours. It is now at $120.
Boxmining updates
Genesis Block Hong Kong appoints Boxmining as Strategic Advisor
Genesis Block Hong Kong, a leading Over The Counter (OTC) trading center for digital assets, announced our appointment as Strategic Advisor. The collaboration has been set with the aim of creating content and exchange of information on the whole crypto industry and digital assets.
New clips channel
We have opened a new Boxmining Clips YouTube channel for short clips from videos and livestreams for bite-sized insights!
Upcoming events
18 Nov 23:59 UTC: deadline for joining Oasis Labs' ROSE garden.
13 Nov: SWAG Finance SQUIRT 4 ends and 5 begins
Disclaimer: Cryptocurrency trading involves significant risks and may result in the loss of your capital. You should carefully consider whether trading cryptocurrencies is right for you in light of your financial condition and ability to bear financial risks. Cryptocurrency prices are highly volatile and can fluctuate widely in a short period of time. As such, trading cryptocurrencies may not be suitable for everyone. Additionally, storing cryptocurrencies on a centralized exchange carries inherent risks, including the potential for loss due to hacking, exchange collapse, or other security breaches. We strongly advise that you seek independent professional advice before engaging in any cryptocurrency trading activities and carefully consider the security measures in place when choosing or storing your cryptocurrencies on a cryptocurrency exchange.