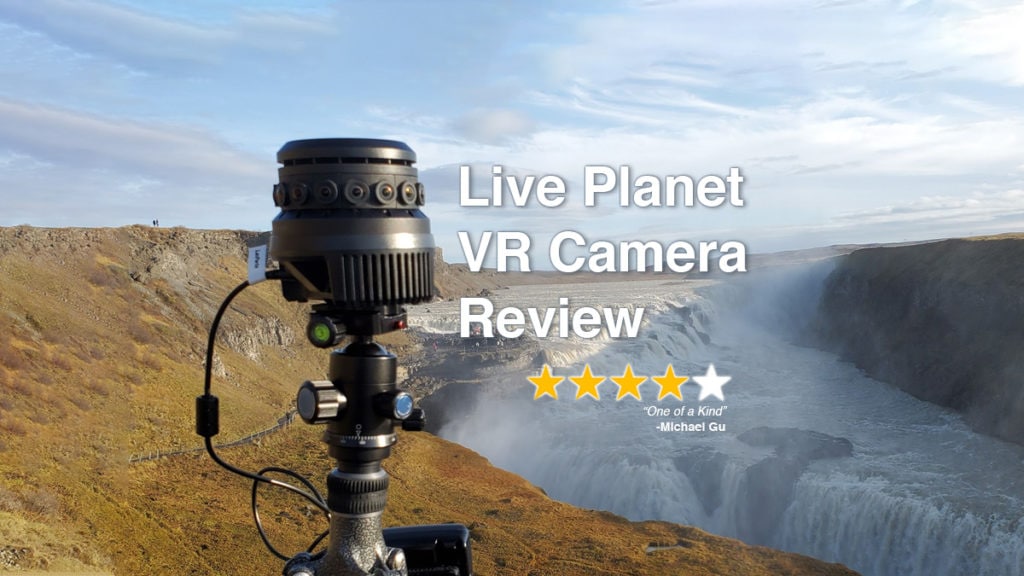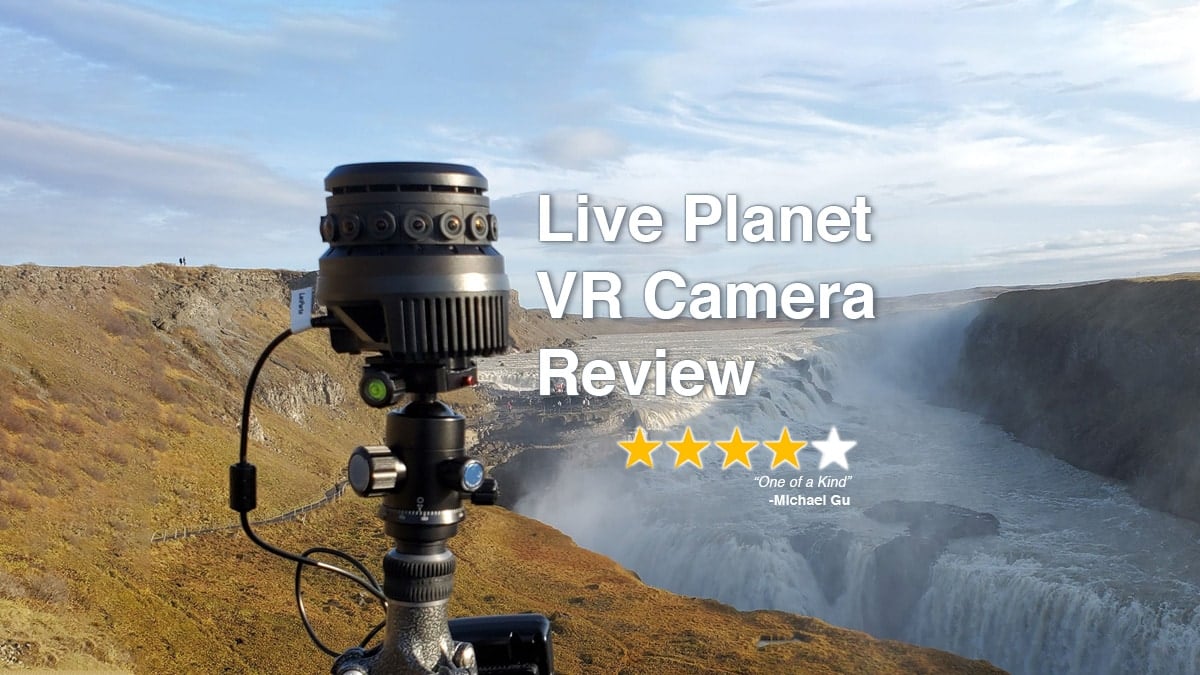 Live Planet VR is a camera from the future – it records using 16 individual lenses for a full Virtual Reality experience. It's an all-in-one camera solution that directly records 360° stereoscopic Virtual Reality video. The device itself looks crazy – it has 16 cameras directly on the rig, it almost feels excessive. What's special about the device is that the video directly records to a stereoscopic VR video file that's ready to upload – without the need to manually "stitch" the files together. This is a huge contrast to other 360° camera systems such as the insta360 one that requires lengthy post-rendering to create usable files. In this review we'll look at the functionality, quality and publishing platform LivePlanet.
VR Camera Review
The VR camera consists of the main camera module (housing 16 cameras) and external battery. The camera directly records to the desired 360° view or to 180° with selectable angle. Video recorded is stereoscopic – separate video data corresponding two what our 2 eyes would see. Having stereoscopic video is what makes Live Planet VR different other systems, as only this type of video will give a true VR experience.
Camera Setup
The VR camera can be directly mounted onto tripods via the 1/4″ screw on the bottom of the device. The external battery (Juicebox V-Mount Battery) can be mounted using a V-clamp which comes with the set. Whilst I found having an external battery to be quite a hassle (especially if you really need to capture something fast!), this type of setup is standard in professional filmography. Access to the camera is over wifi on a smartphone with the LivePlanet VR app. The app has a live preview of the two angles the camera sees along with recording settings (4K or 6K video, video profile).
As control of the camera relies heavily on the smartphone, we found that some occasional connection issues that caused minor nuisance when recording. Sometimes the app doesn't find the camera even after connection to the camera's wifi-hotspot. We found that manually disconnecting the phone's mobile data connection improves connection reliability.
Audio needs to be connected separately via USB type-A connection. This is the weakest part of the system. I was recommended a Zoom H5 over an USB connection, adapted with an USB OTG cable.
Setup: 3.5/5
Camera Quality
Camera performs well in well-lit conditions, such as outdoors filming or in brightly lit studios. This makes sense as the 16 on-board cameras are a-kin to camera modules found on most smartphones. The onboard computer makes reasonable determinations of the lighting condition – with light, medium and dark options for exposure. Color temperature can be manually adjusted (which is great for filming long events). In terms of quality, we found the 4K video to be soft in some situations, with occasional video artefacts.
Low-light is when the camera starts showing weaknesses. Images start getting soft and grainy.
Camera Quality: 4.5/5
Live Planet Video Platform
LivePlanet VR offers direct VR publishing and viewing, fully catering to the camera's capabilities. Camera content can be uploaded directly from the camera and even streamed lived for major events. We found that upload times are reasonable and equivalent to other major content platforms like YouTube.
Live Planet offers both VR viewing (via the app) or browser based mono-scopic videos. We found this to be a huge plus as many of our viewers don't have VR headsets. One problem we found was that the playback quality can be choppy at times, depending on where the video is viewed from. This could improve with time.
Publishing Platform: 4/5
Verdict: Huge leaps for VR video creation
Live Planet VR camera marks a huge leap for VR content creation. It allows for the easy creation of stereoscopic VR, sometime that is normally hard to access. Publishing is streamlined with the Live Planet VR platform.
We found that sometimes the video quality could be soft and lacking in sharpness, especially in low light scenarios. The lack of 3.5mm or XLR inputs makes audio on this camera hard to setup. We found the USB OTC dongle + Zoom H5 combo the longest to setup (especially if the cable connection isn't stable).
Review Score: 4 /5
Reviewed by Michael Gu
Links:
Boxmining Live Planet Channel: https://liveplanet.live/shared/channel/25408/home
DP Review: https://www.dpreview.com/reviews/review-live-planet-vr-live-streaming-system