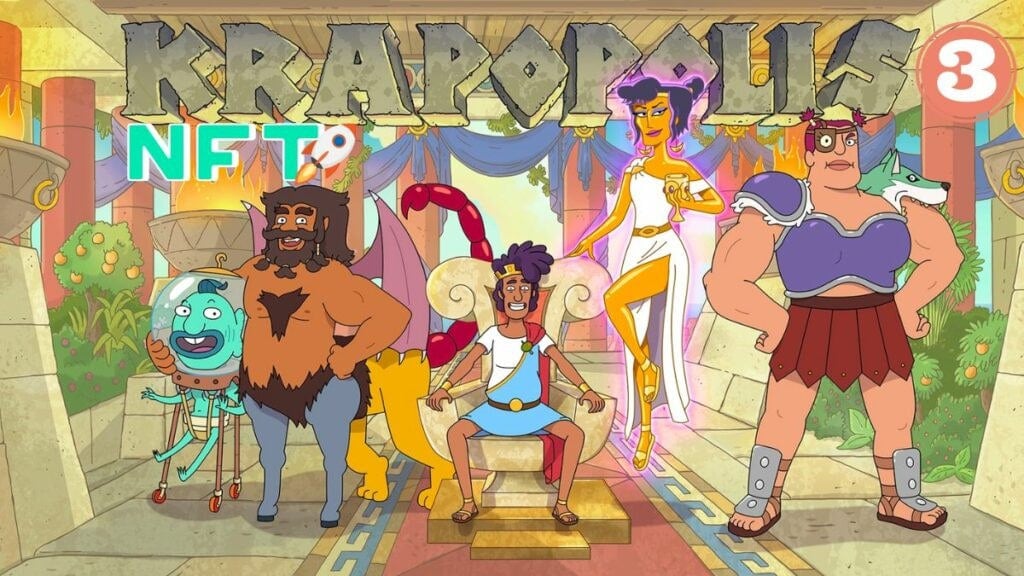 The all-star quest, "Krapopolis," has now been renewed for a third season—despite never having aired a single episode! The mythical animated TV series, set in ancient Greece and starring an all-star cast including Hannah Waddingham, Richard Ayoade, Matt Berry, Pam Murphy and Duncan Trussell, is set to premiere on Fox sometime in 2023. But hold on, there's more.
To bring viewers ever closer to the all-star adventure of a lifetime, Krapopolis launched its inaugural 10,420 Krap Chicken non-fungible token (NFT) collection in August. These NFTs let holders vote on show elements, access behind-the-scenes content, attend IRL experiences with the cast and crew and redeem rewards for official merch and digital goods. Granted, the floor price of the collection on OpenSea sits lower than the cost to mint an NFT. But come on, it's Krap Chicken!
Fox's president of scripted programming, Michael Thorn, told Deadline he remained "bullish" on the project and was confident with the unusual order for a third season. In July an announcement brought the news of Fox Entertainment's investment of $100 million into the project. Furthermore, OpenSea reported the project has done 418 ETH (approx. $650,000) in sales so far.
It's no surprise that the Krapopolis project is riding the current wave of NFT mania! The media has become awash with NFT content and it seems everyday new NFT projects– like Tim Ferriss' Ethereum project, "The Legend of Cockpunch"– are released. In fact, the success of "Cockpunch" minting is often reported as the biggest NFT market winner to date. With over 5,500 NFTs sold, the project yielded $2 million in proceeds to the Saisei Foundation.
In the world of the walking, talking, fighting roosters of Cockpunch, NFT owners use their characters to create derivative artwork and projects. By now, we've all seen the inroads NFTs have made into the world of virtual bands, apparel, themed restaurants and drinks, as well as the ability for holders to cash in on rewards for digital goods.
Fox is embracing this NFT craze, with launches of its exclusive fan experiences like the "The Masked Singer" digital experience or its BCL business and creative unit. Of course, Krapiopolis is riding this new wave of NFTs, and its approach is sure to extend beyond the series– to bring viewers in with holding a stake in the show.
The initial launch of Krap Chicken was an intriguing and inviting way to draw viewers into this mythical animated world of "Krapopolis." It's no small wonder that the project has been green-lit for a third season. As excitement builds, let's see what the creators and cast of "Krapopolis" unveil in the coming year!