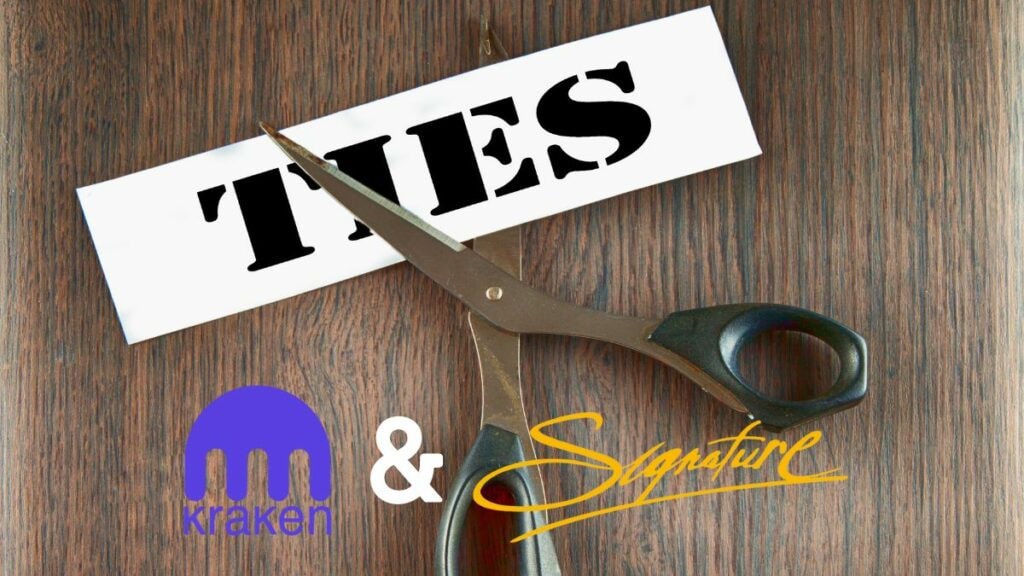 After facing numerous unfavorable regulations in various parts of the world, the well-known crypto exchange, Kraken, has severed ties with its long-time banking partner, Signature Bank. According to an email sent to customers, Kraken's non-corporate clients will no longer be able to deposit and withdraw US dollars via Signature Bank as of the 15th of March for deposits and the 30th for withdrawals.
Cryptocurrency exchanges have long looked for safe and stable banking relationships, and Signature Bank was a trusted partner to Kraken for a long time. However, in a world that is increasingly hostile towards the emerging industry, one has to wonder why Kraken made such a bold decision.
The answer sits with the New York-based banking firm. In December of this year, it was announced that Signature Bank would be reducing its exposure to the crypto sector, opting not to handle transactions of less than $100,000 for crypto exchange customers. It is believed that this move was made in light of the recent implosion of the crypto exchange FTX. Even though Signature's deposits with FTX only amounted to 0.1% of its overall deposits, the relationship between the two caused Signature's shares to drop almost 20%.
Further damaging relations was a statement released by crypto exchange giant Binance which stated that due to Signature no longer supporting "any of its crypto exchange customers with amounts of less than 100,000 USD", "some individual users" would no longer be able to use SWIFT (global messaging network) bank transfers to purchase or sell activities of such type. This was an unacceptable risk for Kraken and its customers, which is why the decision to step away from Signature Bank was ultimately taken.
For now, the crypto exchange industry is at a standstill. However, it does not appear that Kraken or any other crypto-based firms are giving up hope. Kraken has made it clear that it is actively working to find a new, suitable alternative. Meanwhile, Binance stated that only 0.01% of its average monthly users were serviced by Signature Bank, and that these users can now use their accounts to buy and sell different digital assets, including cryptocurrencies, using credit or debit cards, or alternative fiat currencies.
It is clear that with unfavorable taxation laws and stricter regulations in many jurisdictions, navigating the crypto world has become increasingly challenging. But Kraken's decision to cut ties with Signature Bank is a testament to the resilience of the industry – that it is willing and able to overcome any obstacles placed in its way. It is good news to hear that alternatives have already been worked on and that individual users will still be able to purchase and sell assets safely, no matter what happens in the future.