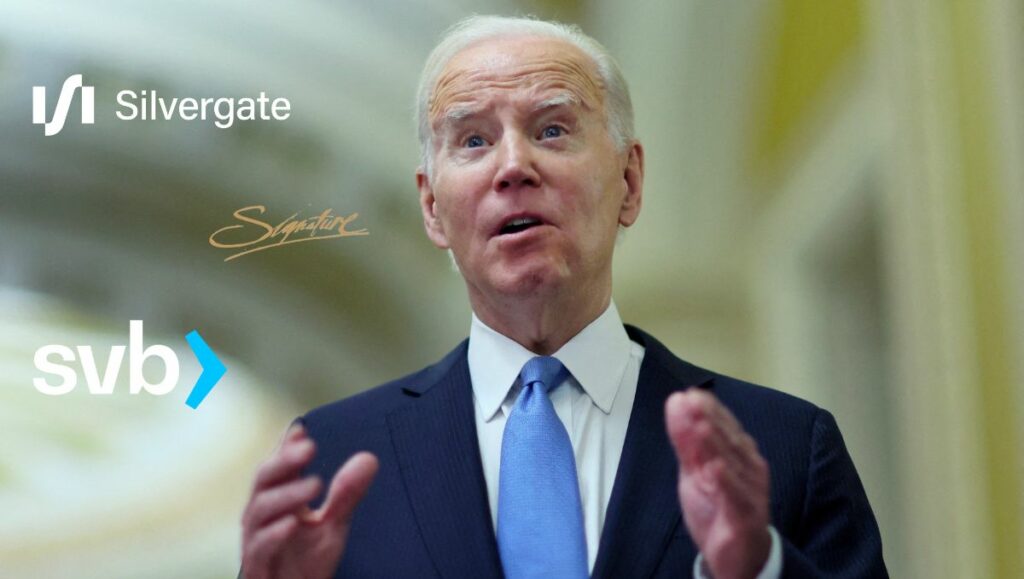 On March 12th, a monumental event occurred – the Federal Reserve took over the possession of crypto-friendly Signature Bank, claiming it was in an effort to protect the US economy. Following this event, President Joe Biden has come forward to vow accountability for those responsible for the downfall of the banks, calling it a "mess".
The President is certainly determined to make sure the public's money is safe in their accounts, and has made it his goal to ensure the workers, small businesses, and taxpayers are secure. Along with these measures, the Federal Reserve is providing a $25 million fund to backstop potentially any banks that face future liquidity issues. Senator Sherrod Brown and Representative Maxine Waters issued a joint statement, praising the actions taken.
The closure of Silicon Valley Bank led to an immediate depegging of Circle's USD Coin (USDC). With 3.3 billion of its 40 billion USDC reserves held by SVB, the buy and sell of USDC dropped to as low as $0.88 on Tuesday. Fortunately, the crisis was soon ended, and the Federal Reserve pleasantly surprised their customers by making them "whole".
This was followed by the announcement of Silvergate Bank shutting down and announcing their voluntary liquidation. Silvergate had a solid presence within the crypto community, and their Silvergate Exchange Network (SEN) was integral for crypto-native firms.
It seemed Gary Gensler, the Chairman of the US Securities and Exchange Commission, had been waiting for the moment, as he took the time to enforce his agency's pursuit of the "violators of US securities laws". Gensler issued an intense warning to crypto companies to stay within law's boundaries and those who don't shall face the consequences.
Though all depositors in Silicon Valley Bank are given access to their funds back, the same doesn't stand true for the shareholders and certain unsecured debtholders. With this, the FDIC will do its best to protect customers as best they can by providing loans to eligible institutions, who will put up U.S. Treasuries and other assets as collateral.
The Federal Reserve Board stated that these actions shall reduce the stress across the financial system and will boost overall financial stability, while the cryptocurrency markets responded positively – Bitcoin and Ethereum rose 7.2% and 8.2% respectively, and USDC was nearly back to its peg at $1.
As for President Joe Biden, his ultimate aim is to hold those responsible for the mess "fully accountable", and he continues to ensure Americans that their deposits are safe and have no reason to worry. He promises to update us further with his address this Monday.
It's uncertain why the banks were shuttered, but what is certain is that Joe Biden is vowing accountability as SEC Chair Gensler doubles down on Crypto Companies, leading to an unprecedented fall of Silicon Valley Bank, Signature Bank, and Silvergate Bank.