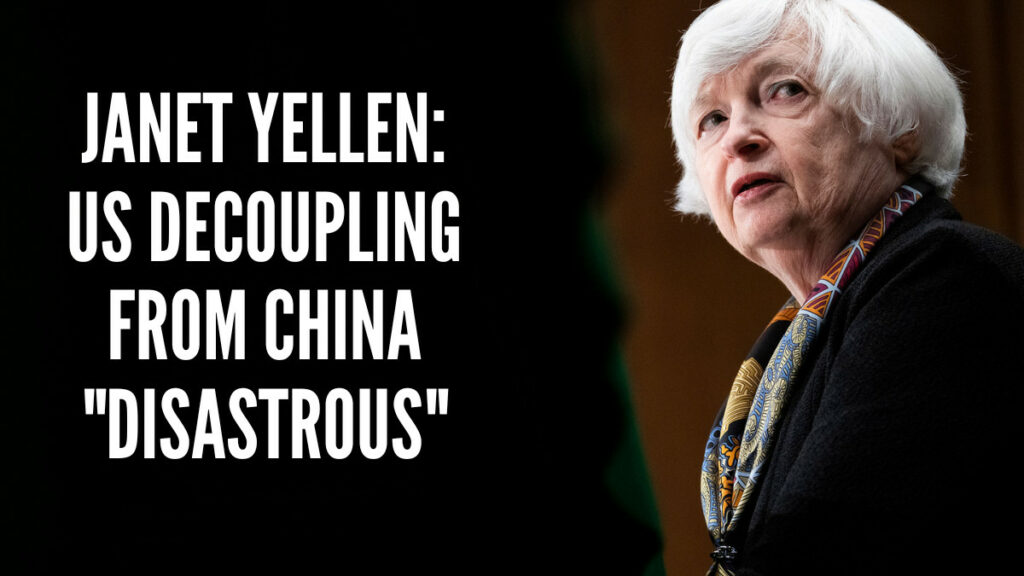 US Treasury Secretary Janet Yellen has warned against any effort to decouple the US economy from China, saying it would be "disastrous" for both countries and destabilizing for the rest of the world. Yellen called for a "constructive and fair" economic relationship between the two countries, saying that US national security measures targeted at Beijing were not designed to "stifle" the Chinese economy. She emphasized that the US will assert itself when its vital interests are at stake, but that a full separation of the two economies would be detrimental to both countries.
US-China Relations Deteriorate Amid Accusations and Tensions
Relations between the US and China have deteriorated to their worst state in decades. Beijing accuses Washington of trying to contain its rise by limiting its semiconductor industry and supporting Taiwan's independence. US officials, meanwhile, have been critical of China in their speeches. This has caused tensions to escalate, with no signs of improvement in sight. The situation was further exacerbated when a suspected Chinese spy balloon flew over the US two months ago. As the two countries remain at odds, the future of their relationship remains uncertain.
Yellen Warns Against "Unfair" Economic Policies and Encourages Open Discussions on "Difficult Issues"
Yellen has called for a "healthy economic relationship" between the US and China but warned that the US would continue to work with allies to resist Beijing's "unfair" economic policies. Yellen said that while negotiating the contours of engagement between great powers is challenging, both countries need to be able to discuss "difficult issues" frankly. She added that China's decision to pivot from market reforms to a more state-driven approach had "undercut its neighbors and countries across the world", but the US was not trying to gain a competitive economic advantage. Yellen concluded that the US and China could find a way forward if China is also willing to play its part.
Yellen Highlights US Concerns Over Chinese Military Activity and Tech Safeguards
Treasury Secretary Janet Yellen has argued that safeguarding certain technologies from the Chinese military is of "vital" interest to the US, but not intended to stifle China's economic and technological modernization. Yellen also signaled that the US is preparing more measures likely to anger Beijing, such as a program to restrict certain US outbound investment in sensitive technologies with national security implications. The rising tensions between the US and China, particularly over Taiwan, are due to Washington's increasing concern about Chinese military activity.
US and China Seek to Improve Relationship with High-Level Exchanges and Visits Planned
Joe Biden and Xi Jinping agreed to try to set a "floor" under their relationship at the G20 in November, with Antony Blinken, Secretary of State, scheduled to visit Beijing in February. However, the visit was canceled due to a spy balloon incident. Beijing has been resistant to rescheduling, but two senior Commerce Department officials recently traveled to Beijing for talks about a possible visit later this year by Gina Raimondo, Commerce Secretary. Treasury Secretary Janet Yellen also plans to travel to China "at the appropriate time", despite her critical comments. The US and China are attempting to improve their relationship, with high-level exchanges and visits being discussed.
Yellen Urges China to Work with US on Providing Meaningful Debt Relief to Developing Countries
Yellen, the US Treasury Secretary, has called on China to work with the US to help emerging market and developing countries facing debt problems. She believes China's participation is essential to meaningful debt relief, but has been a roadblock to necessary action. The Chinese embassy in Washington responded that economic cooperation should not be a zero-sum game and that they oppose decoupling even at the expense of global industrial and supply chains. Yellen and China must work together to provide meaningful debt relief to emerging markets and developing countries.