Huobi, one of the oldest and most reliable cryptocurrency exchanges on the market, offers a wide range of features and benefits for crypto enthusiasts to explore and take advantage of. We'll look at Huobi's key attributes as well as the kinds of advantages you may anticipate if you decide to make it your primary cryptocurrency trading platform. We'll talk about the exchange's security, supported coins, and a lot more topics.
Sign up here to get started
What is Huobi?
Huobi, a leading digital asset exchange, was founded in 2013 by Leon Li, a former Oracle engineer. Huobi quickly gained momentum in the emerging Bitcoin market in China, and harnessed investments from leading investors, including the Sequoia Capital group. In just three months after its live launch, Huobi made over $4 billion in turnover, and by 2014, the exchange had quadrupled its turnover. Huobi has since become a leader in the Asian crypto market, providing a secure and reliable platform for digital asset trading. With its innovative technology and experienced team, Huobi is committed to providing users with a safe and convenient trading experience.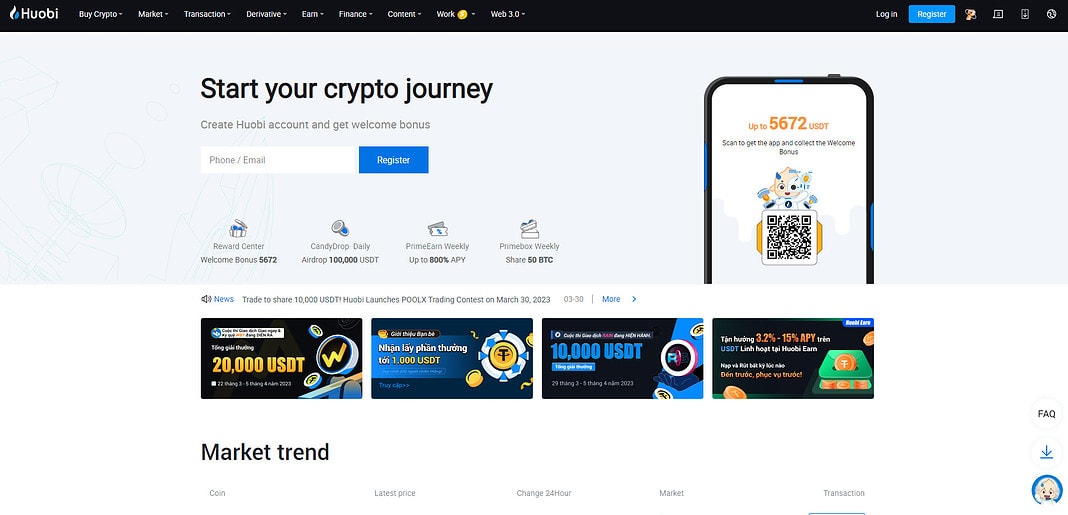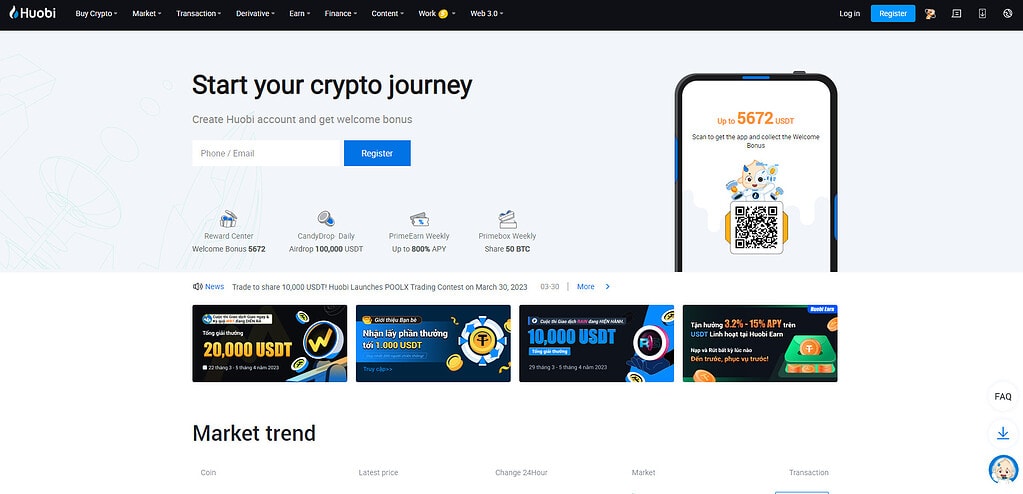 Huobi, reported a turnover of $247 billion in 2016, which is almost half of the world's cryptocurrency exchange market share. After the Chinese authorities dropped the banhammer on the cryptocurrency exchanges operating in China, Huobi decided to relocate to Singapore and globalize its operations. It began exploring markets in Japan, Russia, Korea, and other countries. Huobi has since become a leading crypto exchange in the global market, offering a wide range of services and features to its users. With its innovative approach and commitment to providing a secure and reliable trading platform, Huobi has become a trusted name in the crypto industry.
Key Features of Huobi
Simple User Interface: Huobi's professional interface and functionalities make navigating their website a breeze, providing users with access to price feeds, charting tools, and market depth data.
Various Order Types: Offering a variety of order types including Limit, Market, and Stop Limit orders, as well as margin trading with 5x leverage and a 0.1% fee for 24 hours on Bitcoin (BTC) and Litecoin (LTC).
Flash Trade: Huobi's Flash Trade feature allows users to experience real-time trading with an order book, chart index, and market chart, making it an exciting way to trade during times of high volatility.
Compatible with various platforms: The Huobi platform is compatible with multiple platforms like Mac, Windows, iOS, and Android.
Security: Huobi, incorporated in Singapore with advanced crypto regulations, provides robust security measures such as 2-factor authentication to protect users' accounts.
Swift Customer Service: Huobi offers fast and reliable customer service, with its customer support team providing prompt responses to any trading issues within the hour.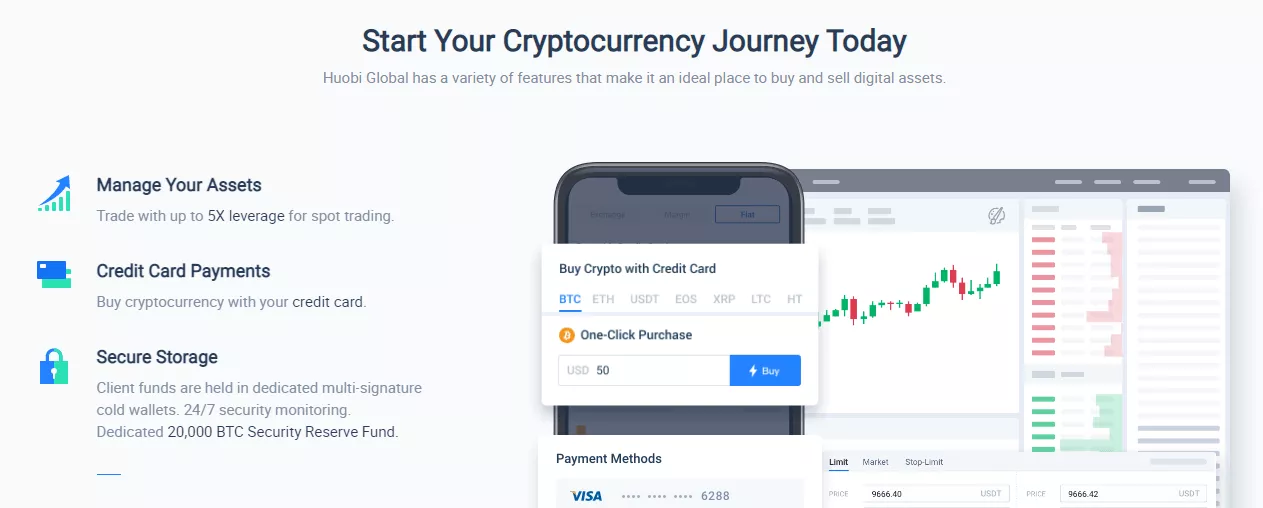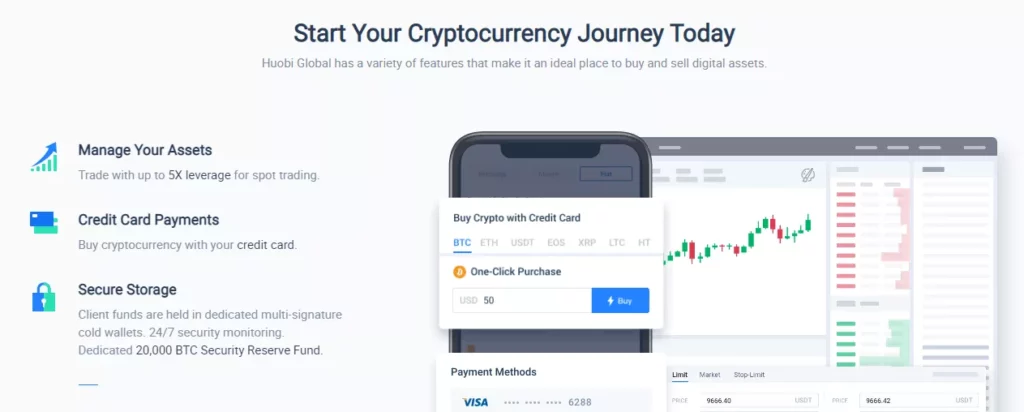 Key Advantages of Huobi
We will start off by talking about the actual advantages that users will experience when using the exchange. The finest features of this platform are mentioned in a number of user Huobi exchange reviews that have been published online; among them, the prominence of the supported cryptocurrency coins stands out.
Supports 300+ Cryptocurrencies
Huobi is a cryptocurrency exchange that offers its users the ability to trade and exchange over 300 different cryptocurrencies. This includes both the most popular coins such as Bitcoin, Ethereum, and Litecoin, as well as some of the less-known crypto assets. Huobi's wide selection of coins gives users the ability to purchase and invest in multiple different assets on the same platform, allowing them to diversify their portfolios and explore new opportunities. Huobi also offers a variety of features such as margin trading, spot trading, and futures trading, making it a great choice for both experienced and novice traders.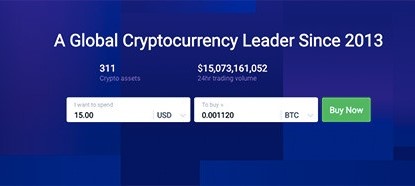 Very Low Fees
Huobi is a leading cryptocurrency exchange that offers its users some of the best fees on the market. Whether you're starting out with crypto or looking to trade higher amounts, Huobi is a great choice for those looking for competitive fees. Multiple Huobi exchange reviews left online confirm that the platform offers great prices for its users. Huobi is a reliable and secure platform that is trusted by millions of users around the world. With its competitive fees and secure platform, Huobi is a great choice for those looking to trade cryptocurrencies.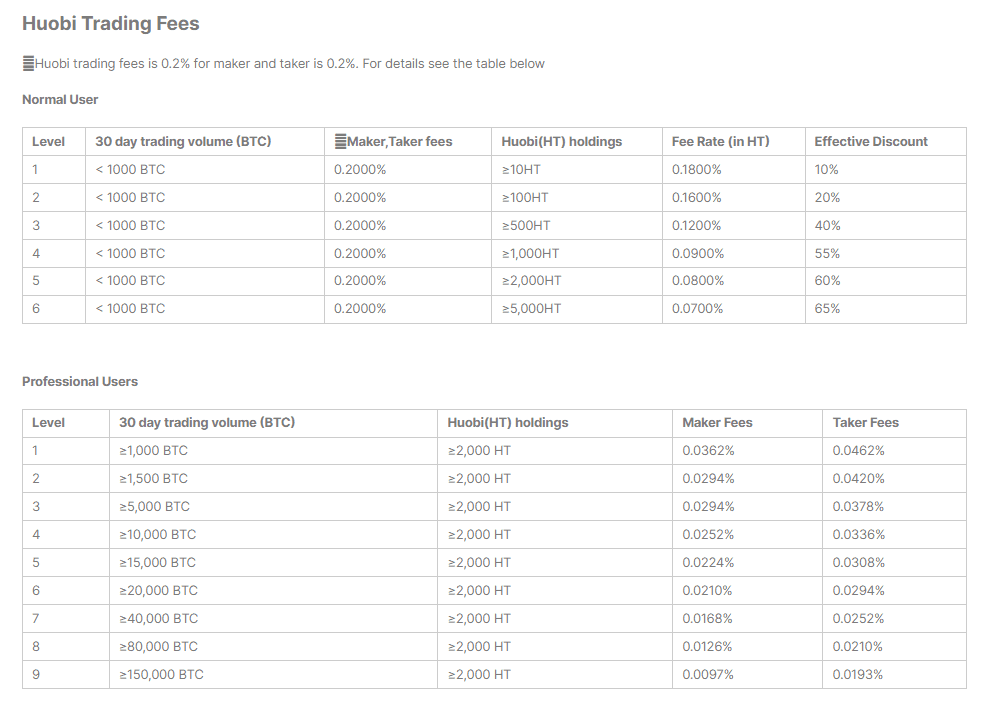 Crypto trading involves two terms – "maker" and "taker". A 'maker' is someone who performs the payments, while a 'taker' is a person who receives it. Huobi exchange reviews show that the fees for both makers and takers are usually below 0.2%, which is significantly lower than most other exchanges. Additionally, Huobi Pro reviews show that users who hold Huobi tokens can get even lower fees. This makes Huobi a great option for those looking to trade crypto without having to pay high fees.
Top-Notch Security Features
Huobi is a reliable and secure cryptocurrency exchange, offering users a safe and secure trading experience. The exchange keeps up to 98% of its users' crypto assets in cold wallet devices, which are offline hardware devices used to store cryptocurrencies and tokens. This ensures that a potential hacker won't be able to access your funds, as it's impossible to breach the security of a cold wallet without stealing the physical device. Additionally, Huobi's User Protection Fund ensures that, if anything were to happen to your crypto assets, and their security was compromised, you'd be compensated for your losses. All in all, Huobi is a safe and secure crypto trading option.
24/7 Customer Support
Huobi is a cryptocurrency exchange that offers reliable and live customer support 24/7. This is a great feature that sets it apart from other exchanges, as many of them only offer email support. With Huobi, you can be sure that you'll be able to get help with any issue you might be facing at any time of the day. The customer support team is knowledgeable and experienced, and can provide assistance with any issue you might have. This makes Huobi a great choice for anyone looking for a reliable and secure cryptocurrency exchange.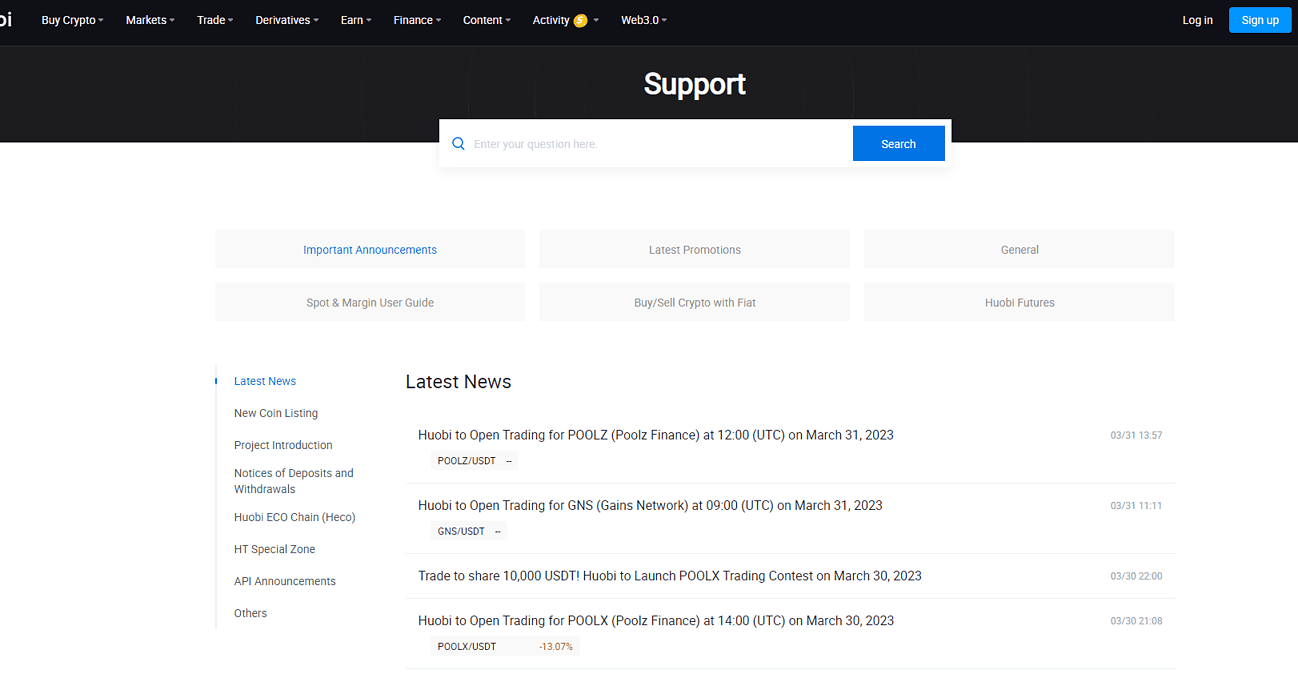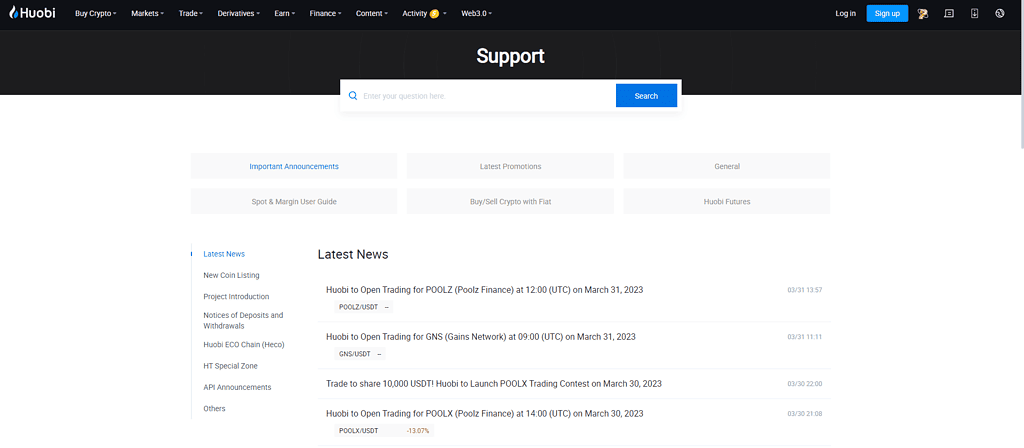 Credit / Debit Cards – Accepted!
Huobi accepts both credit and debit card payments, allowing users to quickly and conveniently fund their accounts. Huobi also offers promotions and discounts to help users save money on their trades. With its user-friendly interface and secure platform, Huobi is a great choice for both experienced and novice traders.


Key Disadvantages of Huobi
From the Huobi Pro reviews, it is clear that the majority of the more unfavorable comments Huobi receives are more about the functionality the platform lacks than the things it does offer.
Trading Exclusively in Cryptocurrencies (No Other Assets)
Huobi is a cryptocurrency exchange that allows users to trade a variety of digital assets. While this can be seen as a pro for hardcore crypto fans, some user Huobi exchange reviews point out that it only allows users to trade cryptocurrencies and not other assets. This could be a con for those who would like to use Huobi as their standalone exchange. Ultimately, it all depends on the user's financial portfolio-building preferences.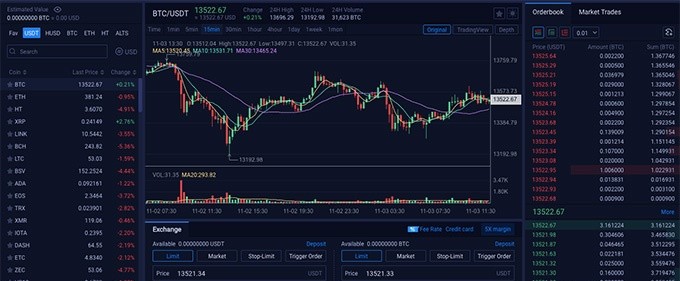 An Unregulated Exchange
Huobi falls under the laws of the Republic of Seychelles. What this means is that the company behind the exchange is not regulated by any major financial institution. This could be seen as both a pro and a con, depending on your stance regarding crypto regulations. For those who want to honor the philosophy behind crypto, the unregulated nature of the exchange might not be too big of a deal. However, if you are looking for a regulated and secure exchange platform, Binance and KuCoin are some of the best alternatives.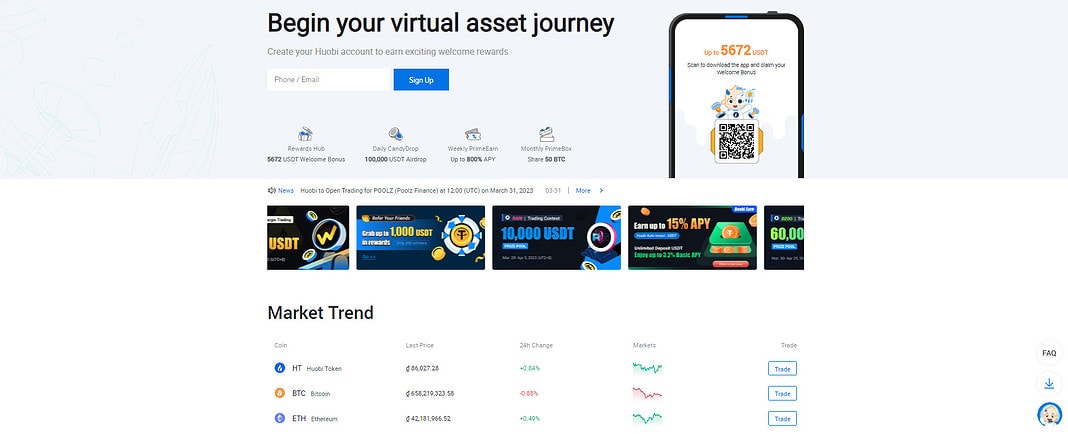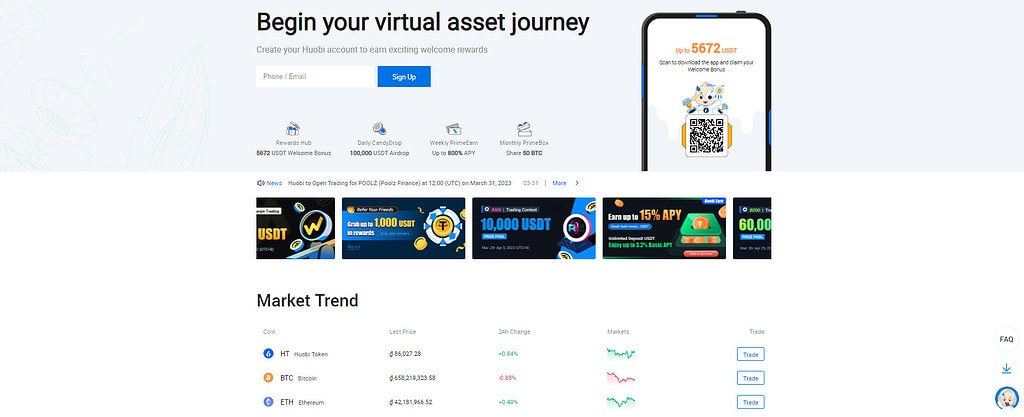 How to Use the Huobi Cryptocurrency Exchange?
Users can exchange their preferred crypto coins in Huobi by following these steps:-
Visit the homepage of Huobi exchange and click on the "Trade" button.
Click on the "Exchange" tab and choose the digital currency and the preferred amount that they want to exchange.
Confirm the amount and the USDT worth of crypto coins that they wish to exchange with bitcoin or any other crypto coins.
Click on the "Confirm" tab to complete the transaction.
How to Register on Huobi?
The registration process involves the following steps:
Step 1: Go to Huobi's official website.
Step 2: Press Sign Up. You'll be redirected to a new window, where you'll have to fill out some relevant information.
Step 3: Now, you'll have to verify your account by entering the code that was sent to your email.
Step 4: Once you've done that, you'll be redirected to the main page of the exchange. That's it!
The signup process was quite simple, as you can probably see by now. It only takes a minute and is incredibly simple, according to the majority of user Huobi exchange reviews!
How to Deposit Funds into Your Huobi Account?
Let's look at Huobi's credit or debit card payment options as the last point in our evaluation of Huobi's exchange.
Step 1: Navigate to the Buy Crypto button on the top-left of your main exchange page.
Step 2: Here, you'll have to choose a credit card payment option, and enter the amount of money that you'd like to spend on Bitcoin.
Step 3:If you still haven't finished your verification, you will now be prompted to do so. You must give Huobi your address and a photo of identification during the brief verification process.
Step 4: The necessary amount of cryptocurrency will be funded into your Huobi wallet once your transaction has been completed and you have successfully passed verification. All done!
Huobi Exchange makes crypto purchasing fast and simple, as evidenced by the countless positive user reviews.
Conclusion
Huobi is a top-tier cryptocurrency exchange platform that offers users a secure and easy-to-use platform. With over 300 different crypto assets available and the ability to purchase cryptocurrencies with a credit or debit card, Huobi is a great choice for those looking to get into the crypto market. The majority of funds are kept in cold storage devices, providing users with an extra layer of security. User reviews of Huobi are overwhelmingly positive, making it a great choice for those looking to get into the crypto market. If you're looking for even better alternatives, take a look at our list of the top-rated crypto exchange platforms, such as Binance and KuCoin.
Disclaimer: Cryptocurrency trading involves significant risks and may result in the loss of your capital. You should carefully consider whether trading cryptocurrencies is right for you in light of your financial condition and ability to bear financial risks. Cryptocurrency prices are highly volatile and can fluctuate widely in a short period of time. As such, trading cryptocurrencies may not be suitable for everyone. Additionally, storing cryptocurrencies on a centralized exchange carries inherent risks, including the potential for loss due to hacking, exchange collapse, or other security breaches. We strongly advise that you seek independent professional advice before engaging in any cryptocurrency trading activities and carefully consider the security measures in place when choosing or storing your cryptocurrencies on a cryptocurrency exchange.