HitBTC is a leading cryptocurrency exchange platform that allows users to buy and sell Bitcoin, Ethereum, Litecoin, EOS, and more. This review of HitBTC will provide you with information regarding the platform's security, advantages and disadvantages, supported cryptocurrencies, fees, and payment methods.
Sign up here to get started
What is HitBTC?
HitBTC is a European bitcoin exchange platform founded in 2013 with a 6 million USD Venture Capital investment. Ullus Corporations is the company behind HitBTC, which offers traders the opportunity to trade the most popular cryptocurrencies and widespread fiat currencies, such as USD and EUR. The main goal of the company is to introduce crypto traders to the most advanced technologies.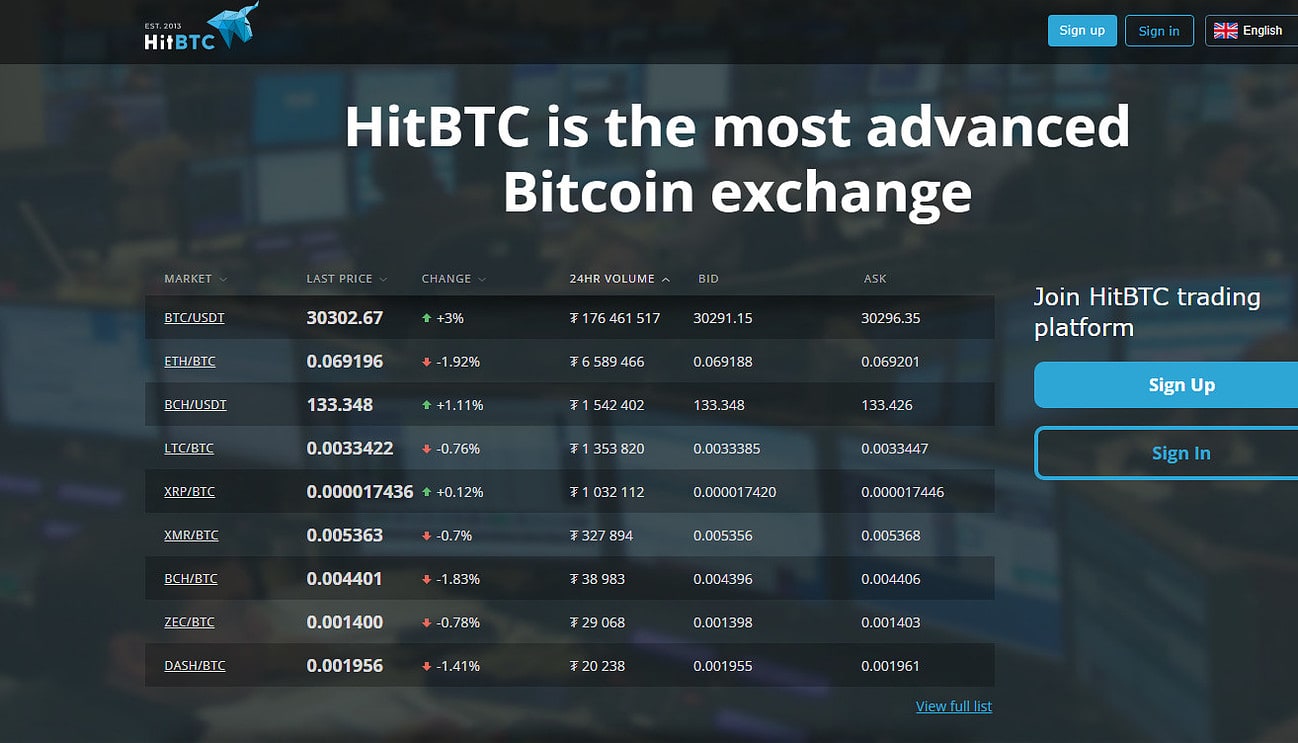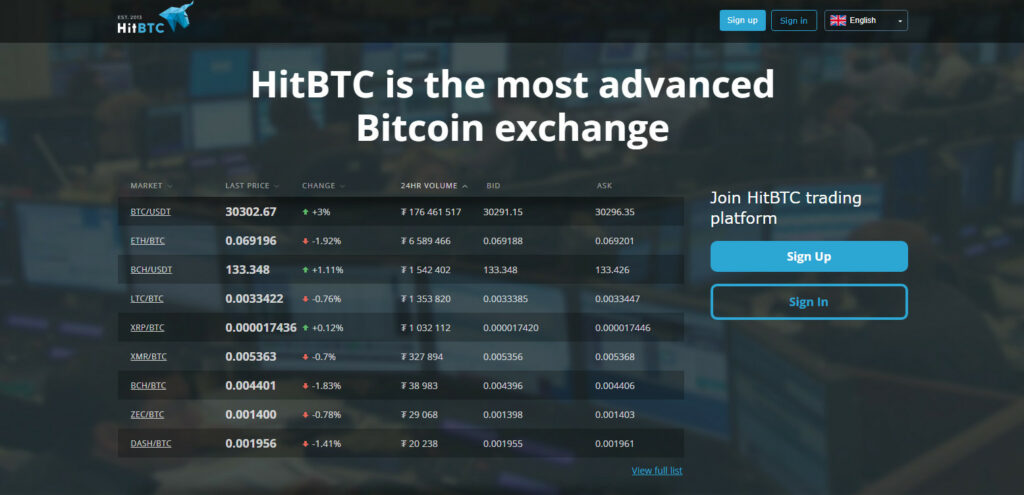 HitBTC provides a secure and reliable platform for trading digital assets, with a wide range of features and tools, including advanced order types, margin trading, and a variety of order books. The platform also offers a wide range of payment options, including bank transfers, credit cards, and cryptocurrencies. With its user-friendly interface and advanced security measures, HitBTC is a great choice for both experienced and novice traders.
Key Features of HitBTC
The following are the main features of the HitBTC exchange:
Over 380 cryptocurrencies are available for purchase and sale in over 800 coin pairs. HitBTC has one of the most diverse cryptocurrency trading platforms and was one of the first exchanges to accept new projects.
Exchange of cryptocurrencies. Purchase Bitcoin or another cryptocurrency and begin trading immediately without verification. However, you may be required to prove your identity afterward.
Safe exchange. HitBTC is one of the few exchanges that has never been hacked.
Low trading costs. Starter and General accounts are charged a 0.1% creator fee and a 0.2% taker cost, whereas upgraded accounts are free.
API that is both robust and robot-friendly. Users of HitBTC can utilize trading bots, which operate well with the platform's strong API.
Demo account. HitBTC provides a demo account for new Bitcoin traders. Everyone can use its site without placing a deposit.


Key Advantages of HitBTC
Although HitBTC offers numerous features and functionalities, this review will solely concentrate on its essential cryptocurrency aspects, aiding you in determining if this exchange aligns with your requirements. With that established, let's commence the review by examining the positive aspects and assessing the legitimacy of HitBTC.
800+ Trading Pairs
HitBTC is a popular crypto exchange platform that supports a wide range of cryptocurrencies. With over 380 cryptocurrencies and 800 crypto pairs, users have access to a huge selection of coins. HitBTC reviews confirm that the platform is secure and reliable, making it a great choice for those looking to trade in cryptocurrencies. Fees are also competitive, making it an attractive option for those looking to maximize their profits. With its wide selection of coins and competitive fees, HitBTC is a great choice for those looking to trade in cryptocurrencies.
HitBTC supports a range of cryptocurrencies, including but not limited to:
BTC
ETH
XRP
USDT
BCH
LTC
ADA
Approximately 380 others
In addition, the exchange offers an extensive list of trading pairs, including but not limited to:
BCH/BTC
BCH/USDT
BTC/USDT
ETH/BTC
LTC/BTC
Approximately 800 others
This vast selection of trading options makes HitBTC a comprehensive platform that allows for trading even lesser-known altcoins.

Secure Platform
HitBTC is one of the few crypto exchange platforms that has never been hacked due to its multiple security measures. These include the termination of all sessions, email notifications about new IP logins, automatic logouts, whitelisting withdrawal addresses, and two-factor authentication. To ensure maximum security, users should create a strong password and use dedicated email accounts for trading, as well as keep their coins in secure cryptocurrency wallets such as Ledger and Trezor. HitBTC provides robust security and is recommended for those who want to keep their funds safe.
Low Transaction Fees
This platform offers some of the lowest trading fees in the market. Regular users pay a fixed amount – 0.1% maker fee and 0.2% taker fee. However, the more you trade, the lower your fees will be. Starting from Tier 9, you will be paid 0.01% back of the trade that you make. The system will calculate your trading volume for the last 30 days and determine the fee rate for your account every day, encouraging you to trade even more. With its low fees and secure platform, HitBTC is a great choice for cryptocurrency traders.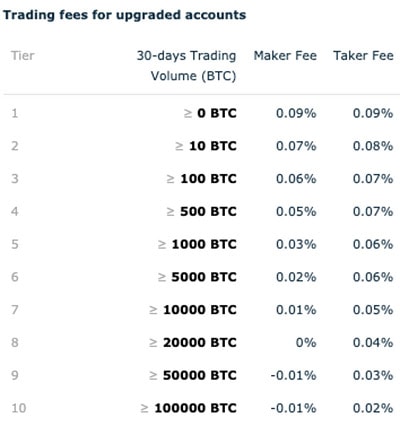 Demo Account
This is a great platform for trading, especially for beginners. It offers a Demo account, which allows users to have a real-time experience in trading without risking any real investments. The Demo account is completely free and can be used for educational and training purposes. It is a perfect place to apply different strategies and figure out how the trading works. With the Demo account, users can credit themselves with a test fund and have a real trading experience without risking anything. Therefore, if you want to have a real trading experience without risking anything, HitBTC is the perfect platform for you.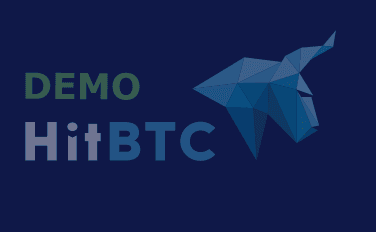 Mobile App
HitBTC, a cryptocurrency exchange, is now making it easier for traders to access their accounts on the go. The exchange has recently announced the development of a mobile app for iOS and Android devices, available for download on both the Google Play Store and Apple's App Store. This app will provide traders with a secure and convenient way to access their accounts, allowing them to trade, deposit, and withdraw funds, as well as monitor their portfolio performance. With the app, traders can stay up to date with the latest market developments and take advantage of trading opportunities as they arise. HitBTC's mobile app is sure to be a hit with traders, providing them with a secure and convenient way to access their accounts on the go.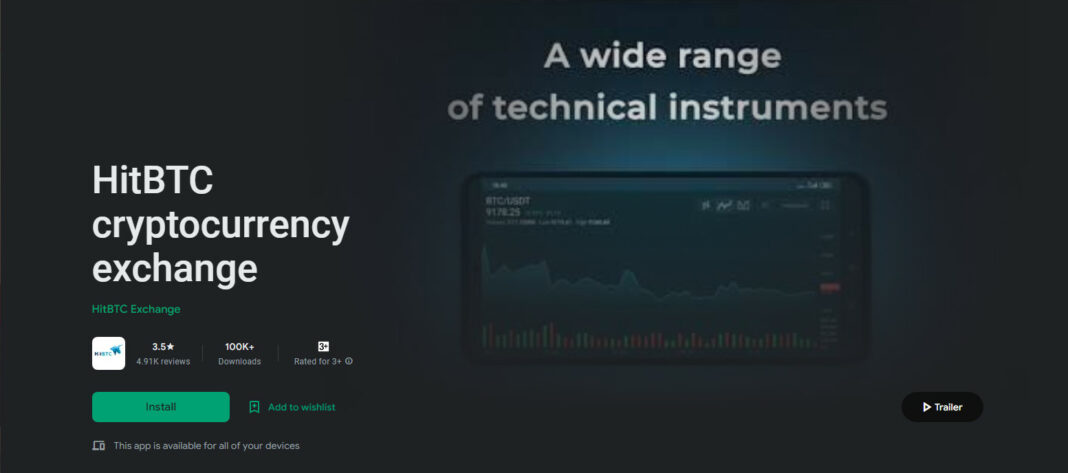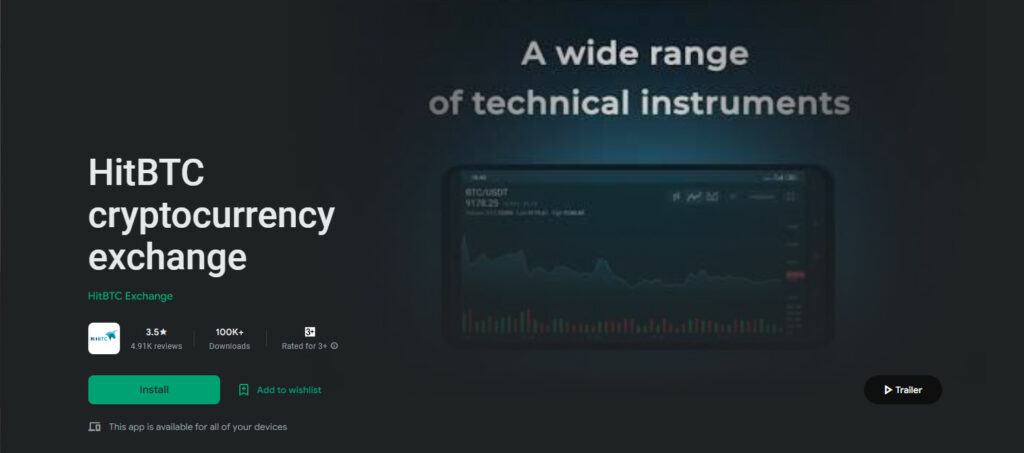 Key Disadvantages of HitBTC
Having discussed the positive aspects of HitBTC, it's time to take a look at its shortcomings – but if you're looking for a better alternative, Coinbase or Binance may be worth considering.
Customer Service Isn't the Best
HitBTC is a crypto exchange that claims to provide 24/7 customer support, however, multiple reviews have pointed out that the customer service is poor. This has been a source of disappointment for many users who have experienced issues with creating an account, verifying identity, and trading crypto. It is important to take this into consideration when deciding whether HitBTC is the right exchange for you.
The Verification Process Takes Time
HitBTC is a secure crypto exchange platform that requires users to go through a long verification process. This includes providing personal information, residential address, proof of identity, selfie, and phone number. While this process is quite regular for all crypto exchange platforms that take security seriously, it might take a while to provide all the needed information. This step-by-step guide will help users to register and create their accounts on HitBTC quickly and securely. All users should be aware that the verification process is necessary to ensure the safety of their funds and data.
How to Register on HitBTC?
Creating an account on HitBTC is a straightforward process. Follow these simple steps:
Step 1. Head to the HitBTC homepage and click on the "Sign Up" button located at the top right corner of the page.
Step 2. Input a valid email address and generate a secure password.
Step 3. Supply additional details, including your full name, phone number, and country of residence.
Step 4. Click on "Finish Registration."
Step 5. Check your email address and click on the confirmation link.
Upon completing these five simple steps, your HitBTC account will be created, and you will be ready to start trading.
How to Deposit Funds into Your Account?
Once you have created your HitBTC account, the next step is to deposit funds so that you can begin trading. Here's a simple guide to help you with that:
Step 1. Navigate to your account page and click on the green "Deposit" button.
HitBTC Review: Depositing Funds.
Step 2. Use the search field located at the top of the page to find the cryptocurrency you wish to deposit and click on the "Deposit" column. This will generate a wallet address for you.
HitBTC Review: Depositing Funds.
Step 3. To initiate a transaction, copy and paste your wallet address into a third-party service.
Step 4. For certain cryptocurrencies, you may also need to copy and paste your payment ID, also known as a "Destination Tag."
If you have completed all of these steps, you have successfully deposited funds into your HitBTC account and are now ready to start trading.
Conclusion
HitBTC is a reliable and highly-recommended crypto exchange platform that offers robust security measures and supports more than 380 cryptocurrencies and over 800 crypto pairs. It also has low trading fees and a Demo version that allows users to try the platform out without investing anything. However, some users don't like the long verification process and customer support is not the most helpful. If you're looking for a better and more-established crypto exchange, Coinbase or Binance are great alternatives.
Disclaimer: Cryptocurrency trading involves significant risks and may result in the loss of your capital. You should carefully consider whether trading cryptocurrencies is right for you in light of your financial condition and ability to bear financial risks. Cryptocurrency prices are highly volatile and can fluctuate widely in a short period of time. As such, trading cryptocurrencies may not be suitable for everyone. Additionally, storing cryptocurrencies on a centralized exchange carries inherent risks, including the potential for loss due to hacking, exchange collapse, or other security breaches. We strongly advise that you seek independent professional advice before engaging in any cryptocurrency trading activities and carefully consider the security measures in place when choosing or storing your cryptocurrencies on a cryptocurrency exchange.