FxPro is an unconventional yet reliable cryptocurrency exchange platform, as evidenced by its positive user reviews. This review will provide you with all the information you need to make an informed decision about whether FxPro is the right trading platform for you.
Sign up here to get started
What is FxPro?
FxPro is a leading provider of contracts for difference (CFD) and spread betting services in the U.K. Founded in 2006, the company has executed more than 445 million orders and is headquartered in London. In 2017, FxPro was voted the U.K.'s most trusted forex brand by Global Brands Magazine, making it a reliable choice for traders. With its competitive spreads, fast execution speeds, and wide range of trading instruments, FxPro is the perfect choice for those looking for a reliable and secure trading experience.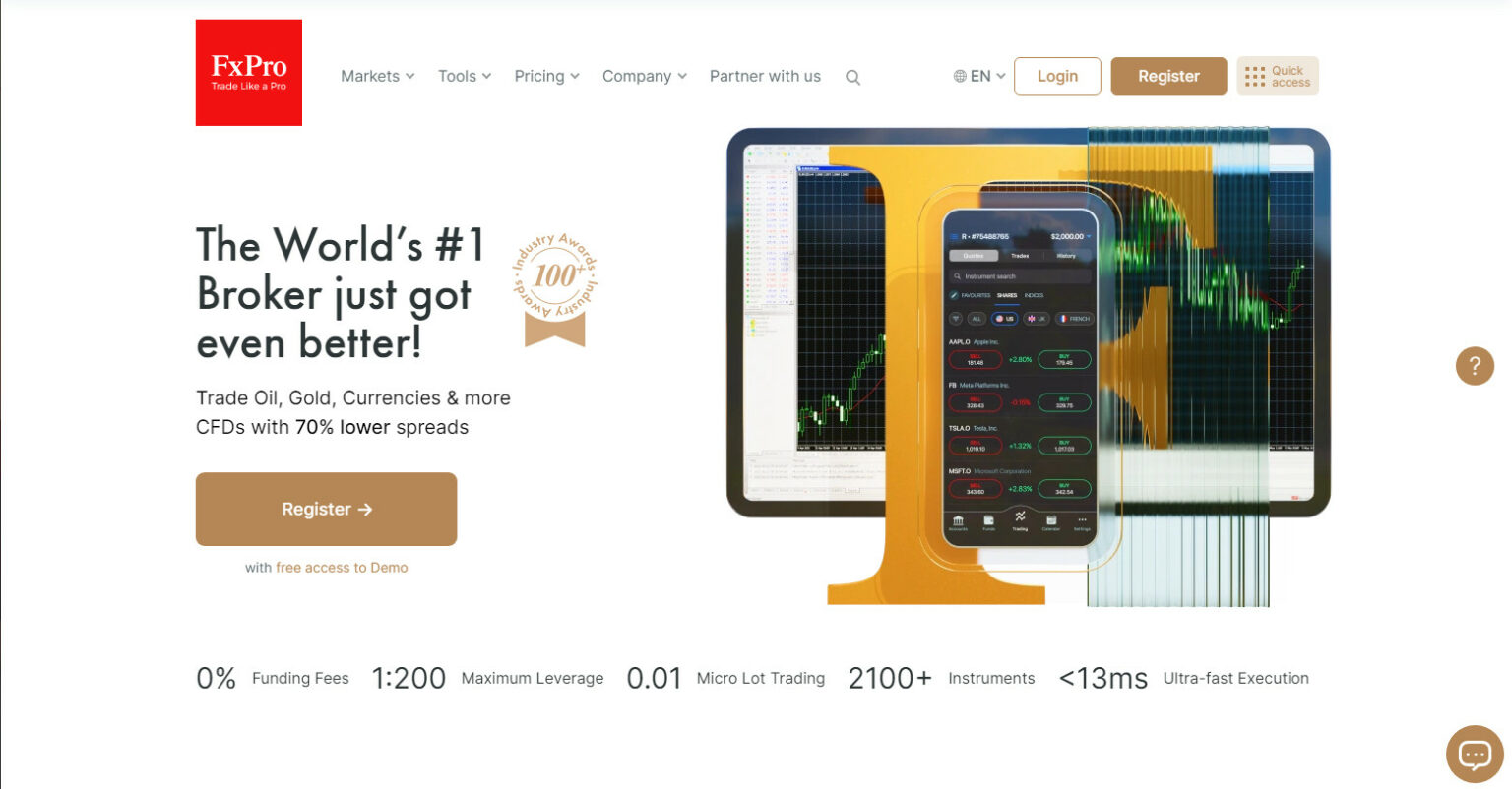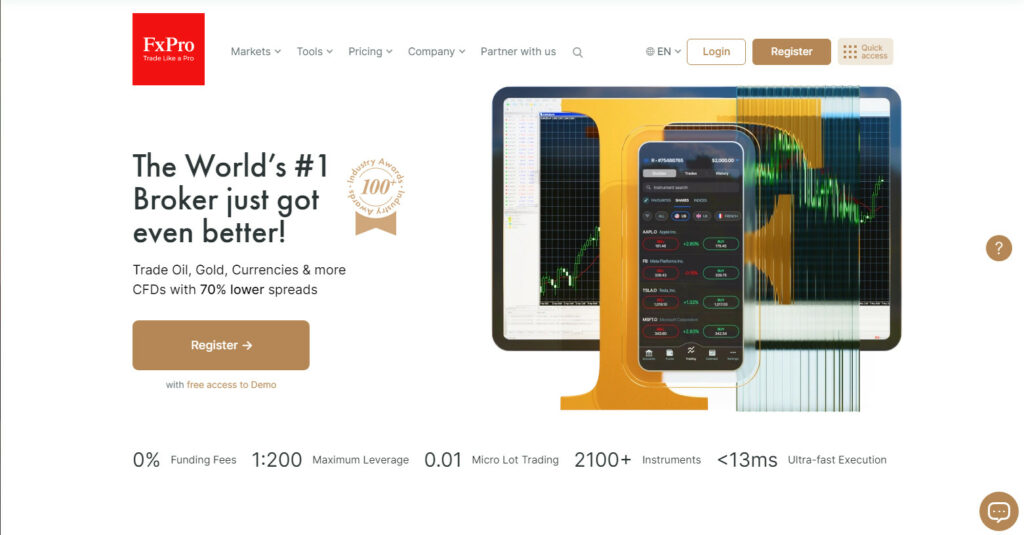 This platform is a trusted and reliable broker operating in more than 170 countries and providing services to over 2,188,000 client accounts. It is regulated by the FCA, CySEC, FSCA, and SCB and has €100 million of tier 1 capital. FxPro offers a wide range of products and services, including forex, CFDs, and spread betting, to meet the needs of all types of traders. The company is committed to providing a secure and transparent trading environment, with competitive spreads, fast execution, and 24/5 customer support.
Key Features of FxPro
Here are some core features of FxPro:
Negative Balance Protection for a customer on a real account is a one-of-a-kind broker service. It has an automated transaction monitoring system and a risk management system, and the capital is assured not to slip into a negative balance.
Client money is insured at the expense of the broker's investment in an investor compensation fund.
Beginners will have access to tested advisors.
Regardless of his account balance, the client has access to a comprehensive set of services.
VIP account users are given a personal manager and a free VPS.
The capital of the corporation approaches 100 million euros.
Offers swap-free accounts to customers whose religious convictions prohibit them from trading, for example. Islamic merchants
The solid trading environment given by the professional education and research department.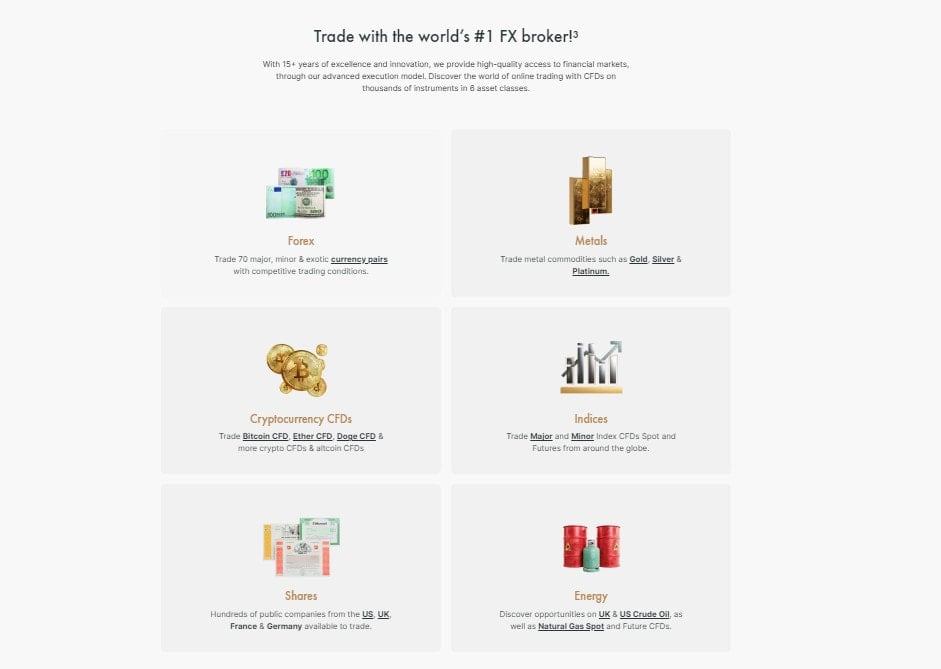 Key Advantages of FxPro
Let's address this right now and look at the available good aspects of the arrangement.
FxPro – Not an Actual Cryptocurrency Exchange
FxPro is a stock and commodity brokerage that is slowly opening its doors to cryptocurrency assets. With the traditional stock market becoming increasingly volatile due to the COVID-19 pandemic, more and more investors are turning to crypto assets as a more stable option for investing. FxPro reviews are still mainly focused on its primary services, but the platform is becoming increasingly attractive for crypto investors. The platform offers a range of services, including trading, investing, and portfolio management, and is a great option for those looking to diversify their investments.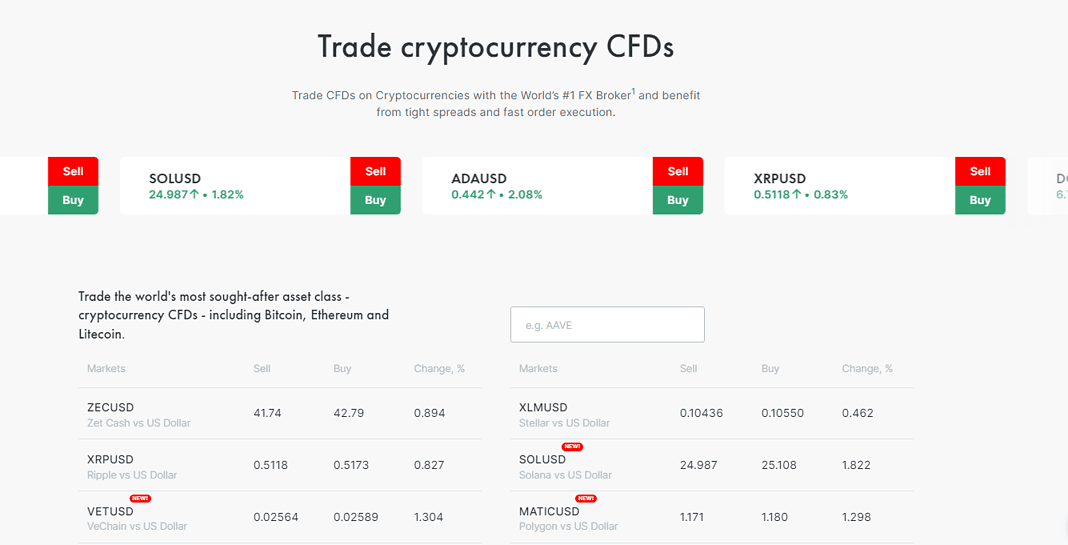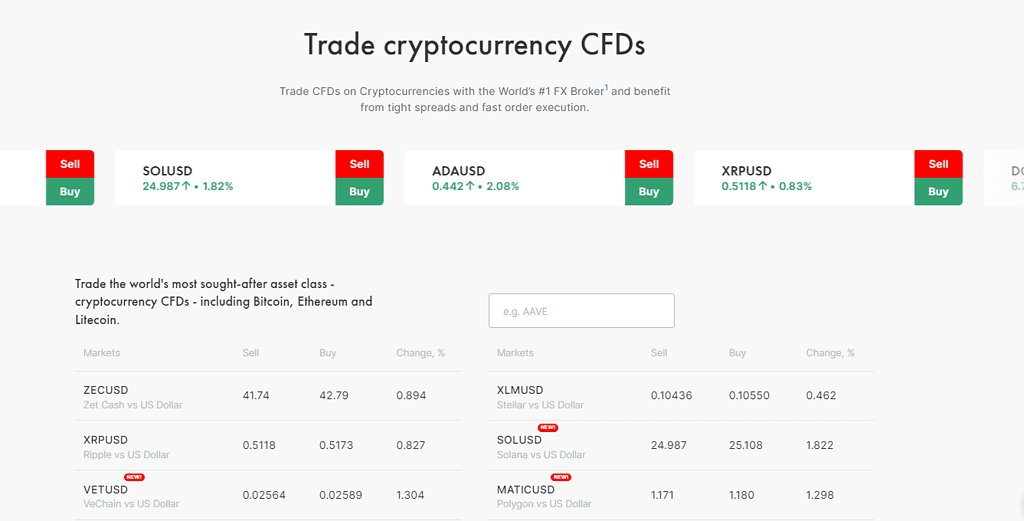 FxPro, a mainstream stock trading platform, has recently started offering crypto trading options. However, users can only trade CFDs – Contracts for Difference – rather than actual crypto assets. CFDs are a way to invest and speculate on an asset's price without actually buying the asset. This feature is great for those who aren't interested in creating or buying a separate crypto wallet and learning the intricacies of cryptocurrency management, but would still like to try and capitalize on the market at their own leisure. FxPro offers a viable solution for those who want to make money from the volatile crypto market without having to manage their own crypto assets.
One of the Internet's Most Reliable and Secure Brokerage Sites
FxPro is a veteran among traditional brokerage sites, having been in business since 2006. It is regulated by the Financial Conduct Authority and offers many different assurances to its customers in terms of security. These include account, withdrawal, asset, and trade security, as well as insurance and exemptions for leverage trading. User FxPro reviews are generally positive, and the platform has a good reputation in terms of security and reliability.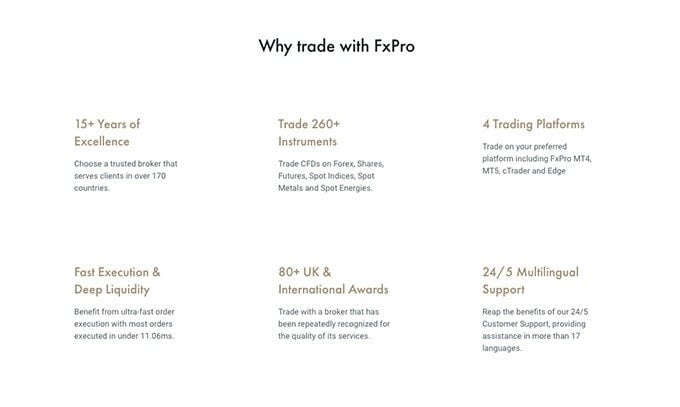 Many More Features to Look Into
FxPro is a popular online broker that offers a variety of features, including leverage trading and the FxPro MT4 and cTrader trading platforms. Leverage trading can be a great way to grow your portfolio if done carefully and knowledgeably. The FxPro MT4 and cTrader platforms are both optimized for the best user experience and are available on mobile devices, desktop computers, and the web. Users report the best experience with the FxPro MT4 platform, which is still widely used and available. With its variety of features and user-friendly platforms, FxPro is a great choice for those looking to trade online.

FxPro is a No Dealing Desk (NDD) brokerage, offering its users unfiltered access to the market. With a FxPro demo account, new traders and investors can learn how to use the real interface and trade the assets they'd like. The platform also provides a range of learning materials, such as a FxPro calculator, to help users understand CFDs and the process of trading. In addition, FxPro offers a wide range of financial asset CFDs, including metals, energies, futures, forex, and crypto, allowing users to broaden their portfolios.
Commission Fees Are Low
This crypto exchange is a reliable and straightforward online brokerage that offers CFD trading with no blockchain fees. It charges a simple $45 commission from every $1,000,000 worth of CFDs traded, and there are no deposit or withdrawal fees either. The platform is easy to use and provides a range of features such as advanced charting, automated trading, and more. It also offers a variety of trading instruments, including forex, indices, commodities, and cryptocurrencies. FxPro is a great choice for traders looking for a reliable and cost-effective online brokerage.
Key Disadvantages of FxPro
As said earlier in the review, the method you can trade cryptocurrencies on this platform is highly contentious – as you can probably assume, there's a lot of hostility directed at it as well.
You Do Not Receive Any Cryptocurrencies
FxPro is a popular online trading platform that allows users to trade crypto CFDs multiple times. However, it does not offer the chance to trade actual cryptocurrencies, meaning users do not receive any coins in their accounts. This means that users cannot transfer coins out of the brokerage and into their wallet, and they are not responsible for their own crypto assets. As a result, crypto enthusiasts who are in it for the long term may not find FxPro to be a viable option.
It May Be Too Complicated For Inexperienced Traders
It offers a wide range of learning materials for traders of all levels, but it can be confusing and difficult to use for those who are new to the scene. Despite this, FxPro is a great choice for those who don't want to hold their own crypto coins, as it replaces modern crypto exchanges. It offers a world of opportunities for traders, with its wide range of markets, competitive spreads, and advanced trading tools. FxPro also provides a range of account types, including a demo account, to suit the needs of all traders.

How to Register on FxPro?
We'll take it one step at a time so you can follow along with ease.
Step 1: Navigate to the FxPro website and click the Register button in the upper-right corner of the screen.
Step 2: You will be taken to a form where you will be asked for your name, email address, and password.
Step 3: You will now be prompted to give some personal information about yourself. This is quite normal KYC for brokerages of this type. Expect to be asked for your phone number, residential address, employment status, annual income, and CFD trading expectations, among other things.
Step 4: Once you've entered all of the essential information and agreed to all of the terms and conditions, you're in!
Registering an account with a high-end cryptocurrency exchange can be a tedious process. However, registering with a reliable exchange like PrimeXBT is not something that should put you off. After submitting identity-verifying documents and adding funds to your digital wallet, you can access the main dashboard of your account. Here, you can check your wallet, account settings, and trading accounts, and access the knowledge base. The trading screens may be confusing at first, but you can easily find crypto CFDs. PrimeXBT is a reliable exchange that offers a secure and straightforward registration process, allowing you to access a wide range of features and services.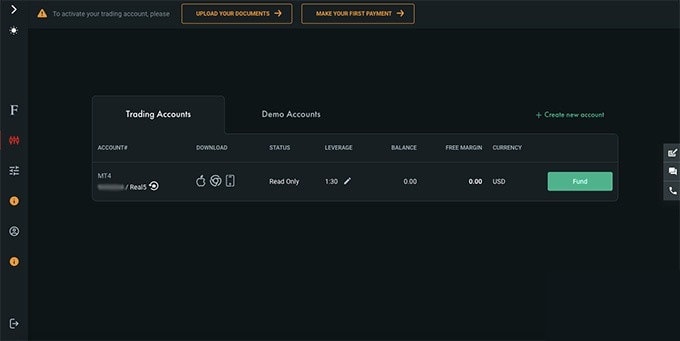 The platform is known for its user-friendly interface and fast ID verification process. According to user FxPro reviews, the verification process should take no more than a few minutes, allowing users to start trading quickly. FxPro also offers a range of educational resources, such as webinars, tutorials, and market analysis, to help traders make informed decisions. With its competitive spreads, low commissions, and fast execution speeds, FxPro is a great choice for both beginner and experienced traders.
Conclusion
FxPro is a CFD trading platform that offers a wide range of assets, including cryptocurrencies. However, it is important to note that FxPro does not allow users to trade actual cryptocurrencies, only CFDs. This means that users cannot own the underlying asset, but rather speculate on the price movements of the asset. FxPro also offers a demo account, allowing users to practice trading without risking real money. Despite its features, FxPro is not the best option for those looking to trade actual cryptocurrencies, as it does not offer this service. However, it is a great option for those looking to trade CFDs and practice their trading skills with a demo account.
It is a secure and regulated online brokerage that allows users to make money from the crypto market. It is available in the US, EU, and other versions, and is compliant with all official regulations. However, if you're looking for a legitimate cryptocurrency exchange to purchase and trade coins, you'll have to look elsewhere. Popular exchanges include Coinbase and Binance, both of which offer a wide range of coins and features.
Disclaimer: Cryptocurrency trading involves significant risks and may result in the loss of your capital. You should carefully consider whether trading cryptocurrencies is right for you in light of your financial condition and ability to bear financial risks. Cryptocurrency prices are highly volatile and can fluctuate widely in a short period of time. As such, trading cryptocurrencies may not be suitable for everyone. Additionally, storing cryptocurrencies on a centralized exchange carries inherent risks, including the potential for loss due to hacking, exchange collapse, or other security breaches. We strongly advise that you seek independent professional advice before engaging in any cryptocurrency trading activities and carefully consider the security measures in place when choosing or storing your cryptocurrencies on a cryptocurrency exchange.