Eggplant Finance uses the power of Binance Smart Chain to become the next-generation gamified DeFi platform that enables users to invest in various DeFi products.
Anyone can make crypto gains with Eggplant Finance's yield farms while collecting their favorite NFTs. Moreover, staying true to the decentralized finance's spirit, there is no KYC (know-your-customer) policy.
Starting June 2021, Eggplant Finance will launch their anticipated limited edition Smart NFTs.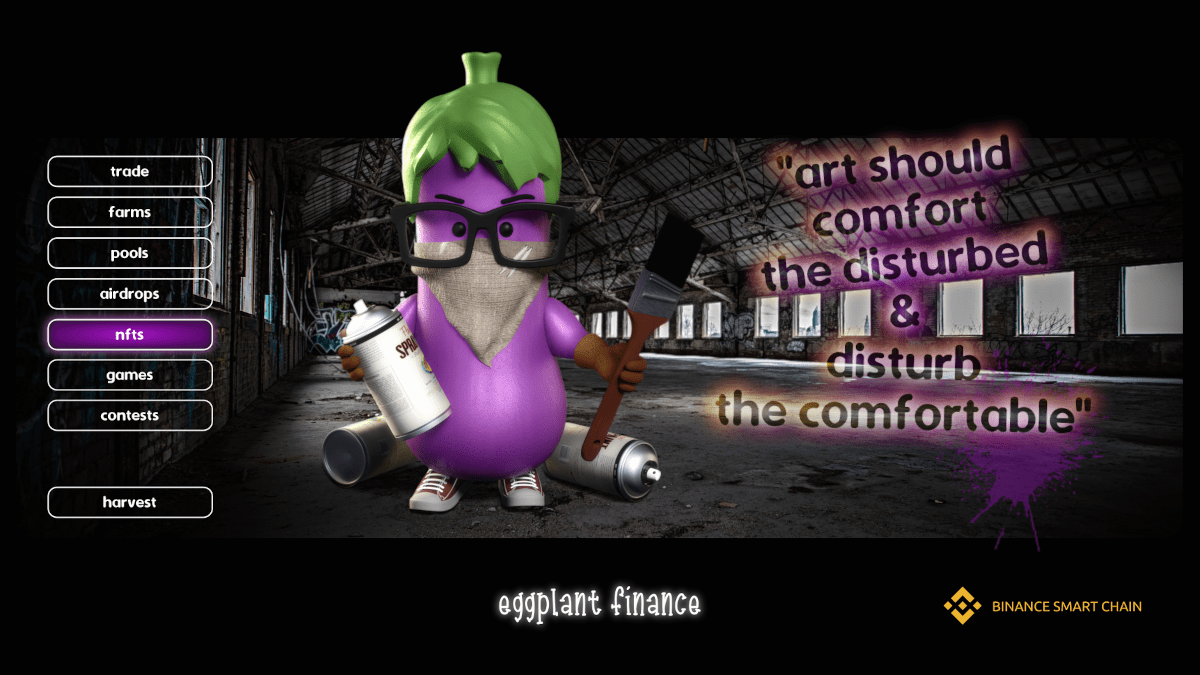 Why Choose Eggplant Finance?
Aside from the hilariously cute Eggplant mascot, Eggplant Finance offers:
Yield farming with Eggplant Finance is easy as 1-2-3. Simply connect your Meta Mask (or Trust Wallet) to Eggplant Finance and you can start earning crypto (up to 800% APR)
Eggplant Finance's native token ($EGGP) enables anyone to participate in the platform of digital art, blockchain gaming and decentralized finance.
Trade your favorite tokens without KYC on Eggplant Finance's swap platform.
Collect and utilize digital artwork NFTs (non-fungible tokens). Use our NFTs to gain cool bonuses.
If you love blockchain gaming and NFTs, then you'll love Eggplant Finance's Smart NFTs. Read below for more details.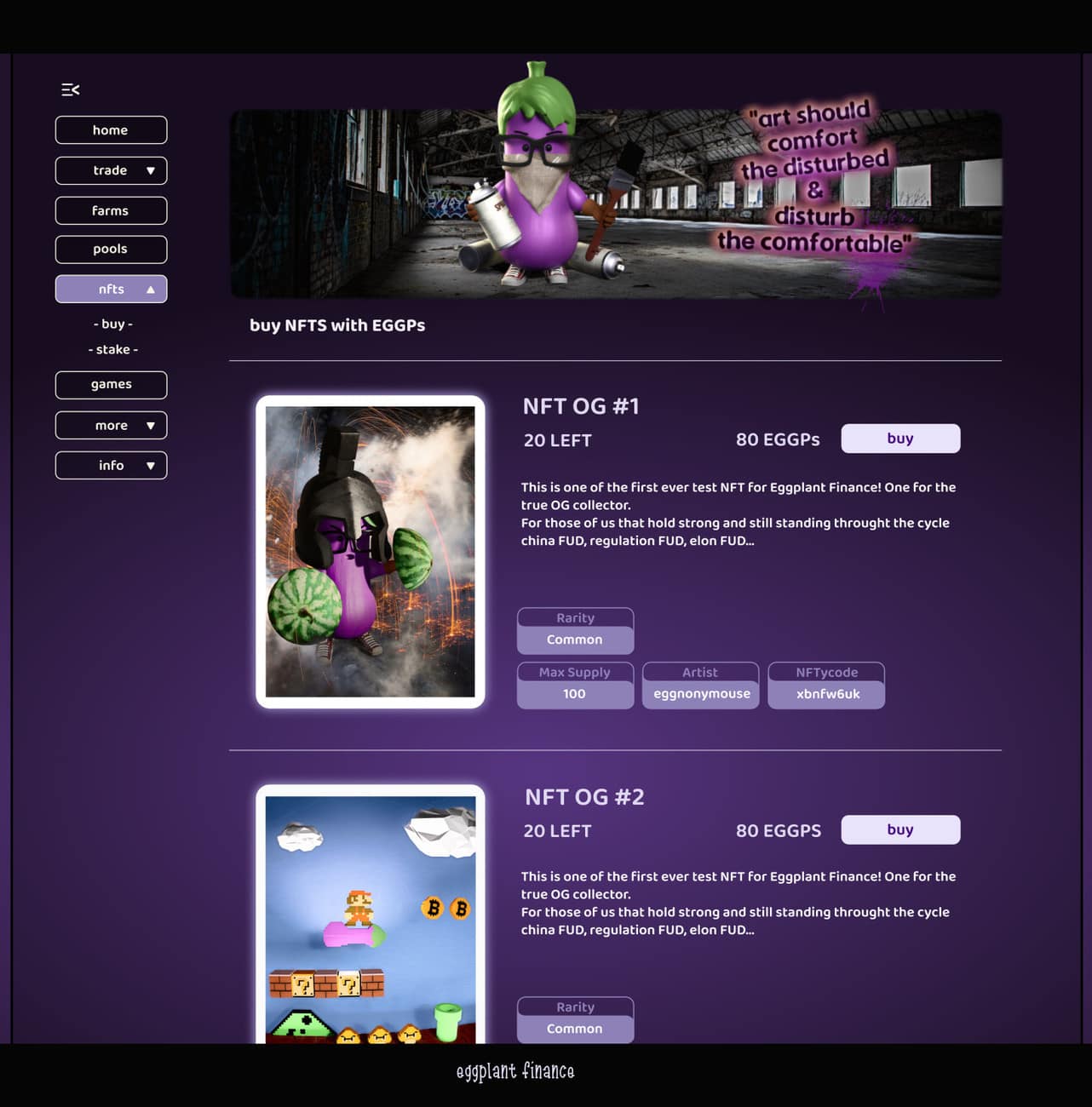 Eggplant Finance NFTs Explained (Gotta catch 'em all) 
Eggplant NFTs aren't just pretty pictures; these 'Smart' NFTs are integrated into Eggplant Finance's eco-system for a fun and seamless experience.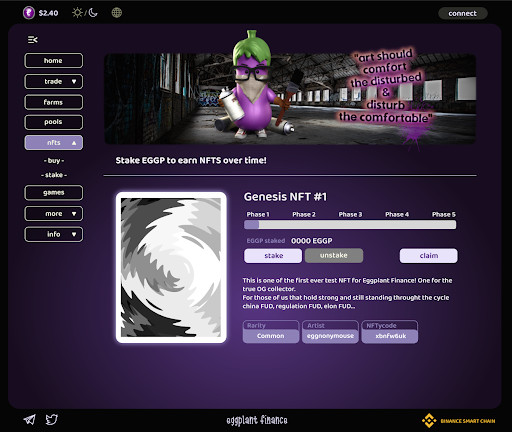 Equipped with your unique NFTs, you can:
Trade and collect your favorite NFTs on Eggplant Finance market place  
Stake your NFTs and gain rewards (airdrops, $EGGP, additional NFTs)
Hodl your NFTs to receive free airdrops and automatically enroll in competitions (no cost)  
Use your NFTs to gain in-game benefits (we've got blockchain gaming!)   
Stake your $EGGP to obtain rare edition NFTs. The NFTs enables you to gain bigger in-game benefits and VIP rates. 
…. and much more! Sounds interesting? Check out Eggplant Finance's social links below to learn more.
Eggplant Finance Socials
Website: https://eggplant.fi
Twitter: https://twitter.com/Eggplant_Fi
Telegram chat: https://t.me/Eggplant_Fi
Telegram announcement: https://t.me/EggplantFi_Ann
Medium: https://eggplantfinance.medium.com Email: info@eggplant.fi

About Eggplant Finance
Eggplant Finance offers gamified DeFi investment, with an emphasis on NFTs and token utility. Powered by the Binance Smart Chain (BSC) network, Eggplant Finance empowers everyone to make crypto gains. 
Disclaimer: Cryptocurrency trading involves significant risks and may result in the loss of your capital. You should carefully consider whether trading cryptocurrencies is right for you in light of your financial condition and ability to bear financial risks. Cryptocurrency prices are highly volatile and can fluctuate widely in a short period of time. As such, trading cryptocurrencies may not be suitable for everyone. Additionally, storing cryptocurrencies on a centralized exchange carries inherent risks, including the potential for loss due to hacking, exchange collapse, or other security breaches. We strongly advise that you seek independent professional advice before engaging in any cryptocurrency trading activities and carefully consider the security measures in place when choosing or storing your cryptocurrencies on a cryptocurrency exchange.