DAOVentures ($DVG) aims to simplify and create easy to use solutions for people to invest and manage their Decentralized Finance (DeFi) portfolio.
DeFi products are difficult and complex for users to interact with, especially for newbies. Quite a number of investors still have some distrusts about the space. Others have to deal with the possibility of risk and expensive gas fees. However, DAOventures was able to identify these problems and come up with solutions.
What Is DAOVentures?
DAOventures is a decentralized protocol that helps liquidity providers invest in DeFi projects by employing automated advisors and robo-fund managers to help users invest in DeFi products with great returns.
DAOventures relies on its beliefs as a guide to provide exceptional services for investors. The system uses the best strategies to consistently monitor performance, manage risk/reward ratios, as well as audit smart contract security. Some perks of the DAOventures platform include:
Proper Risk/Reward Management
The risk/reward ratio is a very important aspect of any trade or investment. DAOventures strategies provide users with wide-ranging products based on their risk exposure level: low, medium, or high risk so newbie and intermediate traders can make more informed decisions before executing a trade.
Curated Information
The protocol's team investigates, analyzes, and backtests new Dapps to sift out the bad from the good. They do this by matching up all protocols with the best performing algorithm to meet the demands of investors.
Security
The core value of the protocol is security. The platform audits and reviews all products to ensure that it is safe to deploy their crypto products.
The platform allows audits by third-party firms and performs other security tests to ensure that users' funds are secure. Since DAOVentures is a decentralized platform, it does not own any private keys as funds are secured by users themselves.
Transparency
DAOventures' investments are transparent since they can be viewed on the blockchain so users could see where and how their money is being moved, as well as be able to review and improve their portfolio to properly track their capital.
Reduced Gas Fees
Users can save a considerable amount of gas when they use DAOVentures. The protocol allows for a better gas calculation through properly managed pooled investment funds.
DAOventures Tokens ($DVG)
Liquidity providers can earn DAOventures governance tokens, denoted as DVG, which allow them to cast votes regarding changes in the protocol's rules. The Launch for the DVG token would be done on Polkastarter, an auction protocol that is based on the Polkadot blockchain and is used for fund-raising by DeFi projects.
DVGs are basically "tokens" on a smart contract that are developed to follow a fixed set of rules, which can be amended or upgraded through a consensus voting mechanism integrated into the smart contract.
The utility of DVG tokens is numerous. It will be used to incentivize LPs to drive long-term demand of the token, as well as the involvement of the DAOventures community. Users holding $DVG will benefit from staking incentives such as lower transaction fees and rewards.
DAOventures will release a total supply of 444,444 DVG tokens for public sale. The platform will offer a discounted sale of DVG token to POLS token holders and the public before it is listed on Uniswap.
How Does DAOventures Operate?
The protocol works similarly to a normal VC firm in the sense that it searches for better openings for investors to create higher earnings. The technological tools that the platform uses are built through a combined effort from the professional teams.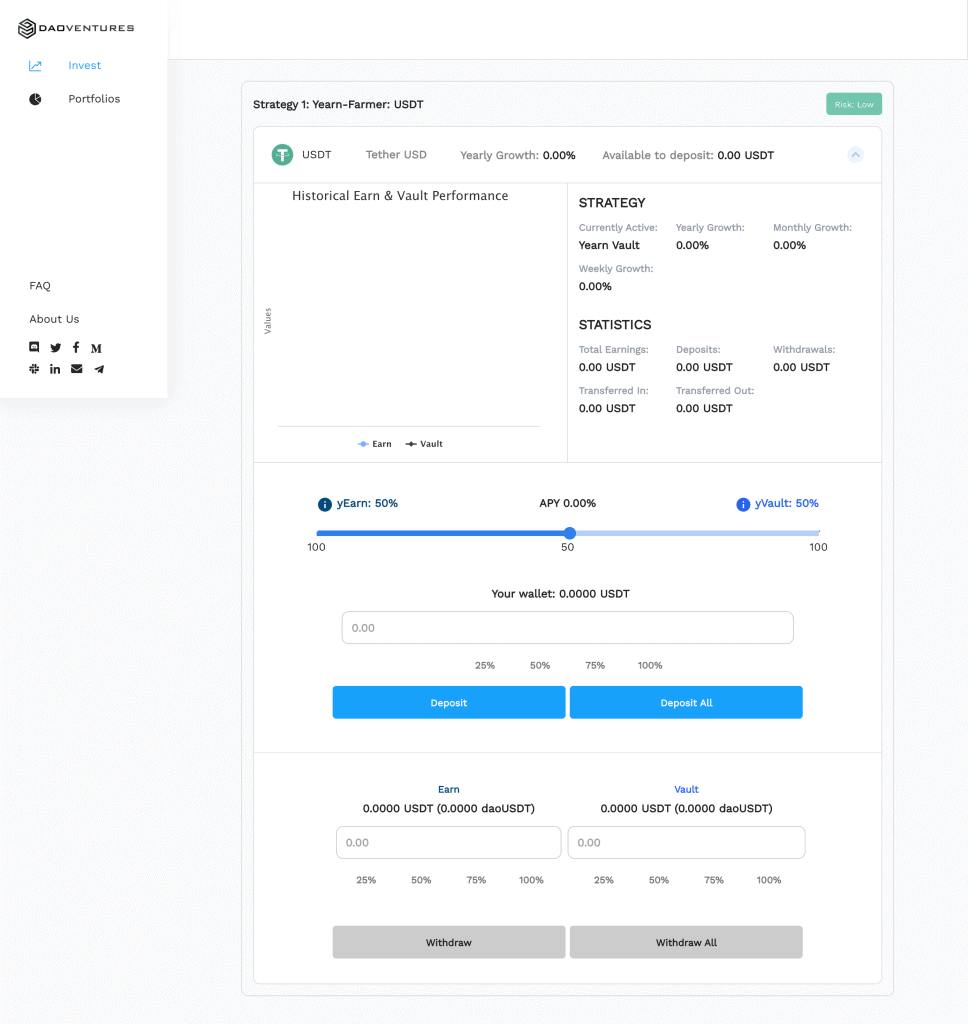 These tools explore deep into the markets and help liquidity providers deploy their funds into desirable DeFi investments. Examples of the tools used include an automated balancer, liquidity miner, arbitrage bot, and swap token.
DAOVentures employs smart contracts and robo-traders to help investors put money in the top-performing DeFi assets to get the best results. In addition, before smart contracts are deployed for use on the platform, they are first audited and vetted to ensure compliance.
The decentralized processes of the platform help to eliminate counterparty risks. DAOVentures ensures that users have full control of their funds and wallets. As a result, users can interact with smart contracts individually.
While other crypto investors find it difficult interacting with DeFi protocols, DAOventures employs algorithms to manage investors' funds. Robo-advisors distribute all the pooled funds and deploy them to the DeFi protocol with the best ROI%.
The products and services offered by DAOventures include:
Yield Farming
The platform offers various yield farming strategies for users in order to earn returns. Users can choose a yield farming strategy based on their risk level and profit target. The protocol provides users with investments based on their risk appetite.
Lending And Borrowing
DAOVentures plans to integrate with lending and borrowing protocols such as Uniswap in the near-term. This will help them better manage investor funds and expand the reach of DAOventures operations.
Automated Defi Manager
Through robo-advisors, users have the benefit of investing in the best DeFi projects and products. Investors can profit from the platform's structured products and yield-farming aggregation via automated managers.
Conclusion
With the growth DeFi has seen, there is little doubt that its ecosystem is the future of finance. However, DeFi's rise in popularity also brought along several opportunities, risks, and benefits. With that in mind, DAOventures continues to play its part to speed up DeFi's transition to the much-anticipated future by constantly providing investors with proper solutions. The protocol aims to leverage cross-chain interoperability to provide its users with the best services.
Decentralised Finance (DeFi) series: tutorials, guides and more
With content for both beginners and more advanced users, check out our YouTube DeFi series containing tutorials on the ESSENTIAL TOOLS you need for trading in the DeFi space e.g. MetaMask and Uniswap. As well as a deep dive into popular DeFi topics such as decentralized exchanges, borrowing-lending platforms and NFT marketplaces
The DeFi series on this website also covers topics not explored on YouTube. For an introduction on what is DeFi, check out Decentralized Finance (DeFi) Overview: A guide to the HOTTEST trend in cryptocurrency
Tutorials and guides for the ESSENTIAL DEFI TOOLS:
More videos and articles are coming soon as part of our DeFi series, so be sure to SUBSCRIBE to our Youtube channel so you can be notified as soon as they come out!
Disclaimer: Cryptocurrency trading involves significant risks and may result in the loss of your capital. You should carefully consider whether trading cryptocurrencies is right for you in light of your financial condition and ability to bear financial risks. Cryptocurrency prices are highly volatile and can fluctuate widely in a short period of time. As such, trading cryptocurrencies may not be suitable for everyone. Additionally, storing cryptocurrencies on a centralized exchange carries inherent risks, including the potential for loss due to hacking, exchange collapse, or other security breaches. We strongly advise that you seek independent professional advice before engaging in any cryptocurrency trading activities and carefully consider the security measures in place when choosing or storing your cryptocurrencies on a cryptocurrency exchange.