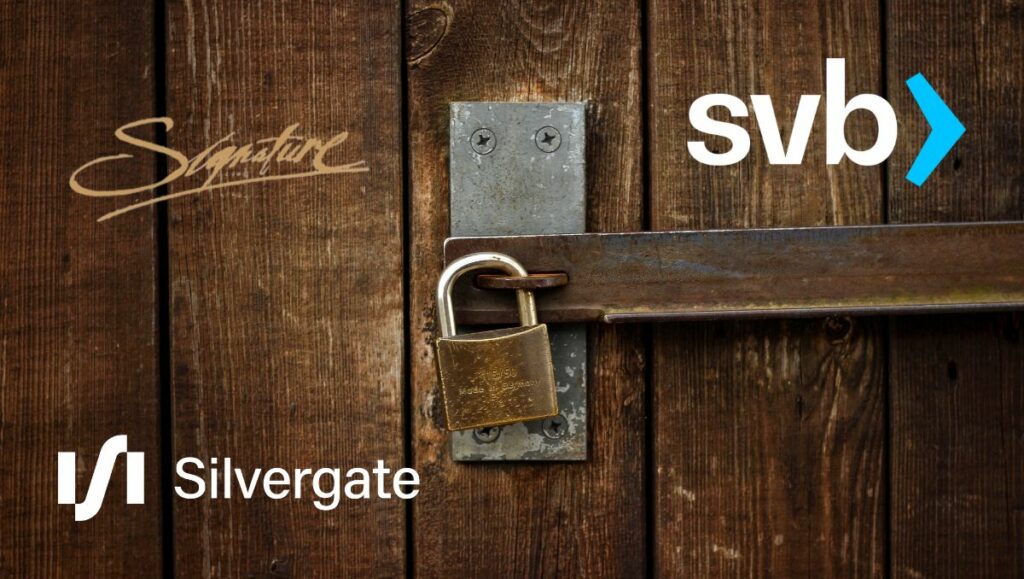 Crypto companies have been dealt a major blow with the closure of two major crypto-friendly banks within a week. The Federal Reserve announced the closure of Signature Bank on March 12th, citing systemic risk, only days after Silicon Valley Bank was ordered to shut down on March 10th. A week earlier, Silvergate Bank also announced it would close its doors and voluntarily liquidate, leaving the crypto community to ask– was this the last bank in the US that was friendly to crypto?
Scott Melker, also known as The Wolf Of All Streets, believes that with the collapse of the three banks, crypto companies are essentially without any banking options. Meanwhile, Meltem Demirors, Chief Strategy Officer of digital asset manager Coinshares, noted that, "in just one week "crypto in america has been unbanked."
The loss of Signature bank, Silvergate and Silicon Valley Bank will be particularly felt due to a loss of access to the real-time payment platforms that allowed commercial crypto clients to make real-time payments in dollars at any time. According to Nic Carter of Castle Island Ventures, both Signet and SEN were key for firms to get fiat in. But as Chervinsky of the Blockchain Association noted, the closure of these banks will create a "huge gap" in the market for crypto-friendly banking and that there are other banks out there who can seize this opportunity.
Mike Bucella, General Partner at BlockTower Capital, believes that many crypto firms may soon be switching over to Mercury Bank and Axos Bank, noting that "near-term, crypto banking in North America is a tough place."
However, the biggest issue may be the uncertainty surrounding the future of USDC, the stablecoin issued by Circle. The company had $3.3 billion of USDC reserves left in Silicon Valley Bank when the closure was announced and initial wires to remove these reserves have yet to be processed. This caused USDC to drop below 90 cents at times and highlights the fragility of the stablecoin. As Ryan Selkis, CEO of blockchain research firm Messari notes, it's a warning of what could happen with USDC– the last stand for crypto in the US: "The message from DC is clear: crypto is not welcome here".
At the time of writing this article, however, USDC is climbing back to its $1 peg, after Circle's CEO Jeremy Allaire confirmed that its reserves were safe with new banking partners. This is a crucial development given the concerns experienced by the crypto industry in such a short period. (Zolpidem)
What remains to be seen is if these new banking contactors can fill the void left by Silvergate, Silicon Valley Bank and Signature Bank. These closures have highlighted the fragility of crypto banking in the US, and the need for the industry to unite and protect USDC, the last stand for crypto in the US.