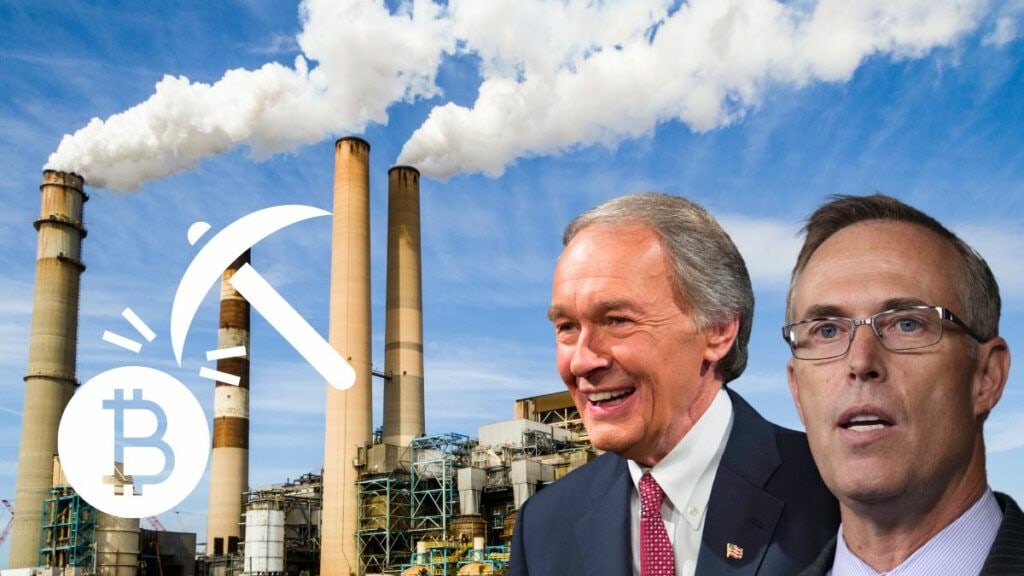 Crypto mining has been making headlines in the U.S., and Congress is taking steps to regulate the industry. On March 3, Senators Edward Markey and Jeff Merkley and Rep. Jared Huffman reintroduced the Crypto-Asset Environmental Transparency Act in an attempt to hold crypto mining companies accountable for their emissions and energy use.
The bill would require crypto mining companies to disclose their emissions when they use more than 5 megawatts of power, giving the Environmental Protection Agency (EPA) an opportunity to assess the impact of crypto mining on the environment. It would also provide the EPA with a $5 million budget to conduct an interagency investigation on the effects of crypto mining in the United States.
Markey stated, "Crypto miners are sucking megawatt after megawatt from our public grids and emitting skyrocketing greenhouse gasses… We can't afford to let this industry run roughshod over our communities any longer." The bill was supported by 16 public organizations including the Sierra Club, Greenpeace USA and the National Stop Crypto Coalition.
In February, Markey and Huffman wrote to the EPA and Energy Secretary Jennifer Granholm to ask them to address the lack of information on crypto mining energy use and environmental effects. Markey and Warren wrote to the CEO of the Electric Reliability Council of Texas (ERCOT) requesting information on crypto mining's energy usage and environmental impact in Texas.
On March 7th, Markey will chair a meeting of the Senate Environment and Public Works Committee's Subcommittee on Clean Air and Nuclear Safety. The meeting will focus on the need to "crack down" on the environmental effects of crypto mining.
The Crypto-Asset Environmental Transparency Act would enforce standards already imposed on data centers. The EPA will propose rules that bind the crypto mining industry to emission reporting and other similar rules, and issue permits for compliant mining facilities. Furthermore, the bill mentions potential noise and water pollution related to crypto mining.
Senator Merkley expressed concern about cryptocurrency operations using fossil fuels and having an impact on climate change. He further noted that crypto mining operations often lead to increased energy consumption, can potentially strain electric grids and lead to machines being discarded after they burn out.
This bill is a step towards holding crypto miners accountable for their emissions, making sure the public has access to credible information on crypto mining energy and environmental impacts, and to address environmental justice issues. Critics worry that if crypto miners are allowed to operate freely, they could possibly raise prices for other consumers, leading some communities to try and impose restrictions on these firms.
For these reasons, Congress is now taking action to ensure that the crypto mining industry takes responsibility for its emissions and energy usage. Senator Markey summed it up perfectly: "We must ensure that the cryptocurrency industry, which is draining our electricity grids, paying little or nothing to use it, and giving back absolutely nothing, is held accountable."