Crypto.com is an international cryptocurrency hub offering a wide range of services, from buying and selling crypto to earning interest and making payments, all with the security of a non-custodial wallet. We'll talk about both advantage that you'll get when you choose Crypto.com exchange together with its notable disadvantages, too.
Sign up here to get started.
What is Crypto.com?
Crypto.com is an international cryptocurrency hub that offers a range of services, including the Crypto.com App, Exchange, DeFi swap and Wallet, Pay, Earn, and Credit. With the Crypto.com App, users can buy over 100 top cryptocurrencies at true cost, earn high interest on their crypto, manage their Crypto.com Visa Card, and easily make crypto payments. 
The Crypto.com DeFi Wallet is non-custodial, giving users full control of their private keys. Furthermore, Crypto.com works with regulatory institutions all over the globe to provide a convenient way to buy, sell, trade and spend cryptocurrencies.
Monaco Technologies GmbH, founded by CEO Kris Marszalek in June 2016, launched Crypto.com with the slogan "Spend anywhere, without fees." In the first half of 2017, Monaco launched its own token, MCO, and raised approximately USD 26,7 million worth of crypto through an ICO. Moreover, the ICO ran from May 18 to June 18, and 12,135,542 MCO tokens were sold out of the total supply of 31,587,682. Crypto.com is a revolutionary platform that allows users to spend anywhere without fees. The MCO token is a secure and reliable way to store and transfer value.
Key Features of Crypto.com
Here are the important key features to take note of:
Spend cryptocurrency. Crypto.com Visa Card allows you to spend cryptocurrency and get up to 8% cashback rewards on your purchases.
Crypto.com App. The Crypto.com App allows users to purchase over 100 cryptocurrencies at true cost and manage the Crypto.com Visa Card, which enables them to pay for everyday purchases with crypto.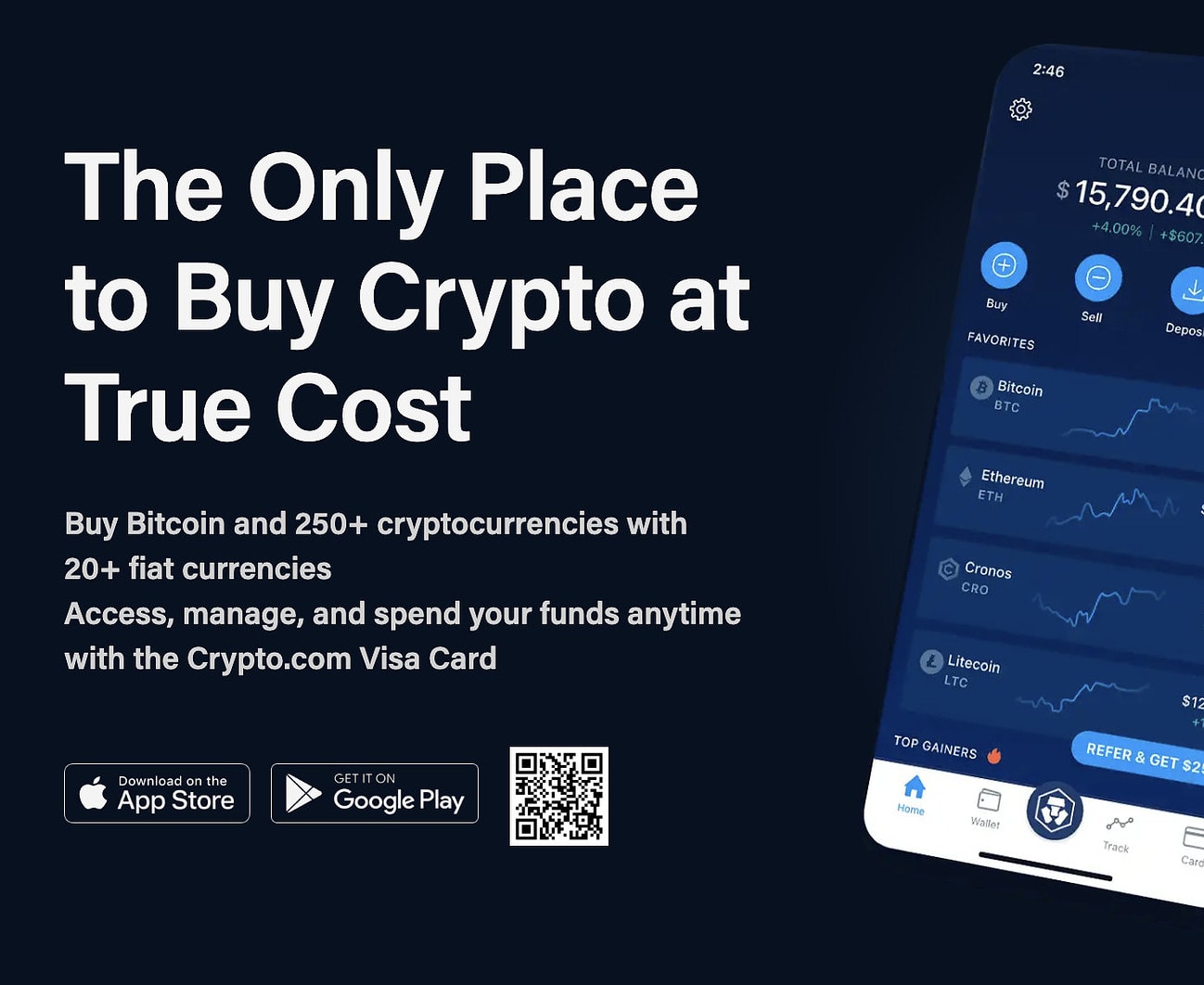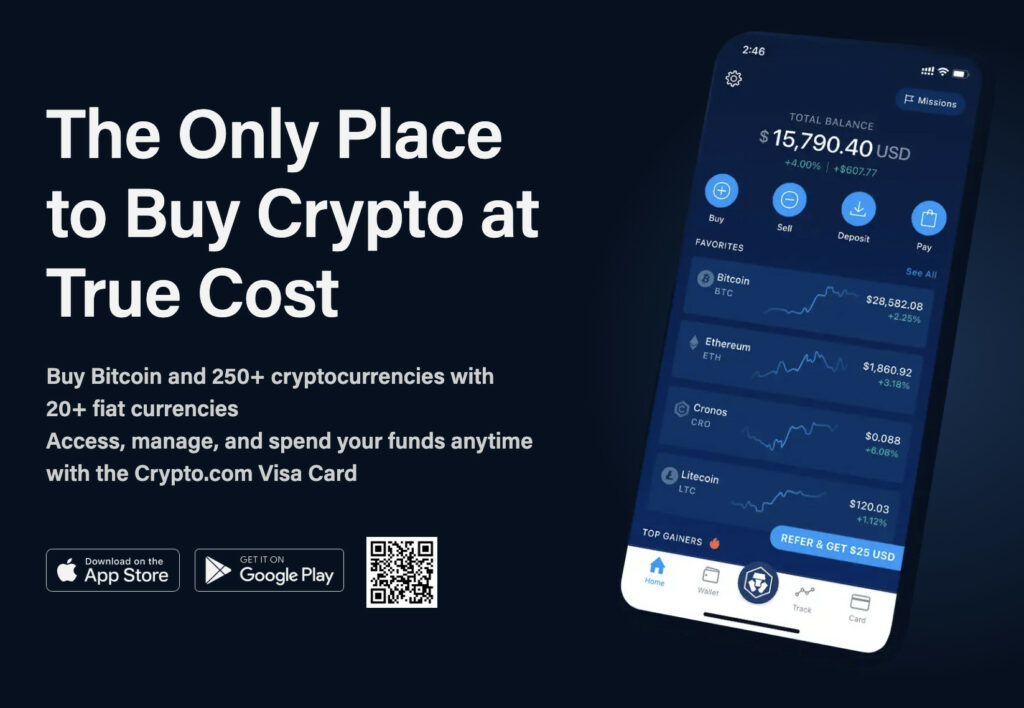 Crypto Earn. Earn up to 8% (14% for stablecoins) on your crypto deposits with Crypto Earn. Get paid weekly in the same crypto you deposited.
Crypto Credit. Secure up to 50% Loan-to-Value (LTV) with Crypto Credit – the safe and secure way to get a crypto loan.
Crypto.com Exchange. Crypto.com Exchange offers deep liquidity, best execution prices, and the lowest maker and taker fees in the industry. Moreover, refer a friend to the Exchange and get up to USD 2,000 referral bonus plus 50% commission on their trading fees for a year.
Crypto.com NFT. Crypto.com NFT offers exclusive collections of Non-Fungible Tokens (NFTs) from A-list artists, musicians, athletes, and brands. Users can easily purchase NFTs with their credit/debit card and sell collectibles in the Marketplace, where bidding starts at just USD 0.
The Syndicate. Crypto.com Exchange traders can take advantage of The Syndicate and purchase top cryptos such as Bitcoin (BTC), Polkadot (DOT), and Zilliqa (ZIL) at discounts of up to 50%.
Supercharger. Crypto.com App and Exchange users can deposit CRO into the Supercharger pool to earn popular DeFi tokens as rewards. The daily reward allocation is based on the liquidity provided by the user during the Charging Period.
DeFi Swap. DeFi Swap is a fork of Uniswap V2 that enables users to swap and farm DeFi coins at the most competitive rate. Additionally, users can securely store their crypto in the Crypto.com DeFi Wallet with a simple connection.
DeFi Earn. DeFi Earn allows users to maximize their returns by depositing their tokens into the highest APY protocol available. Currently, DeFi Earn is integrated with Aave Lending V2, Yearn Earn V2, Compound, Cosmos Staking, and native CRO Staking, providing users with the best possible returns.
Crypto.com Price. Crypto.com's price page offers an easy way to stay up-to-date on the latest token prices, market movements, market capitalization rankings, and token information.
Depending on your location, some features of Crypto.com may not be available to you. For example, lending services are not available to residents of Hong Kong, Singapore, Switzerland, Malta, and the United States.
Key Advantages of Crypto.com
A Beginner-Friendly Crypto Exchange
Crypto.com has seemingly managed to make most of the processes on their platform as simple and straightforward as possible, as evidenced by the numerous positive user reviews found online. The platform has optimized its site to be as user-friendly as possible, making it a great choice for those looking for an easy-to-use crypto-related platform.
Buying Bitcoin on Crypto.com is a simple and quick process, both on the website and the app. This is an important factor, as many people may not realize how complicated and unintuitive some exchanges can be until they try them out for themselves.
Nowadays, with the cryptocurrency market experiencing an unprecedented bull run, more newcomers than ever before are entering the industry. Unfortunately, many of these individuals have no idea how to use crypto exchanges or purchase the coins they desire.
Crypto.com is the perfect choice for those just starting out in the crypto world, as it offers a simple-to-use, straightforward exchange platform for trading crypto assets such as IOTA, with optimal trading pairs and low maker/taker fees.
Secure Platform and Reliable
Security is an absolutely crucial factor to consider when looking for the best crypto exchange on the market. Without essential security features, there is a risk of hackers and thieves exploiting the platform and stealing all of the assets located on it. Unfortunately, there have been several instances of this happening in the past, even to some of the most well-known exchanges.
If you're wondering if Crypto.com is a safe exchange, rest assured that it is one of the most secure exchanges currently available. With its robust security measures, you can be sure that your funds are safe and secure.
Crypto.com exchange utilizes two-factor authentication (2FA) as a mandatory security measure. This is one of the oldest and most effective security measures available, and it is still used by many exchanges today. By using 2FA, Crypto.com exchange ensures that its users' accounts are kept safe and secure.
Furthermore, here are other security aspects you can expect on Crypto.com:
Password
Biometric Identification
Email Verification
Phone Verification
Authenticator
Crypto.com is offering users 100% cold wallet storage for their funds. This is a unique feature, as many other exchanges only offer cold wallet storage for a portion of their users' crypto assets. Crypto.com reviews and the company's statements regarding their security measures are in agreement, making it a safe and secure exchange.
24/7 Customer Support
At Crypto.com, customer support is a top priority, as evidenced by the many positive customer reviews. With their team of knowledgeable and friendly support staff, Crypto.com ensures that any issues you may have can be quickly and easily resolved. So, if you ever run into a problem, you can rest assured that Crypto.com will be there to help you out.
Crypto.com offers 24/7 customer support, with mostly live responses and a maximum wait time of a few hours. Customers have reported positive experiences with the helpful and communicative customer service staff.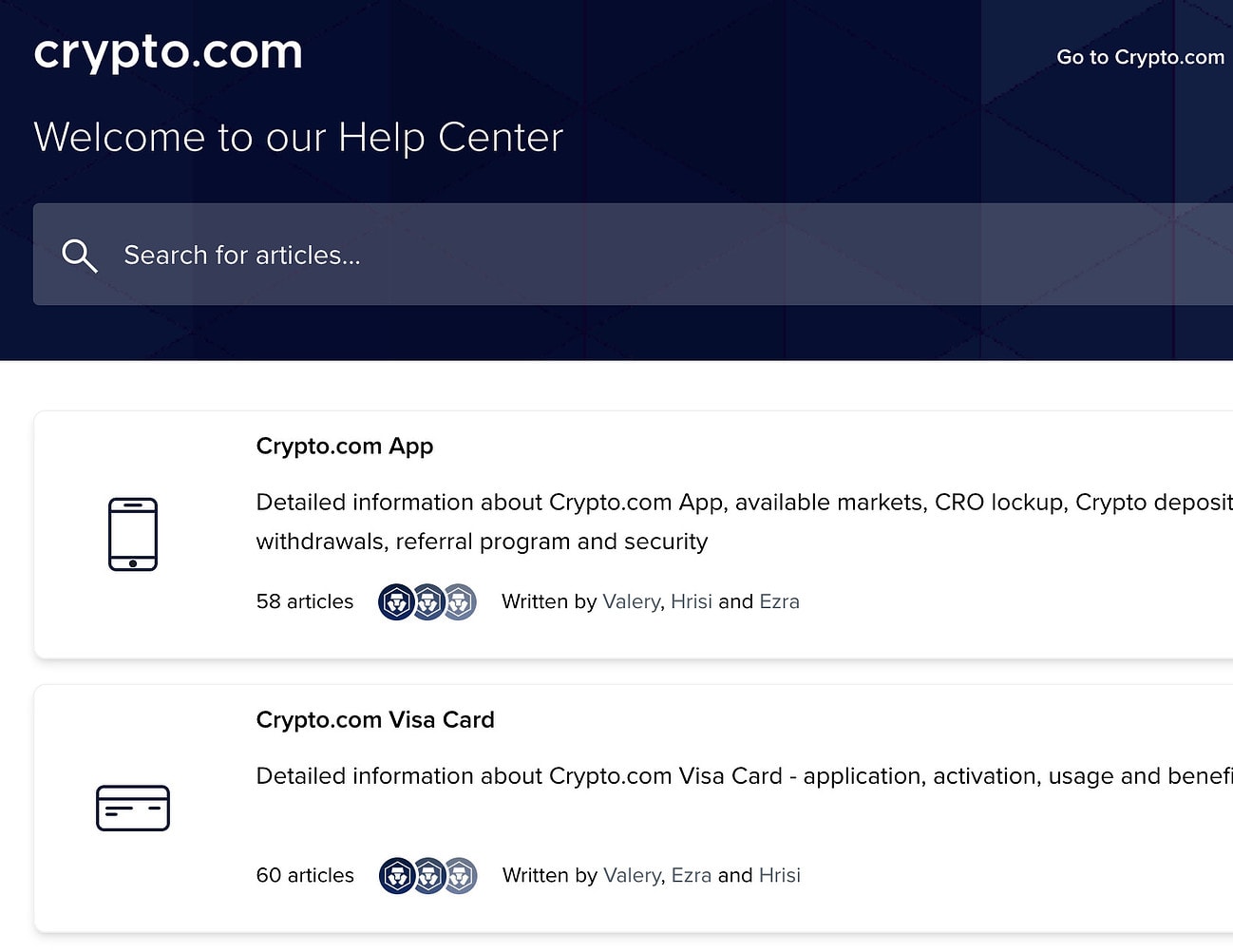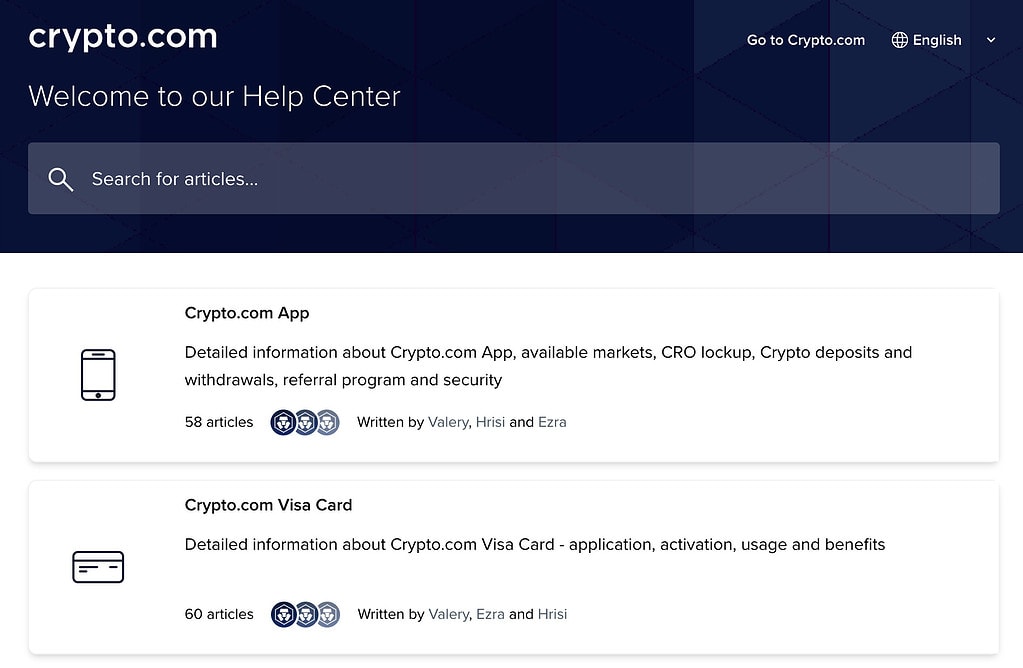 Appropriate Fees
Crypto.com offers a tiered fee structure based on your 30-day trading volume (in USD). The more you trade, the lower your fees will be. This system allows users to benefit from reduced fees as their trading volume increases.
Crypto.com offers competitive trading fees, with the rate depending on the user's 30-day trading volume. For makers, the fees range from 0.04% to 0.1%, while takers pay between 0.1% and 0.16%.
This exchange offers some of the most competitive fees on the market for both trading and withdrawing crypto assets. User reviews of the exchange show that the withdrawal fees are dependent on the crypto asset in question, but are generally quite reasonable.
Credit / Debit Card Purchases – Available
Using a credit or debit card to purchase crypto assets is a convenient and user-friendly way to start trading and exchanging cryptocurrencies. For those who are new to the crypto world, buying crypto with a card is a much faster and easier option than other methods. Crypto.com offers its users the ability to purchase crypto assets with a credit or debit card, making it a top-of-the-line crypto exchange.
Convenience is key when it comes to purchasing cryptocurrency. Crypto.com makes it easy for customers to buy crypto assets with a credit or debit card, as well as via a bank transfer. Additionally, users can also trade cryptos for other cryptos, giving them the flexibility to choose the payment method that best suits their needs.
Crypto-Based VISA Debit Cards
Crypto.com offers users the ability to get and use crypto debit cards, a unique feature that is helping to make cryptocurrency usage more mainstream. The company has partnered with VISA to provide users with convenient and secure crypto spending solutions.
The exchange also offers metal cards completely free of charge. However, to get one, you must purchase and hold CRO tokens (the native crypto token of the exchange) for at least 180 days. There are various tiers of cards available, each with different benefits, depending on the amount of CRO tokens you hold or stake. This is one of the most exciting features of the Crypto.com Exchange.
Key Disadvantages of Crypto.com
Mandatory KYC
KYC (Know Your Customer) is a set of rules and regulations that most top-rated exchanges adhere to. These regulations require users to provide proof of their residential address and identity, usually in the form of an ID card or driver's license, in order to use the exchange.
Crypto.com is a secure platform, as it only allows legitimate crypto traders to use it, making it difficult for scammers and hackers to gain access. This ensures that users can rest assured that their funds are safe.
If you want to take advantage of all the features of the Crypto.com exchange, you'll need to verify your identity. However, there are many crypto enthusiasts who prefer to remain anonymous when trading and exchanging, which is the original idea behind cryptocurrency. Wherever you stand on this issue, one thing is certain: identity verification is required to use the Crypto.com exchange.
Not the Biggest Number of Cryptocurrencies Available
Crypto.com offers a wide range of crypto assets to trade, with over 50 different coins available on the mobile app. However, some users may be disappointed by the limited selection of coins compared to other exchanges, as Crypto.com's core mission is to provide users with a secure and easy-to-use platform for trading and managing their crypto assets.
Crypto.com is on a mission to become the go-to hub for crypto enthusiasts worldwide, as evidenced by their acquisition of the domain name. If you're looking to become a successful cryptocurrency exchange, having a wide variety of assets is key. Crypto.com currently offers 50 different coins and trading pairs, but there are exchanges out there that offer over 100 coins and close to 800 trading pairs, making Crypto.com easily outshined.
How to Use Crypto.com?
Let's now take a look at the actual usability of the exchange. We've already discussed how user-friendly the platform is, but let's put it to the test and see how it performs in practice.
How to Register on Crypto.com?
Visit Crypto.com's official website.
Click the Exchange button at the top of the page to be redirected to a dedicated section of the site for exchanging currencies.
Create an account by clicking the Sign Up button in the top-right corner of the page.
Fill out all the necessary details to complete the form.
Verify your email address now to complete the process.
Verify your phone number to ensure accuracy and security.
Log in to the website to complete the process!
The registration process for most exchanges is quick and easy, with no need for phone number verification. Signing up is a simple and straightforward process.
How to Deposit Funds into Your Crypto.com Account?
Log in to your Crypto.com Exchange account on your mobile device to access the latest cryptocurrency trading opportunities.
To comply with KYC regulations, Crypto.com requires users to pass verification and verify their identity. This process may seem tedious, but it is necessary to ensure the safety of your funds.
Verification times for exchanges can vary, but typically take only a few minutes to complete.
Once your identity is verified, you will be able to access the mobile exchange platform.
If you're looking to buy cryptocurrency, the Trade button on our platform makes it easy. Simply select the cryptocurrency you'd like to purchase, add your card details, and you're done!
The KYC process can be time-consuming and frustrating, especially when the cryptocurrency market is volatile. It can take up to three days to complete the process and start buying cryptos.
Conclusion
We would generally recommend Crypto.com as a platform. However, there are a few issues that need to be addressed.
Crypto.com is a great choice for those looking for a reliable and user-friendly crypto platform. With competitive exchange fees, helpful customer support, and a secure environment, Crypto.com is a great option for those looking to buy, sell, and trade cryptocurrencies.
Crypto.com offers a convenient way to purchase cryptocurrencies, but the KYC verification process can be lengthy compared to other exchanges. If you're looking for an easier and faster way to buy crypto, Coinbase and Binance are two of the top crypto exchanges on the market.
Disclaimer: Cryptocurrency trading involves significant risks and may result in the loss of your capital. You should carefully consider whether trading cryptocurrencies is right for you in light of your financial condition and ability to bear financial risks. Cryptocurrency prices are highly volatile and can fluctuate widely in a short period of time. As such, trading cryptocurrencies may not be suitable for everyone. Additionally, storing cryptocurrencies on a centralized exchange carries inherent risks, including the potential for loss due to hacking, exchange collapse, or other security breaches. We strongly advise that you seek independent professional advice before engaging in any cryptocurrency trading activities and carefully consider the security measures in place when choosing or storing your cryptocurrencies on a cryptocurrency exchange.