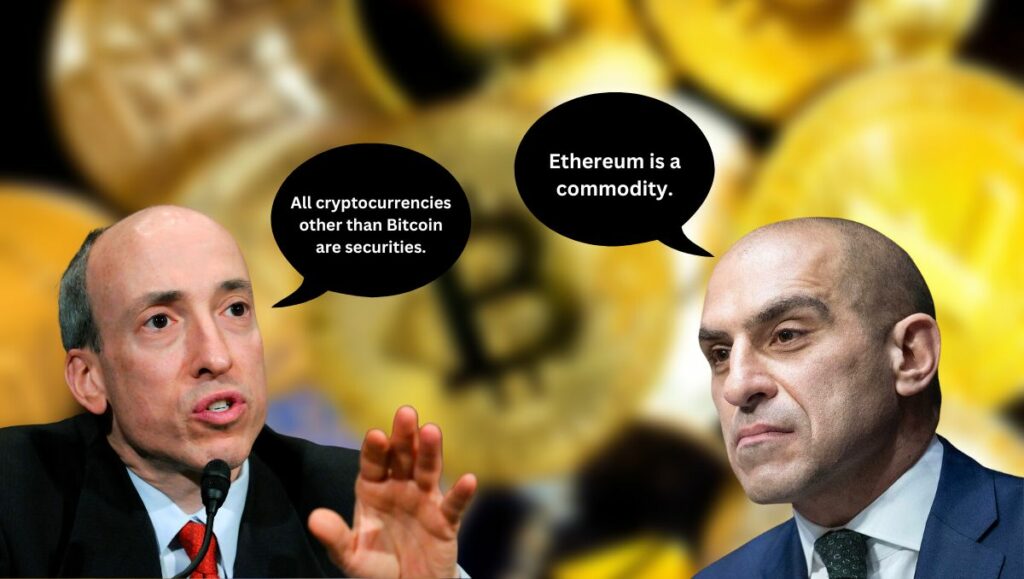 The power struggle between the Security and Exchange Commission (SEC) and the Commodities and Futures Trading Commission (CFTC) over the digital asset market is in full swing. On Wednesday, CFTC Chairman Rostin Behnam stood his ground when he declared that Ethereum is a commodity. This contradicts SEC Chairman Gary Gensler's assertion that all cryptocurrencies other than Bitcoin are securities.
"It's been listed on CFTC exchanges for quite some time, and for that reason," Behnam said, "it creates a "direct jurisdictional hook" for the agency to police both ETH's derivatives market and underlying market."
The CFTC chairman was clear that he was standing by his firm opinion that multiple crypto assets can be considered commodities, and defended Ethereum based on its futures product. He also gave the agency's legal insights on the matter. "We would not have allowed the Ether futures product to be listed on a CFTC exchange if we did not feel strongly that it was a commodity asset," he said, "and that we have serious legal defences to support our case."
Behman is also defending stablecoins, which have been under Securities and Exchange Commission (SEC) scrutiny. When Paxos was issued a legal threat by the SEC for not registering BUSD as a security, the CFTC chairman believes stablecoins should be classed as commodities. He gave the example of an investigation into Tether during a 2021 lawsuit. Tether was forced to pay over $40 million to settle charges that it had falsified its dollar reserves.
Behman believes the Tether case highlights how stablecoins should be seen as commodities, and encourages swift policing of the market. "It was clear to our enforcement team and the commission that the Tether stablecoin was a commodity, and that we needed to move forward, and swiftly, to police that market."
Unfortunately for Behnam, there appears to be increasing support for crypto-skeptic Senator Elizabeth Warren's proposed bill. If it is passed, the bill will give the SEC the most of the regulatory authority over the crypto industry. This would certainly be a bad outcome for Behnam and the CFTC, as it would practically erase the distinctions between commodities and securities.
Intercontinental Exchange Inc. CEO Jeffrey Sprecher has also asserted that crypto assets will be handled as securities. Although this may increase consumer protections, it could also mean that the SEC has much power to restrict innovation of new projects.
However, Belgium appears to be taking a different stance on the matter. According to their Financial Services and Markets Authority, Bitcoin, Ether, and other crypto assets issued solely by computer code do not constitute securities.
CFTC Chairman Rostin Behnam is clearly standing firm in his stance that Ethereum and stablecoins should be considered commodity assets. He is supported by the CFTC's legal defences and examples of investigations enforcing market policing with the Tether lawsuit. In contrast, the SEC and crypto-skeptic Senator Elizabeth Warren wish for cryptocurrencies to fall largely under the SEC's rule. As the US still has no specific legislation regarding cryptocurrency, the power struggle between the two American agencies continue and will affect the future of crypto regulation.