As the blockchain continues to grow, privacy and anonymity within the Decentral Finance (DeFi) sector are becoming real issues for all crypto enthusiasts. Therefore, the blockchain core attributes of decentralization and immutability seem to be in jeopardy, without these other two elements.
The demand for anonymity within the blockchain is obvious. However, most current blockchain solutions are lacking in that area. Users often have to deal with a lot of friction or centralization of DeFi transactions.
The Blank Wallet team has developed a solution that fights both friction and centralization and promotes privacy and anonymity.
Background
The team behind Blank Wallet is a multicultural group of tech consultants, software engineers, and developers with a drive to disrupt the blockchain ecosystem. Like all crypto enthusiasts, they see the value in DeFi and its worldwide implementation.
However, founder Aleksandras Gaska and his team quickly realized that there were growing demands for privacy and anonymity within the ecosystem, which the DeFi ecosystem has failed to live up to as it is today.
The team highlights that users' IP and wallet addresses are exposed when using current digital wallet solutions. Ultimately, token transfers and crypto balances are not private as anyone can view them through a blockchain explorer and potentially link them to users via chain analysis.
This prompted the creation of Blank Wallet, a solution that fights centralization by giving total anonymity of users. As of today, the platform has partnered with Spark, Magus Capital, Autonomy, and Brilliance Ventures to bring forth the ambitious project.
What is BLANK Wallet?
Blank is the most private, non-custodial Ethereum browser wallet, which ensures total crypto security and anonymity for its users. The platform's unique technology relies on smart contracts allowing users to hide the origins and amounts of digital currencies in their possession.
The platform's distinct protocol and mechanism is introduced through Blank Wallet V1, which is based on Tornado Cash, an ecosystem that allows users to send money while mixing their tokens in a non-custodial in order to become untraceable. All operations of this sort use smart contracts where tokens can be deposited and then be withdrawn to a different address.
This thereby guarantees the privacy of participants, as there is no way to link the withdrawals to the deposits, which is made possible via zk-SNARKs proofs.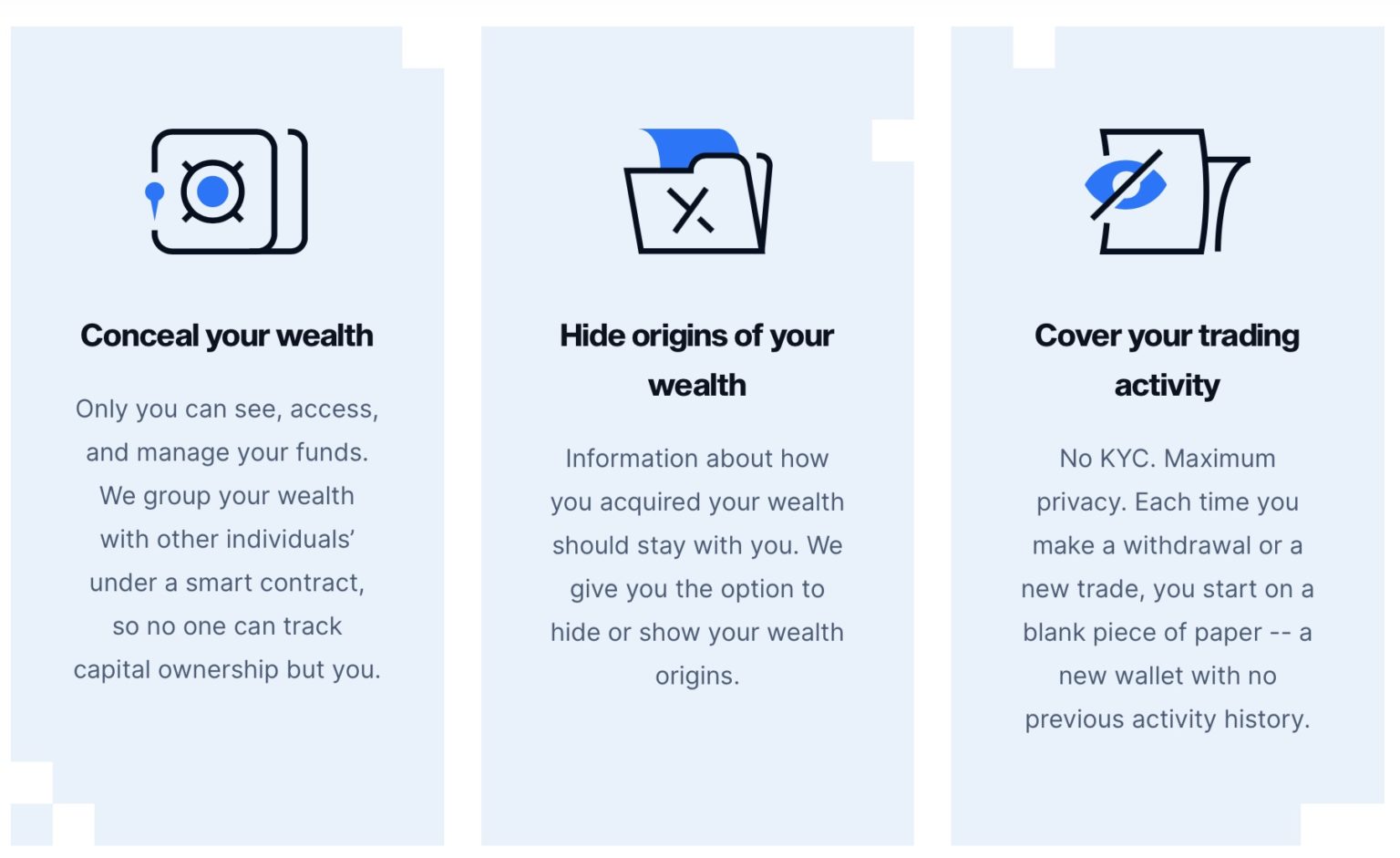 How Blank Wallet Works
Additionally, Blank is the first-ever Chrome extension that gives users total untraceable identities. Once the wallet is created, users will receive a backup seed key which further ensures the security of their crypto holdings. To keep users' funds safe, Blank's team implemented a security protocol that mixes funds with the pool of coins in the Blank ecosystem to hide their origin.
Therefore, every time a user makes a withdrawal, the Blank algorithm creates a new wallet address with the exact amount of crypto requested by the user.
Blank Security Features
The platform's security protocol is second to none, as it was built with a high level of attention to meet the market's needs. Blank's security algorithm was implemented using proven and audited technology, as well as the best practices and existing solutions that have shown great results on the market.
Users' encrypted seed phrases, along with important data like keys, addresses, and account data are securely saved in the browser's local storage, making them inaccessible to unauthorized entities. Overall, users have complete control over their wallets at all times, as no website, online app, or provider can access their secure and private data.
Blank's Privacy Features
Blank's team believes in total privacy, so all trading activities are covered by the wallet's algorithm. All new transactions are sure to start on a new wallet with no history of previous trading activities.
All of this is made possible through Etherum's blockchain system, which enables the firm to launch ERC-20 pooling via smart contracts, thereby strengthening the platform's anonymity set.
Furthermore, the platform utilizes the Ethereum-based open source solution MetaMask's Eth-Keyring library to store and manage accounts; this way, all operations within the Blank ecosystem are supported by the highly secured and efficient Ethereum blockchain.
Blank set itself apart from other similar crypto solutions by providing seamless integration with the anonymity pool to create a user-friendly browser extension wallet. This means that participants are not required to remember secret phrases, go through often complicated transaction processes, or manually create several wallets.
BLANK Token
Blank token is the platform's utility token, which enables holders to become key players in the growth and development of the Wallet ecosystem. The token serves as a marketing mechanism for the platform.
Furthermore, it also facilitates liquidity provision for the digital wallet. Ultimately, the Blank utility token aims to accelerate the platform's rise as a crypto leader within the DeFi space.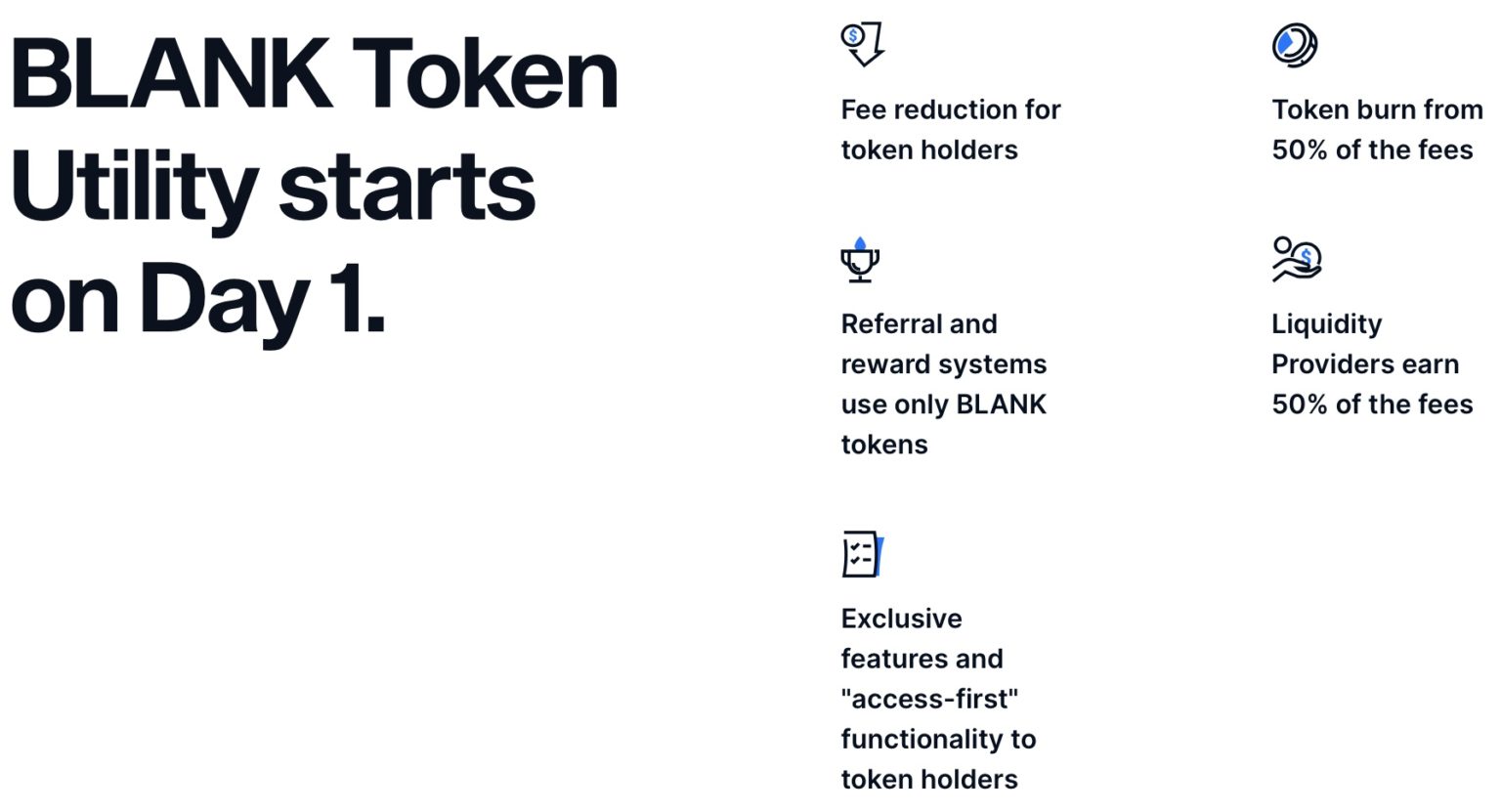 Fee Reduction for Token Holders
When using certain features within the platform, users have to pay service fees. Fortunately, BLANK token holders will benefit from notable fee reductions. Such a fee reduction will be tier-based and will depend on the number of tokens held: 1,000 tokens will equate to a 10% fee reduction, 5,000 tokens equals a 15% fee reduction, and 10,000 tokens to a 25% fee reduction.
Token Burn
Approximately half of the fees collected from Blank wallet's smart contracts will be used on buying back the BLANK tokens from the market and burning them. This will result in the overall circulating token being reduced. Blank's team believes that such a strategy will best position them for long-term success as shown by similar buyback-and-burn operations from Bitfinex and Binance.
Liquidity Providers Benefit
All liquidity providers who contribute tokens to any DEX liquidity pool ensures that BLANK tokens are available to trade when needed. Therefore, the blockchain-based platform aims to reward users helping to address liquidity concerns on decentralized liquidity provision platforms.
Half of the fees will be sent to users staking the ETH/BLANK pair on Uniswap and will be distributed proportionately to the amount pooled by the users.
Referral and Rewards System
Wallet holders, influencers, social media accounts, blogs, and news outlets will be sent their referral rewards as tokens. Additionally, airdrops that supply liquidity to the wallet will be sent only in BLANK tokens.
Exclusive Features and "Access-First" Functionality
Some of Blank's features will be limited only to token holders. As an example, non-token holders may be denied access to as many hosted addresses. Additionally, if a user passes a specific threshold of held tokens, they may be welcomed to participate in the platform's invite-only initiatives (such as Alpha or Beta testing of the wallet).
Conclusion
There has been a demand for better privacy and anonymity within the blockchain, and a lack thereof of appropriate solutions. However, BLANK Wallet's unique implementation of existing and established blockchain solutions into a protocol of highly secured tools has changed the way crypto is traded for the better.
Blank's effective strategies and emphasis on customers' security and privacy will likely elevate the platform atop the pyramid of the most trustworthy blockchain solutions on the market.
Disclaimer: Cryptocurrency trading involves significant risks and may result in the loss of your capital. You should carefully consider whether trading cryptocurrencies is right for you in light of your financial condition and ability to bear financial risks. Cryptocurrency prices are highly volatile and can fluctuate widely in a short period of time. As such, trading cryptocurrencies may not be suitable for everyone. Additionally, storing cryptocurrencies on a centralized exchange carries inherent risks, including the potential for loss due to hacking, exchange collapse, or other security breaches. We strongly advise that you seek independent professional advice before engaging in any cryptocurrency trading activities and carefully consider the security measures in place when choosing or storing your cryptocurrencies on a cryptocurrency exchange.