Bittrex, a veteran exchange based in Seattle, U.S., and Lichtenstein (Bittrex Global), offers a powerful trading engine with a sleek interface to enable direct purchases of cryptocurrencies using US dollars and trades between more than 220 cryptocurrencies. This Bittrex review will provide an overview of the platform and a comprehensive guide on how to use it effectively.
Sign up here to get started
What is Bittrex?
Bittrex is a Seattle-based cryptocurrency exchange founded in 2014 by Bill Shihara, Richie Lai, Rami Kawach and Ryan Hentz. The team has a combined 50+ years of experience in security and development for companies like Microsoft, Amazon, Qualys, and Blackberry. Bittrex is a secure and reliable platform for trading digital assets, offering many features and services. It is the go-to exchange for traders looking for a fast, secure, and easy-to-use platform. With its advanced security measures, Bittrex is the sheriff of the Wild West of cryptocurrency trading, ensuring its users a safe and secure trading experience.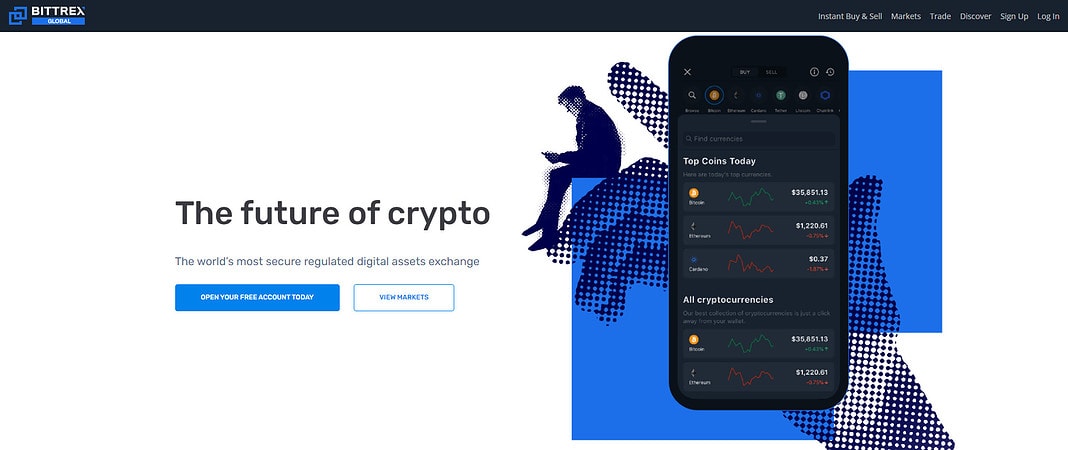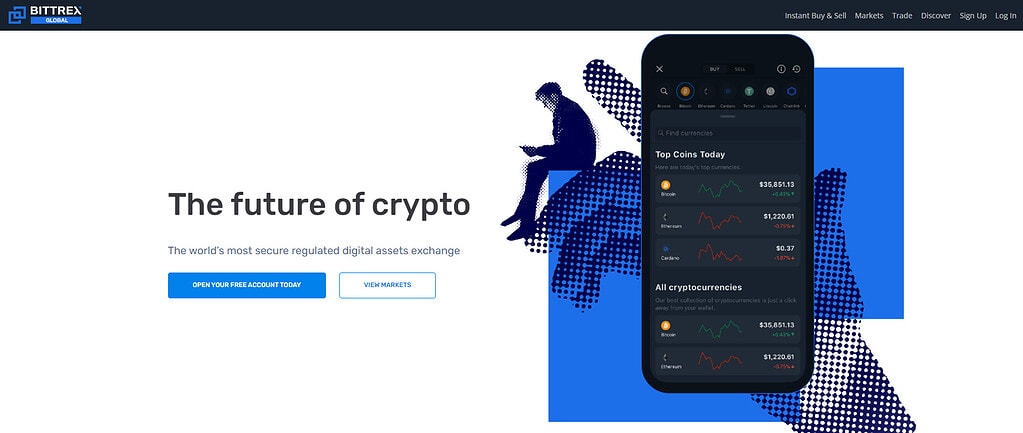 Bittrex is a crypto-to-crypto trading exchange that offers users the ability to purchase digital coins with fiat currencies. To do so, users must pass their full bank verification process. The exchange offers more than 190 different cryptocurrencies and 284 unique trading pairs. Users can invest in cryptocurrencies using USDT, a cryptocurrency whose value is tied to the US Dollar. Bittrex is a secure and reliable trading platform that allows users to easily and safely purchase digital coins with fiat currencies.
Key Features of Bittrex
The Bittrex exchange also boasts the following noteworthy features:
More than 220 cryptocurrencies: Trade popular and obscure coins like XRP, Litecoin, and Bitcoin to make huge profits.
Reliable, Secure, and Robust Platform: Former security engineers founded Bittrex, which has never been compromised. Also, it conforms with important regulations, making it a reliable exchange.
On and off ramps for USD and EUR: You can add and remove fiat money from and to your bank account straight using Bittrex. Use the credit/debit card deposit tool, which is almost instant and only costs 3% per transaction, to swiftly top up your account.
Smart Mobile Trading: You can trade your preferred cryptocurrency markets while on the road thanks to the Bittrex mobile apps for iOS and Android.
Supportive Customer Service Staff: The rich knowledge library on Bittrex teaches users all they need to know about trading on the platform. Sending a ticket through Zendesk will work if that doesn't.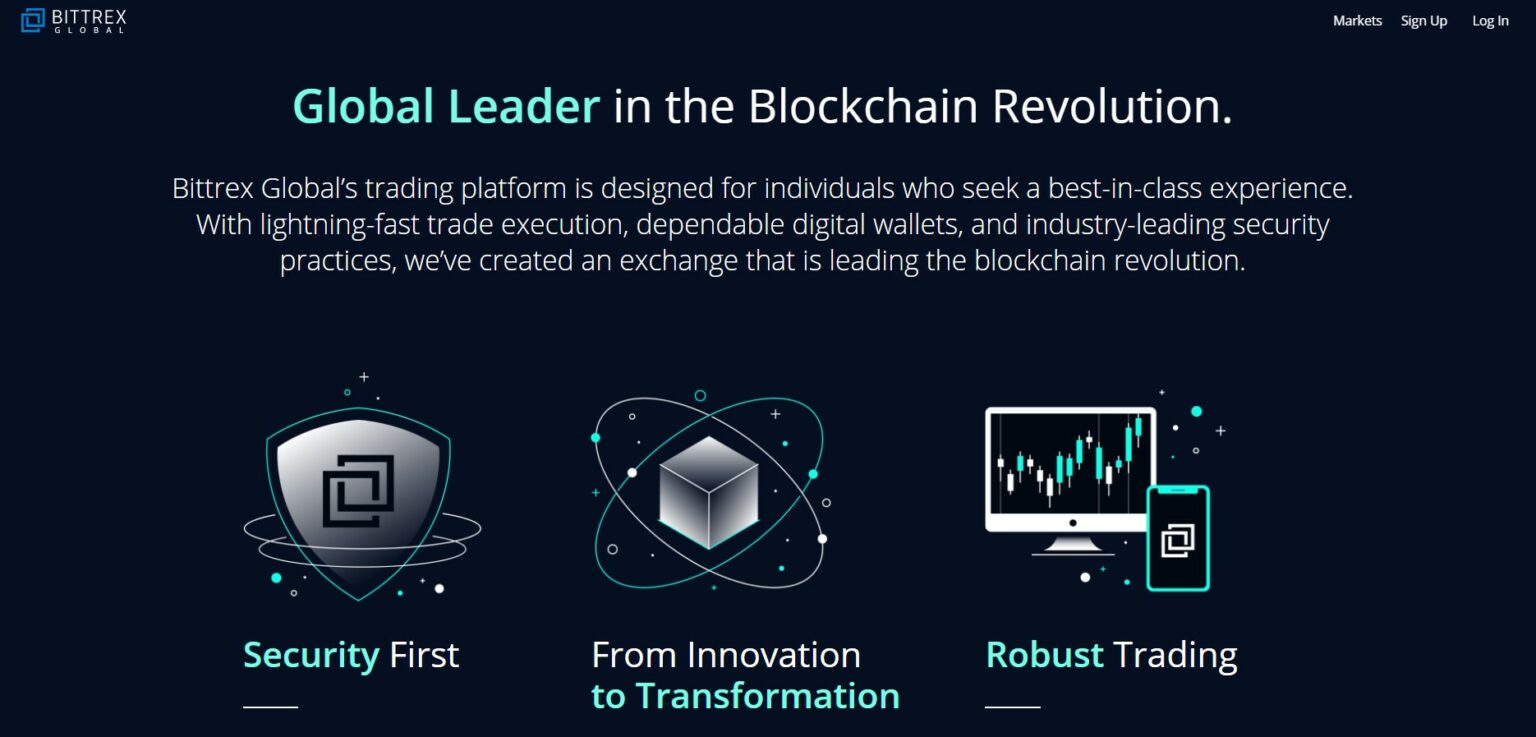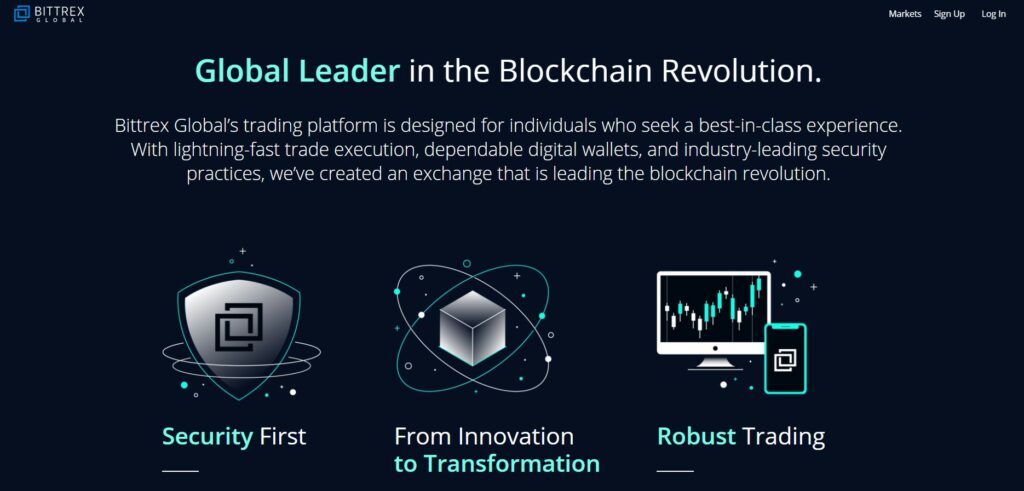 Key Advantages of Bittrex
Here are some advantages of Bittrex:
Fees
Bittrex is a cryptocurrency exchange that charges a flat rate of 0.25% on every trade, making it a great option for newbies. This fee is slightly higher than the average, but it makes things simpler. Bittrex also charges a 0.2% commission fee on all trades, so if you buy one bitcoin for USD 10,000, you'll pay around USD 20 in commission. Compared to other exchanges, Bittrex's fees are in the middle range. When it comes to deposits and withdrawals, Bittrex allows you to top up your account using a bank card (VISA), wire transfer, SEPA transfer, or cryptocurrencies. VISA deposits come with a 3% fee, while wire transfer costs depend on your bank. SEPA transfers are usually cheaper and faster than traditional wire transfers.
Variety
Bittrex is a popular cryptocurrency exchange that offers a wide selection of coins (>190) for users to trade. It includes both well-known coins like Bitcoin and Ethereum, as well as newer coins like Loopring and Tron. Bittrex reviews its listed currencies every day and adds new coins as often as possible. This makes it a great choice for those looking to trade a variety of coins, as it offers more than double the number of coins than Poloniex (80). Bittrex is a reliable and secure platform for those looking to trade cryptocurrencies.
Usability
Bittrex is a popular cryptocurrency exchange offering a wide range of altcoins and high liquidity in the markets. The exchange has a user-friendly interface, with a main dashboard listing supported trading markets with price overviews, volume, and percentage of price change during the last 24 hours. The exchange offers USD, BTC, ETH, USDT, and EUR markets, making it a great choice for traders looking to liquidate their positions on short notice. Bittrex also has a US version of the exchange, which lists fewer assets compared with its international counterpart.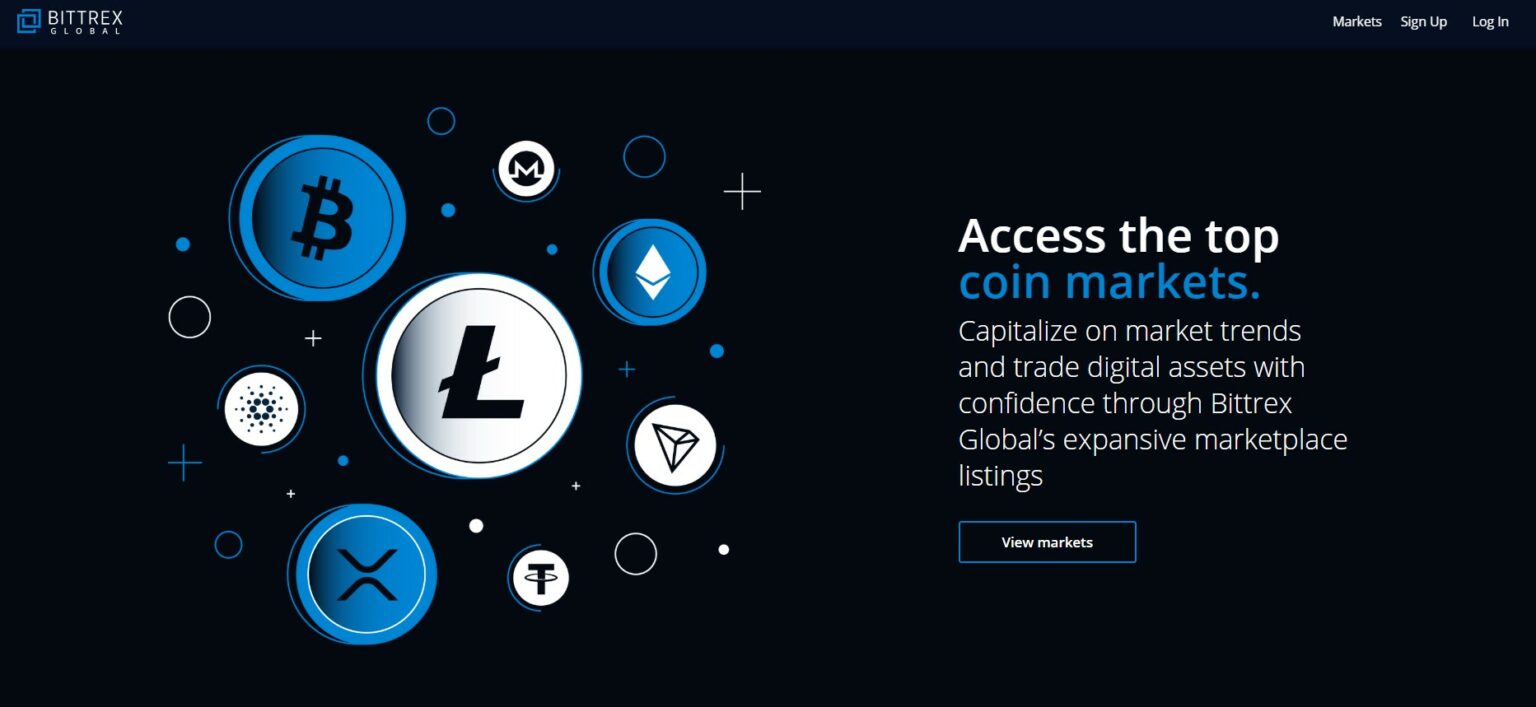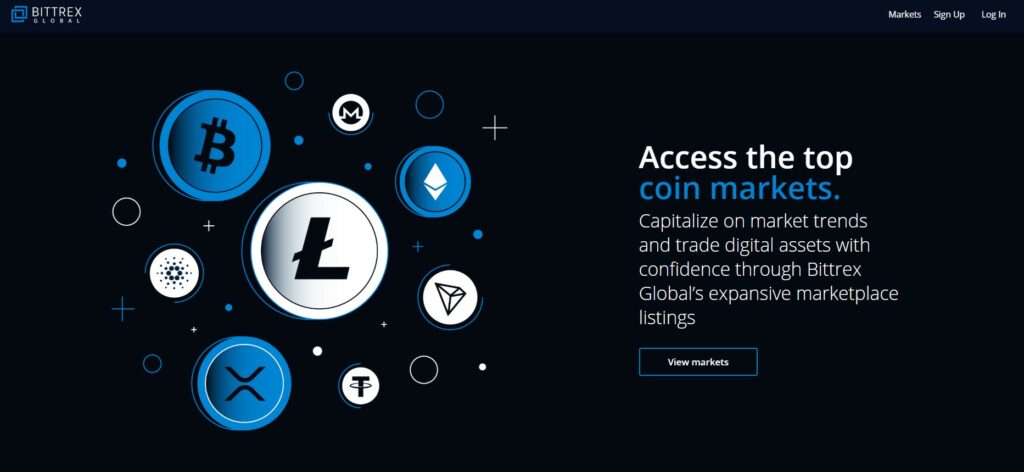 Bittrex Mobile App
Bittrex is a leading cryptocurrency exchange that offers a secure, reliable, and advanced trading platform for users to buy, sell, and trade digital assets. It is accessible through the web, as well as convenient mobile apps for Android and iOS devices. With Bittrex, users can deposit, withdraw, follow, and trade all supported markets on the go. It is a great tool for trading on the go and provides a secure and reliable platform for users to buy, sell, and trade digital assets.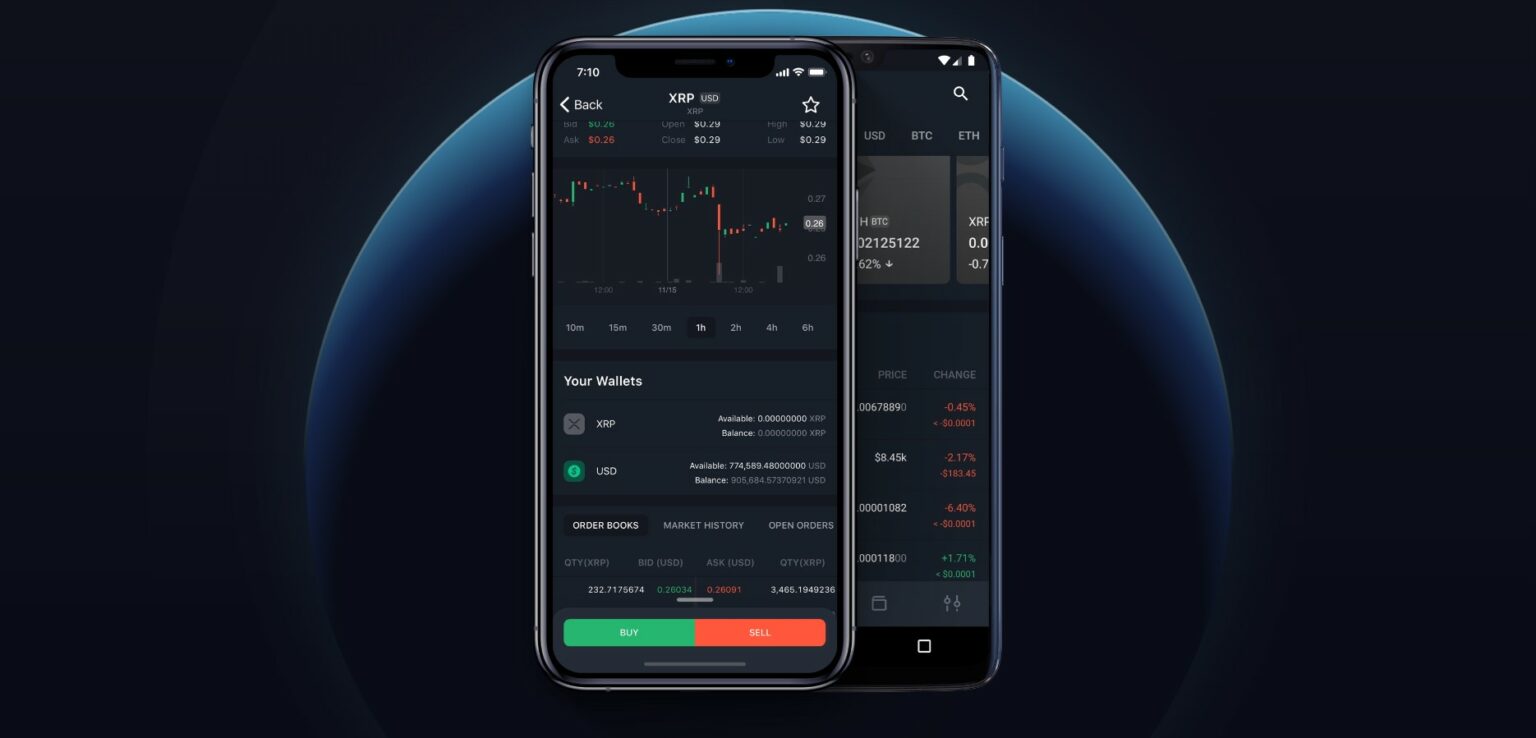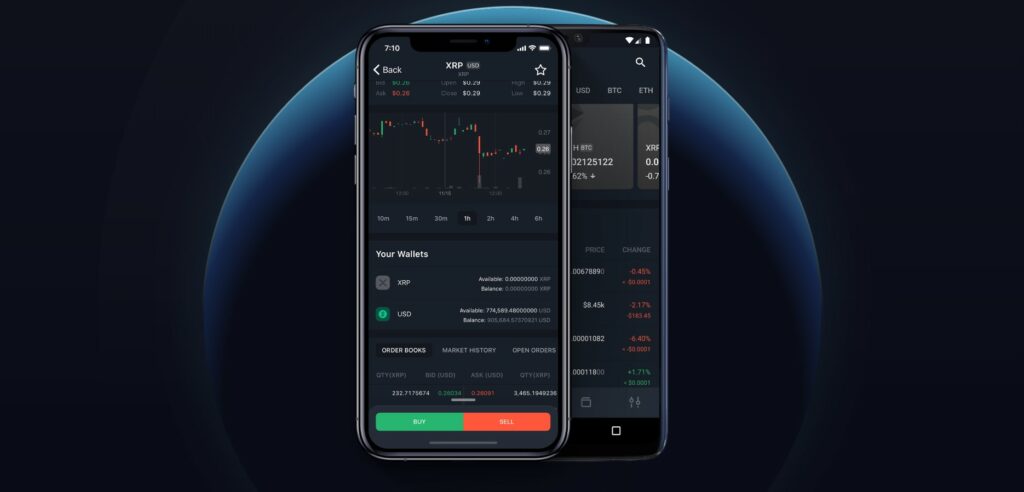 Customer Support
Bittrex is a secure and reliable cryptocurrency exchange with a customer support team that is slightly better than other exchanges. It offers support via Slack, Twitter and Facebook. Despite its security measures, some users have experienced difficulties with enhanced account verification and withdrawals. In October 2017, 0.1% of user accounts were disabled as part of a systemwide compliance review. Bittrex is one of the safest large exchanges on the web, but its security measures can sometimes create inconveniences for individual users.
Key Disadvantages of Bittrex
Fiat Trading
Bittrex, one of the leading cryptocurrency exchanges, does not currently allow users to trade using fiat currencies. However, in a recent podcast, Bill Shihara, CEO of Bittrex, said that users will soon be able to trade in US Dollars. Until then, users must own Bitcoin, Tether or Ethereum before they start trading. Other exchanges like Kucoin and Kraken allow users to buy cryptocurrency with fiat currencies. As of 2023, Bittrex now supports fiat payments, allowing users to buy cryptocurrency with US Dollars. This makes it easier for users to access the cryptocurrency market and start trading.
Accessibility
Bittrex is a secure platform for trading digital assets, but some users have been locked out of their accounts due to the platform's strict verification process. Bittrex is now working on finding the right balance between security and user access. The platform is striving to provide a secure environment while also making it easier for users to access their accounts. Bittrex is committed to providing a secure platform for its users and is working to ensure that users can access their accounts without any issues.
How to Use Bittrex?
Let's start at the top and take it one step at a time.
1. Open an Account here. Starting is easy. You'll be prompted to enter your email address and select a password when you go to the Bittrex homepage, click on LOG IN, and then click SIGN UP.
2. Get a Bittrex address. Now that you've got some coins, you can send them to Bittrex and start trading with it. To do this, you need to log in to your Bittrex account. Now click on WALLETS then choose the coins you want to send. Here, we're using Bitcoin as an example. Click on the '+' icon. A message will read DEPOSIT BITCOIN and you will be sent a link to your Bittrex address.
3. How to Trade on Bittrex? Go to API KEYS and turn everything ON except WITHDRAW. Have a look at the picture below to see what I mean. Now, go to CONFIG and select Bittrex as your exchange. Select MARKETS to choose the currency you want to trade. We'll use Ark as our example. You can check what price Ark is being sold for in the ORDER BOOK. Now you can choose the amount you want and make a bid by clicking BUY ARK.
4. Withdrawals. You might wish to withdraw part of your profits once you've made a ton of money trading cryptocurrency. To do this, go to your account panel, select the "-" icon, and then type the recipient's address. Use your Coinbase address or another external wallet as an illustration.
Who Should use Bittrex?
Bittrex is a popular cryptocurrency exchange that is user-friendly and secure. It is great for experienced traders, but not ideal for beginners as it does not allow fiat trading. There are hundreds of coins to choose from, which can be confusing for new traders. Bittrex has had some issues with customer service, but they are working on it. Security is a major plus, as the team behind Bittrex have done security for Microsoft and Amazon. All in all, Bittrex is a great platform for experienced traders, but beginners should look elsewhere for their first exchange.
Conclusion
Bittrex is a top-tier cryptocurrency exchange that offers a safe and easy-to-use platform for users to buy and sell digital assets. With over 250 coins available, users can take advantage of the wide selection of coins and tokens to trade. Bittrex also offers a secure wallet for users to store their digital assets, as well as advanced features such as two-factor authentication and cold storage. With its user-friendly interface and a great selection of coins, Bittrex is a great choice for those looking to buy and sell digital assets.
Disclaimer: Cryptocurrency trading involves significant risks and may result in the loss of your capital. You should carefully consider whether trading cryptocurrencies is right for you in light of your financial condition and ability to bear financial risks. Cryptocurrency prices are highly volatile and can fluctuate widely in a short period of time. As such, trading cryptocurrencies may not be suitable for everyone. Additionally, storing cryptocurrencies on a centralized exchange carries inherent risks, including the potential for loss due to hacking, exchange collapse, or other security breaches. We strongly advise that you seek independent professional advice before engaging in any cryptocurrency trading activities and carefully consider the security measures in place when choosing or storing your cryptocurrencies on a cryptocurrency exchange.