BitMEX is a popular Bitcoin futures exchange for advanced traders and speculators, offering leveraged positions with Bitcoin (XBT) and low trading fees, but with a steep learning curve. The coverage of this review will be from BitMEX's details about the company up to all its features and cons.
Sign up here to get started.
What is BitMEX?
BitMEX is a popular Bitcoin futures exchange for experienced traders and speculators, offering leveraged positions with Bitcoin (XBT) up to 100x times. Trading on BitMEX is highly risky and rewarding, so caution should be taken when using the platform.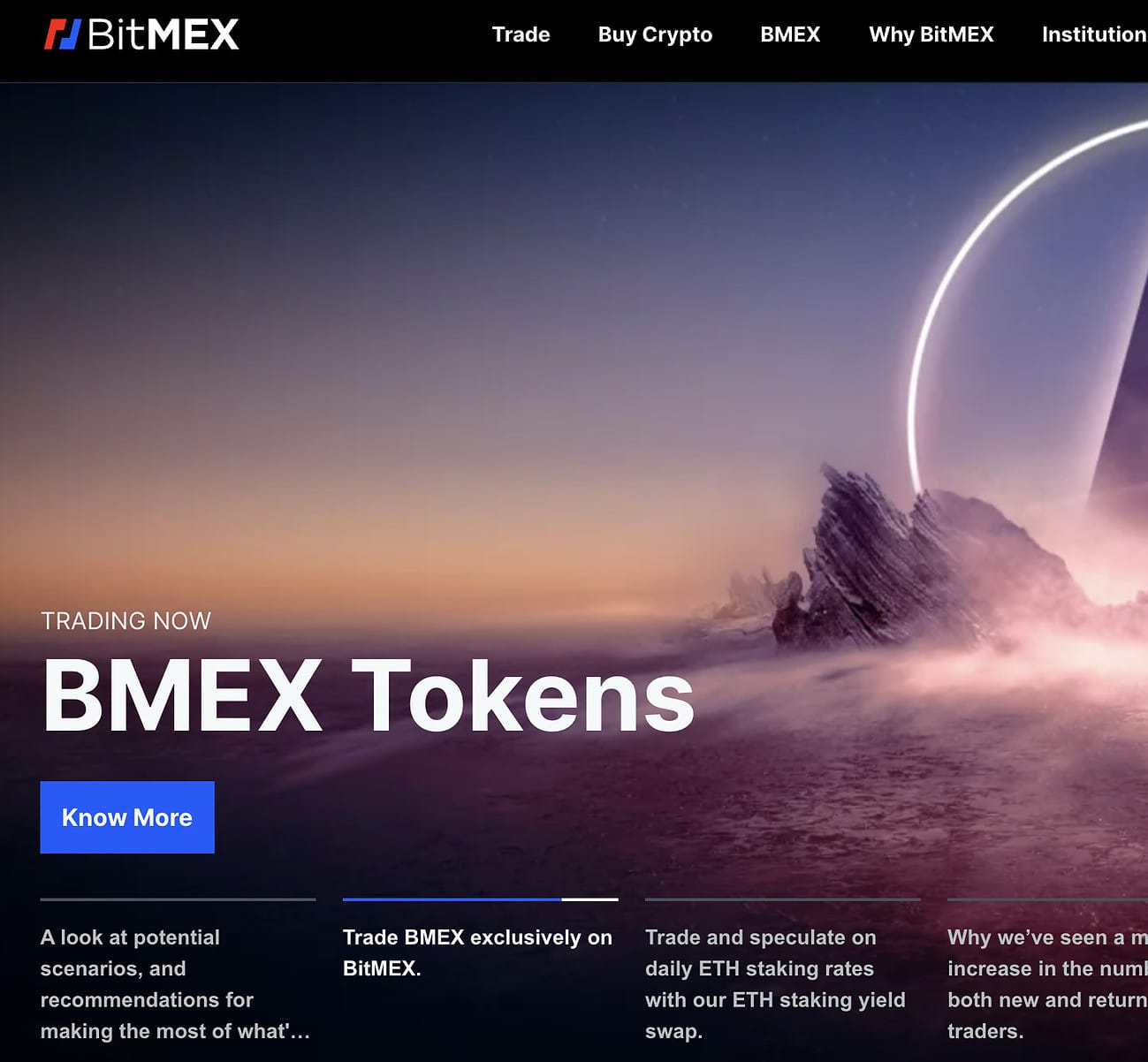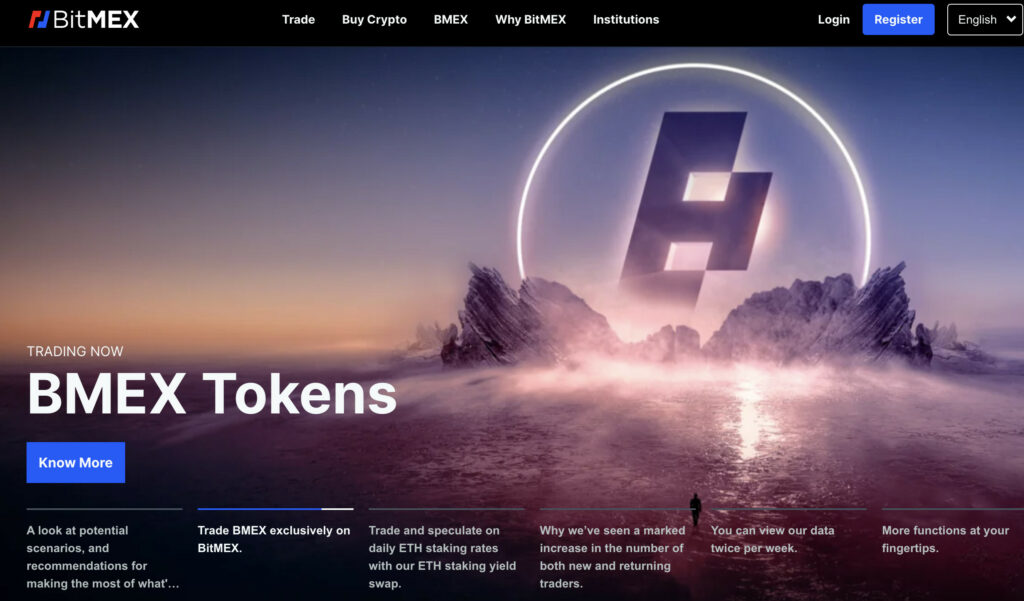 BitMEX, established in 2014 and based in Hong Kong, is a secure and reliable cryptocurrency exchange. It offers the lowest Bitcoin margin trading fees and a straightforward sign-up process, although KYC is required. The platform has a user-friendly UI and dashboard, but it may be challenging for beginners. If you're new to the crypto space, we recommend starting with a simpler exchange such as Bitstamp, Coinbase, or Poloniex.
Key Features of BitMEX
You can try these main features of BitMEX:
Futures Contracts. Cryptocurrencies can be bought or sold at a predetermined price on a specific date in the future through Futures Contracts.
Perpetual Contracts. These are agreements that are similar to futures contracts, but without a pre-set expiration date. You can maintain your position in these contracts for as long as you wish, or until your position is closed out.
BitMEX UP & DOWN Contracts. It offer traders the opportunity to benefit from the potential gains or losses of an underlying asset. These contracts allow users to speculate on the Bitcoin price at a specific settlement date. Furthermore, they will receive or pay the difference if their prediction is correct or incorrect.
Quanto Futures Contracts. BitMEX offers Quanto Futures Contracts in US Dollars and Tether, allowing traders to gain exposure to the USD or USDT price of assets without having to hold either USD/USDT or the asset itself.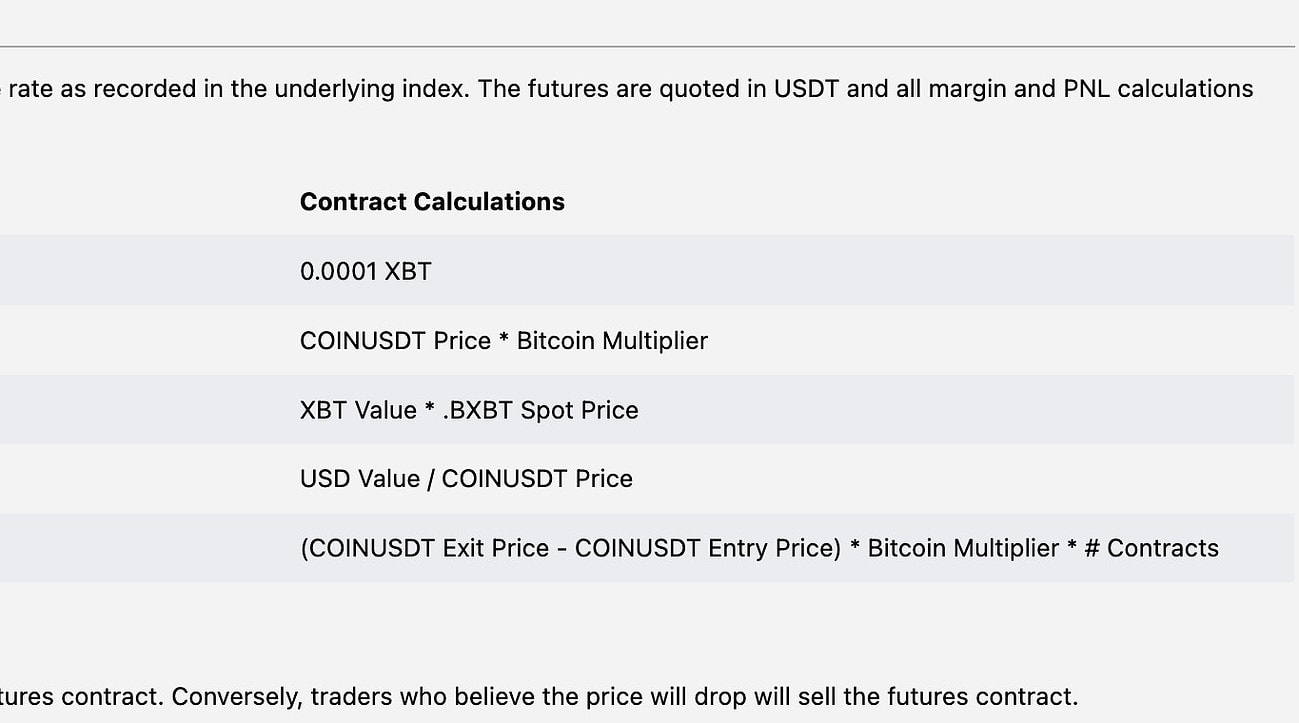 Trade Bitcoin contracts with up to 100x leverage – maximize your potential profits with our high-leverage options.
Above-average customer support. BitMEX provides 24/7 customer support through various channels, such as a support ticketing system, comprehensive knowledge base, Weibo, Wechat, IRC, Twitter, and Reddit.
Professional and secure exchange. BitMEX deploys advanced security measures such as multi-signature cold storage, two-factor authentication, PGP email encryption, and comprehensive risk checks for every user trade.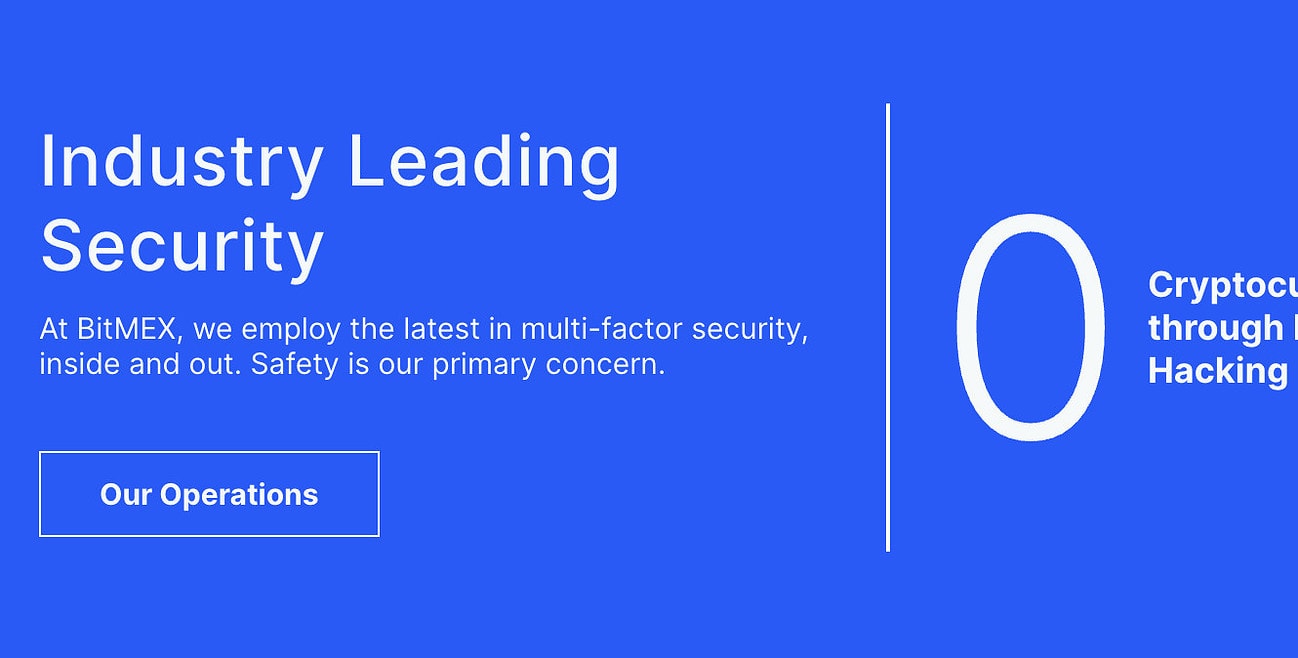 Comprehensive order types for different trading strategies. BitMEX users can access a range of order types to suit their trading strategies, including limit, market, stop market, stop limit, trailing stop, take profit, hidden, iceberg, post-only, and close-on-trigger orders.
BitMEX Testnet. BitMEX Testnet is a great way for beginners to learn margin trading without risking real money. Moreover, it's a 1:1 replica of the mainnet, running on fake Bitcoins, so you can get familiar with the platform before signing up on the mainnet.
Key Advantages of BitMEX
Strong Security – Assets are Kept in Cold Storage
BitMEX offers a multi-signature deposit and withdrawal system that requires multiple verification steps for added security. This ensures that your wallet, system, trading and communication are all kept safe.
BitMEX offers one of the most secure storage solutions for your cryptocurrencies, with all addresses stored in a cold wallet. Cold wallets are kept offline, meaning that even if your personal information is compromised, hackers won't be able to access your wallet as your private keys are not exposed.
For enhanced security, it is recommended to store at least part of your crypto assets in a secure hardware (cold) wallet. Popular hardware wallets include Ledger Nano X and Trezor Model T. Both are highly appreciated by users for their security, usability, and design. If you're looking for extra security when using BitMEX exchange, investing in a hardware wallet is a great way to ensure your funds are kept safe. All BitMEX reviews should mention this as an additional security measure.
Futures Contracts and Other Services
BitMEX is a crypto exchange that offers more than just regular trading services. It provides users with access to futures contracts, perpetual contracts, margin trading, and more.
BitMEX futures are a type of agreement to buy or sell a specific asset at a predetermined price and time in the future. This type of trading is risky due to the volatile nature of the cryptocurrency market, and investors can potentially make large profits or losses. It is important to understand the risks involved before entering into a futures contract.
BitMex Perpetual Contracts:
Perpetual contracts are similar to futures contracts, except that there is no predetermined expiration date. Buyers can hold these contracts for as long as they wish, without any pressure to sell.
BitMEX is a crypto derivatives trading platform, allowing users to trade financial assets using up to 100x leverage. This means that with an investment of just $10, traders can effectively trade as if they had $1000. This works in a similar way to a loan, allowing traders to maximize their potential profits.
Derivatives are financial products that derive their value from an underlying asset, such as Bitcoin, Ethereum, or any other altcoin. With BitMEX, traders can use margin trading to leverage their positions, but the platform's smart margin and liquidation process will automatically close all open positions and protect traders from going bankrupt if their balance drops below zero.
To get the most out of BitMEX's powerful features, it's important to understand how it works. The best way to do this is to practice in "learning" mode on the BitMEX TestNet.
Practice Trading with BitMEX TestNet
BitMEX TestNet is the perfect way for beginners to practice trading without any risks. This simulation allows users to gain experience in placing, executing and canceling orders, making it an invaluable tool for those just starting out.
Create a separate account on BitMEX TestNet to practice trading Bitcoin with up to 100x leverage. Signing up only takes a few minutes and you'll be able to view the current market and perform various actions.
BitMEX Fees – Very Low
BitMEX offers low fees for both perpetual contracts and traditional futures. The maker fee is -0.0250%, while the taker fee is 0.0750%. By minimizing your fees, you can maximize your earnings when trading on the platform.
BitMEX does not charge for deposits or withdrawals, however, when withdrawing Bitcoin, a minimal Bitcoin Network fee is required, depending on the blockchain load. Market makers receive a negative fee, meaning they receive a rebate, a small percentage of the amount spent, instead of paying extra. Market makers add liquidity to the market and set a price, while market takers trade at a price set by the market maker.
BitMEX App
BitMEX offers a mobile app for Android and iOS users, allowing them to keep track of their assets and trade cryptocurrencies on the go. Rated 4.4 out of 5 on Google Play, the BitMEX app is a must-have for any crypto fan.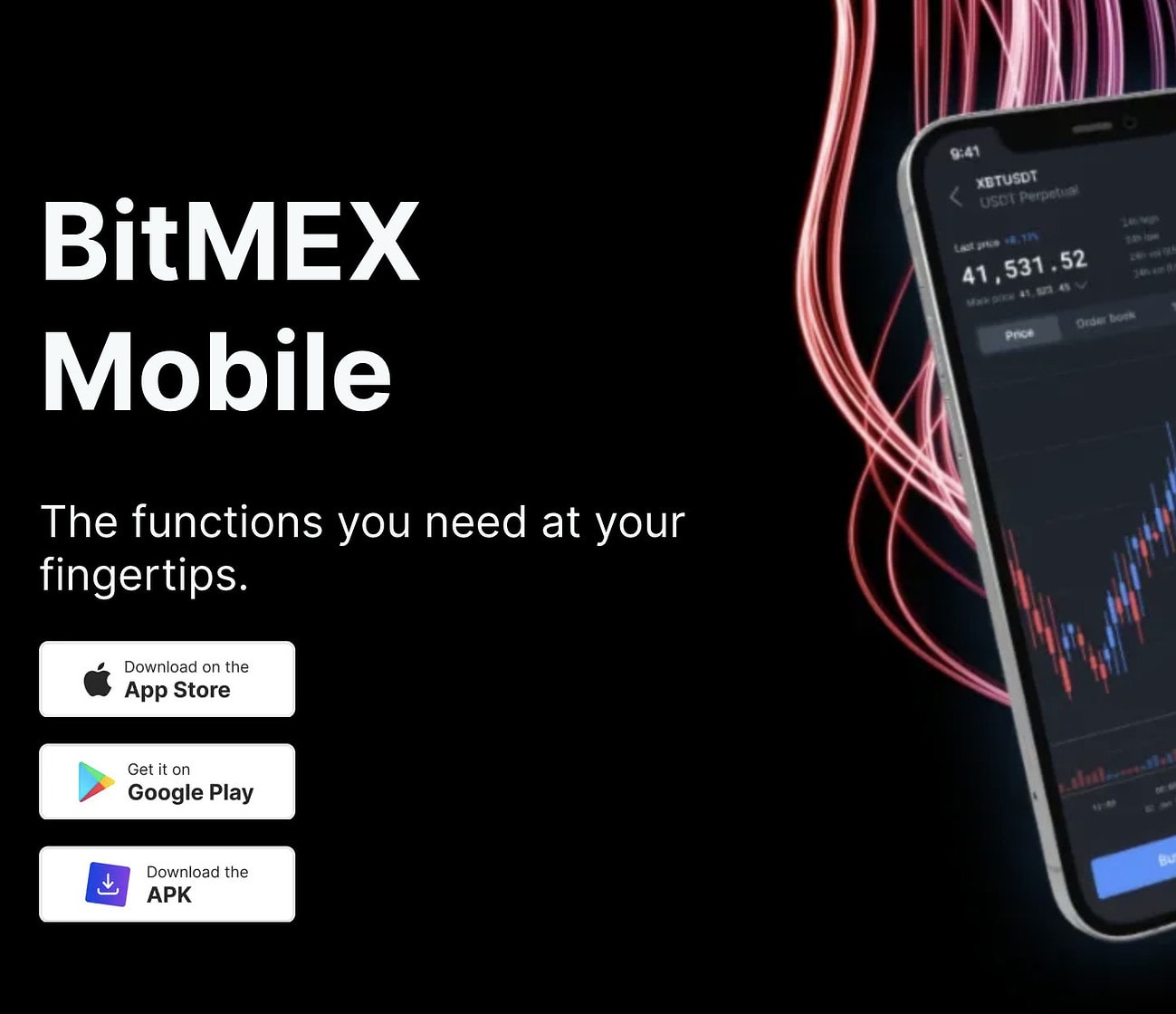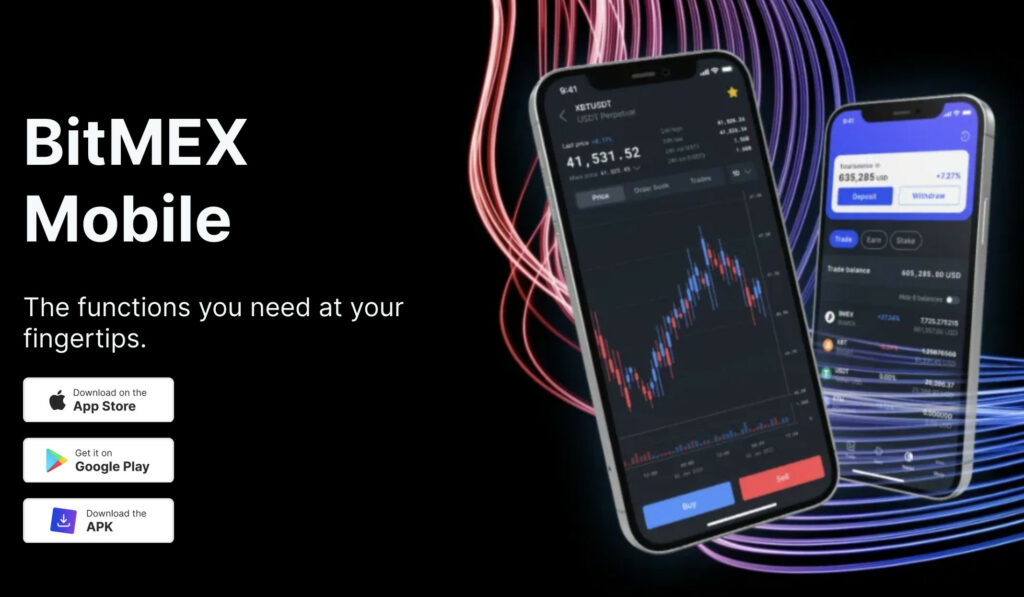 Customers report that this app is easy-to-use and has a clear interface, with no technical issues encountered. Users find that navigating the app is straightforward when they know what they are doing. Download the BitMEX app to access real-time market data, make deposits and withdrawals easily, increase your security with multiple authentications and login notifications.
Helpful Customer Service
If you experience any issues or have any questions while using BitMEX, you can contact their customer support team by pressing the "Contact" button on their main page. The support is available in English, Chinese, Russian, Korean, and Japanese.
BitMEX offers helpful customer support that can solve any issues and answer important questions. Users can find answers to generic questions in the company's FAQ section. Furthermore, specific inquiries can be addressed via email.
Key Disadvantage of BitMEX
Despite its many advantages, BitMEX has some drawbacks that should be taken into consideration. These include high fees for certain transactions, a lack of customer support, and a complex user interface that can be difficult to navigate. Additionally, the platform is not available in all countries, and it is not regulated by any government or financial authority.
BitMEX USA – Not Available
For US citizens, finding a reliable cryptocurrency exchange platform that is compliant with US regulations can be challenging. It is important to ensure that the exchange is supported in your country before making any trades to avoid any legal issues. BitMEX services are not available in certain countries, including:
The USA
The province of Ontario in Canada
The province of Québec in Canada
The Hong Kong Special Administrative Region of the People's Republic of China
The Republic of Seychelles, Bermuda, Cuba, Crimea and Sevastopol
Iran
Syria
North Korea
Sudan
It is important to check the laws of individual countries to ensure that crypto and trading activities are not prohibited. BitMEX does not support certain countries, so it is essential to research the legal status of crypto and trading in each country before engaging in any activities.
Not Recommended for Beginners
BitMEX offers a range of advanced trading features, including margin trading with leverage, futures contracts, and perpetual futures. However, these processes can be complex and risky for inexperienced traders, so it is important to understand the risks before engaging in any of these activities.
Making a risky decision such as BitMEX futures trading requires thorough research, market analysis, and an investment amount that you are comfortable with potentially losing. This type of trading is not recommended for beginners.
For beginners, BitMEX may not be the best option as withdrawals and deposits can only be made in Bitcoin. This means that users cannot purchase cryptocurrencies using fiat currencies, such as USD and EUR, and must transfer Bitcoin from another platform to BitMEX.
For reliable crypto exchange, Binance and Coinmama are the best options. Both platforms support fiat currencies and allow users to purchase Bitcoins easily.
No Fiat Currencies Supported and a Small Number of Coins Available
Making deposits on BitMEX can be a bit tricky for those who haven't done it before, as the platform does not accept fiat currencies. However, this can be beneficial for experienced traders, as platforms that accept fiat currencies tend to charge higher fees.
BitMEX only deals with Bitcoin, so all profits and losses are reported in Bitcoin. It is important to be aware of this when using the platform.
Also, BitMEX is limited on supported altcoins:
Bitcoin
Bitcoin Cash
Dash
Ethereum
Ethereum Classic
Litecoin
Monero
Ripple
Tezos
Zcash
With hundreds of options to choose from, top-rated crypto exchanges such as Binance and Coinmama offer far more variety than the limited 10 cryptocurrencies available.
How to Use BitMEX?
If you're looking to use BitMEX, you'll need a guide on how to register and make a deposit. Here you'll find all the information to get started with BitMEX.
How to Register on BitMEX?
Create an account on BitMEX by clicking the Register button.
Register by providing your email address, password and country of residence, then click the "Register" button.
Confirm your email address by clicking on the "Verify my Email" link.
Simply enter your credentials and you'll be automatically logged in.
How to Make a Deposit on BitMEX?
Verify your identity to deposit funds on BitMEX.
Generate a wallet address to securely transfer assets.
Deposit only Bitcoin – no other cryptocurrencies accepted.
If you don't own any Bitcoins yet, it's recommended to create an account on Coinbase and purchase Bitcoins using fiat currencies, then transfer them to a BitMEX wallet address generated for you.
Conclusion
BitMEX, a cryptocurrency derivative trading platform founded in 2014 by Arthur Hayes, Ben Delo, and Samuel Reed, is owned by HDR Global Trading Limited and has offices around the world. With its advanced features, BitMEX provides users with a secure and reliable trading experience.
BitMEX offers advanced features such as futures contracts, perpetual contracts, and margin trading with up to 100x leverage, making it an ideal choice for experienced traders. The platform also provides a high level of security, including multi-signature deposit and withdrawal systems, multiple verification methods, and a cold wallet.
BitMEX TestNet is the perfect way to learn margin trading with leverage without any risk. With low fees, BitMEX is an ideal platform for daily traders. However, it is not recommended for those who are not experienced with cryptocurrency derivatives trading. Additionally, it is not available in some countries, including the USA, and does not support any fiat currencies.
If you are looking for an alternative to the platform you are currently considering, Binance and Coinmama are two options worth exploring. Consider all aspects of the platform before deciding if it is the right fit for your needs.
Disclaimer: Cryptocurrency trading involves significant risks and may result in the loss of your capital. You should carefully consider whether trading cryptocurrencies is right for you in light of your financial condition and ability to bear financial risks. Cryptocurrency prices are highly volatile and can fluctuate widely in a short period of time. As such, trading cryptocurrencies may not be suitable for everyone. Additionally, storing cryptocurrencies on a centralized exchange carries inherent risks, including the potential for loss due to hacking, exchange collapse, or other security breaches. We strongly advise that you seek independent professional advice before engaging in any cryptocurrency trading activities and carefully consider the security measures in place when choosing or storing your cryptocurrencies on a cryptocurrency exchange.