bitFlyer is an often overlooked cryptocurrency exchange, but don't be fooled – it could be the perfect platform for you – just read some user reviews to find out! Many digital currency holders who are not Japanese still find a lot of value in this crypto exchange platform. Let us now go into the details.
Sign up here to get started
What is bitFlyer?
bitFlyer is a regulated Japanese cryptocurrency exchange that offers virtual currency exchange and trading services in Japan, the United States, and Europe. With bitFlyer, users can buy and sell Bitcoin, as well as other cryptocurrencies using their preferred fiat currency, such as USD, EUR, or JPY. Additionally, users can make quick crypto purchases using a bank card and other payment methods. bitFlyer is a secure and reliable platform that provides users with a safe and convenient way to trade cryptocurrencies.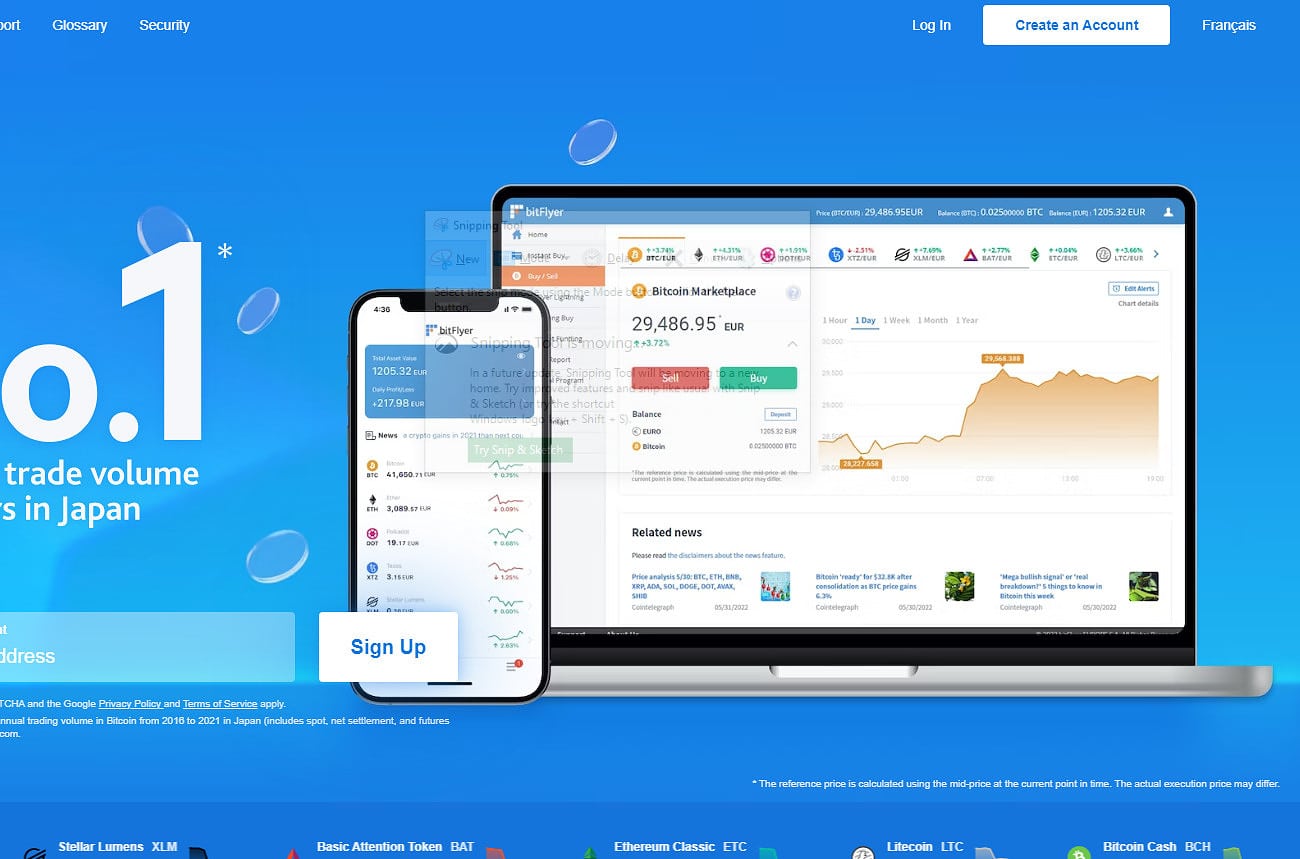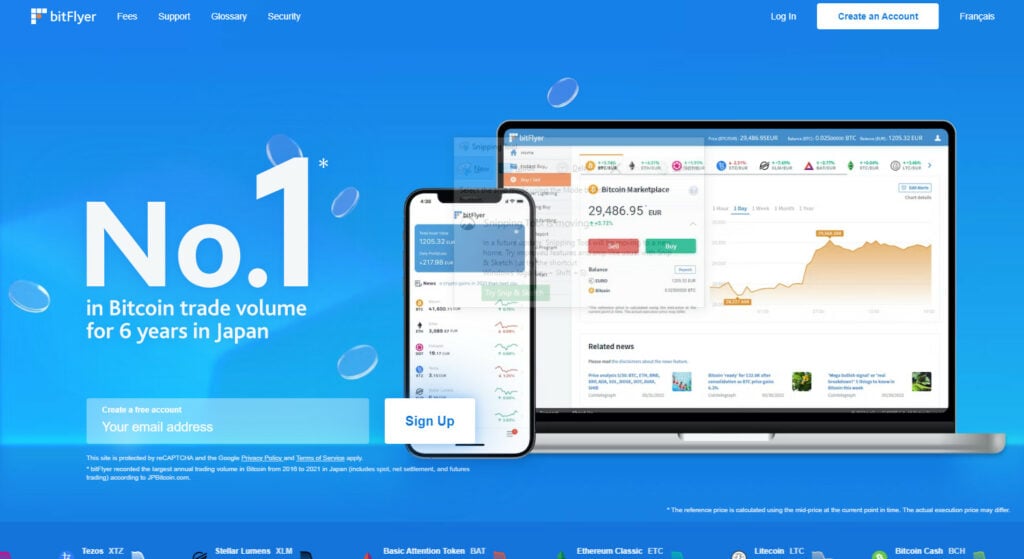 bitFlyer is a popular and secure cryptocurrency exchange that offers low fees, responsive customer support, and an easy-to-use platform. Despite differences in regulation, the exchange remains user-friendly and provides an excellent fiat gateway for all jurisdictions. With its excellent security, low fees, and responsive customer support, bitFlyer is the best-kept secret amongst European and US traders.
Key Features of bitFlyer
bitFlyer's key features include:
Purchase and trade Bitcoin and major altcoins. Bitcoin (BTC), Ethereum (ETH), Litecoin (LTC), and other prominent cryptocurrencies are supported via the bitFlyer exchange.
The fees are really modest. bitFlyer has some of the lowest costs among authorized exchanges, making it an excellent fiat gateway for both beginner and experienced crypto traders.
An exchange that is extremely secure. bitFlyer has never been hacked and is the best exchange in terms of regulatory compliance in the crypto-verse.
Simple to use. bitFlyer provides two trading options: a simple interface for basic trades and a complex Lightning exchange for experienced investors.
Futures trading and margin. Japanese consumers can trade on bitFlyer's Lightning FX platform, which allows for up to 4x leverage.
Account for a corporation. Institutional investors can apply for a corporate account, which has additional benefits and services.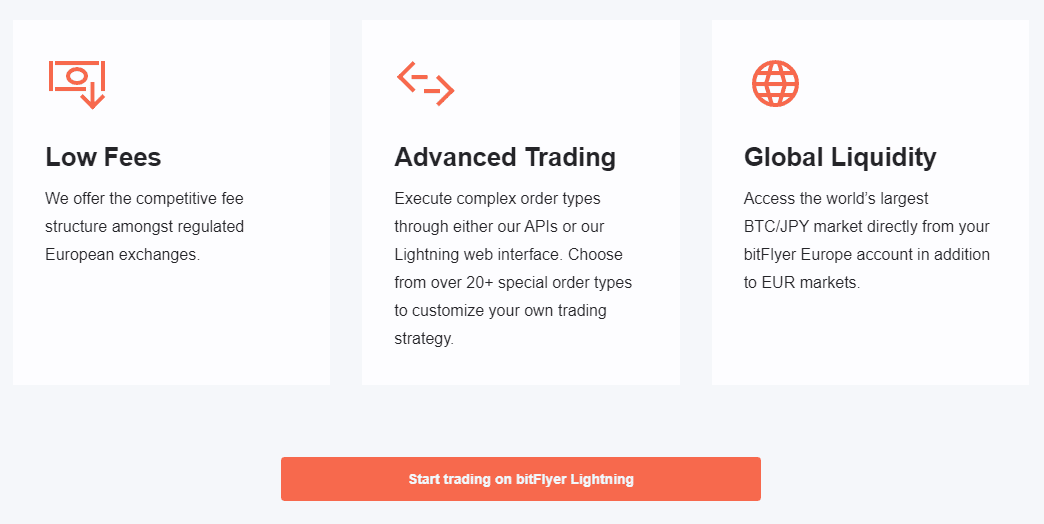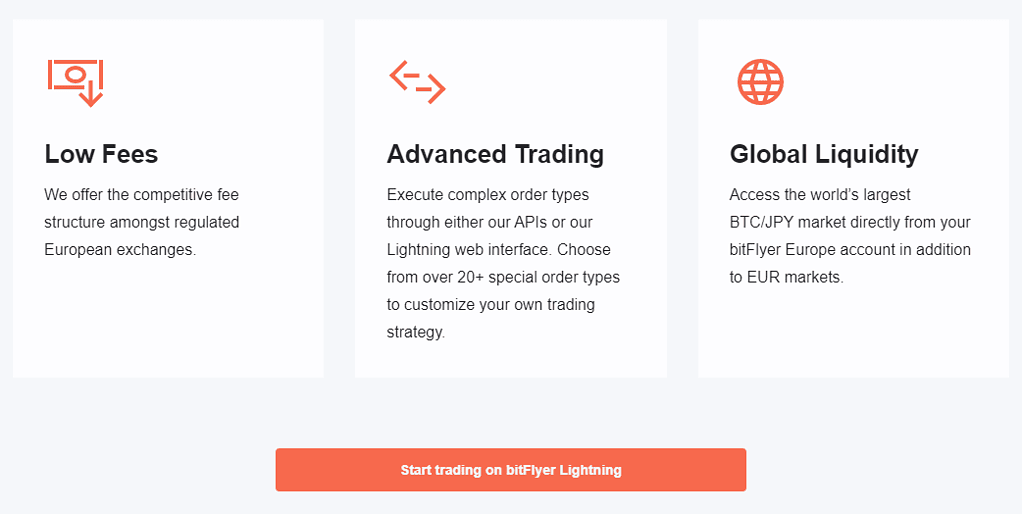 Key Advantages of bitFlyer
We'll begin our bitFlyer review by talking about the best parts of the exchange in question.
A Safe Cryptocurrency Exchange
When it comes to finding the best exchange for yourself, security should be your top priority. Exchanges that are regulated and follow all of the necessary rules and laws of their location, as well as comply with KYC norms, are the most secure. While some may consider this an invasion of privacy, it is the norm and necessary to ensure the safety of your crypto assets. Make sure to do your research and find an exchange that is secure and meets all of your needs.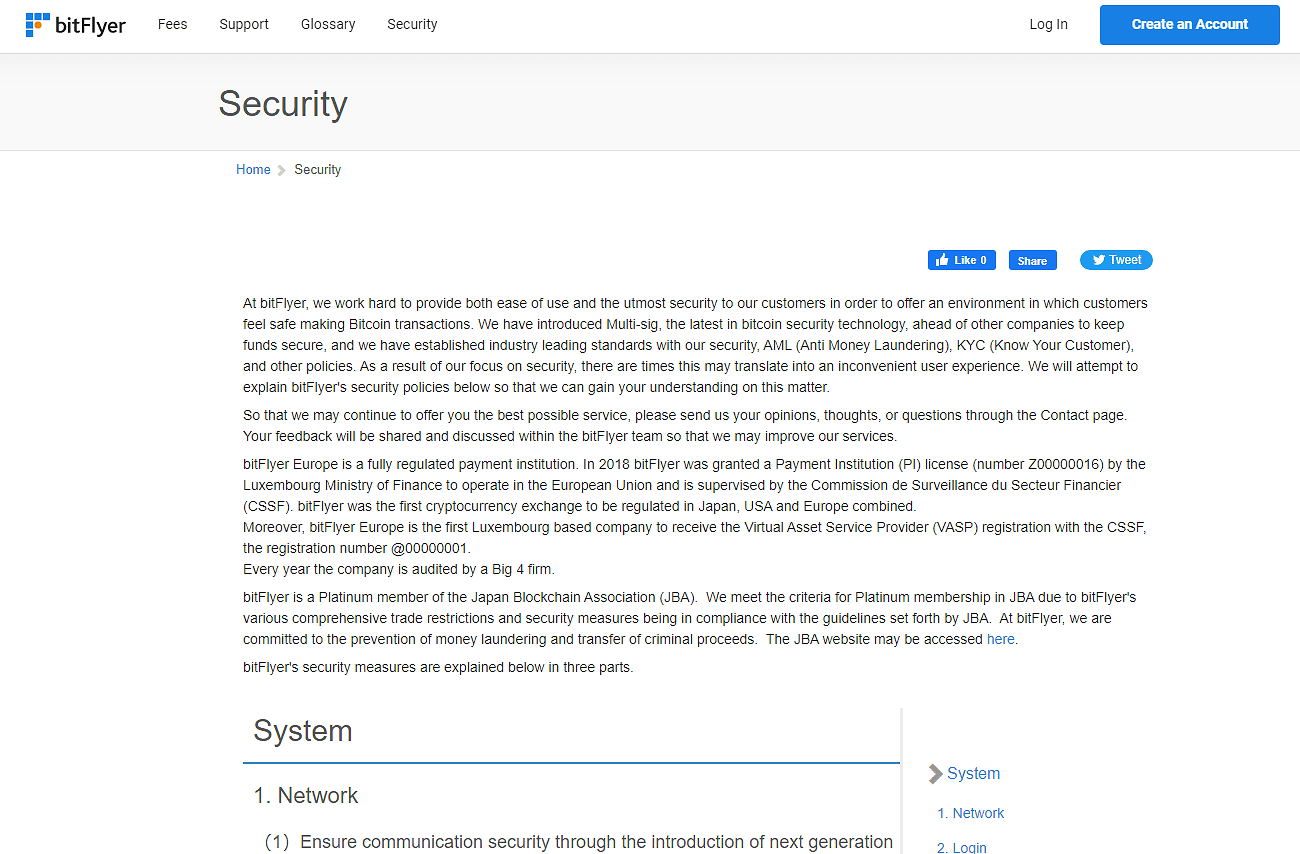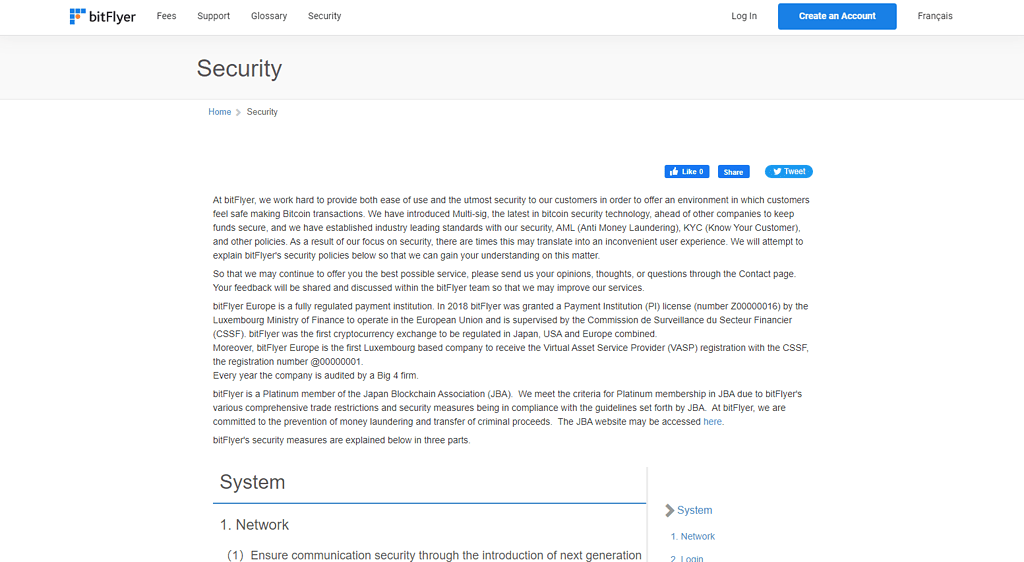 BitFlyer is a secure and reliable cryptocurrency exchange that complies with all rules and regulations. It has never been hacked and keeps 80% of its users' crypto assets in cold storage devices. Cold storage refers to hardware crypto wallets that are always offline, meaning no hacker can access them or the assets they contain. BitFlyer is a safe and secure exchange that provides users with peace of mind when trading cryptocurrencies.
Generally Simple to Use
Crypto exchanges have become increasingly popular, but many newcomers can be overwhelmed by difficult and confusing interfaces. bitFlyer reviews show that this is not an issue with the exchange, as its interface is not complex and even complete newcomers can use it without any issues. bitFlyer is a great choice for those who are new to crypto trading, as it is easy to use and understand. It also offers a variety of features, such as a secure wallet, low fees, and a wide range of trading options. With its user-friendly interface and features, bitFlyer is an ideal choice for those who are just starting out in the world of crypto trading.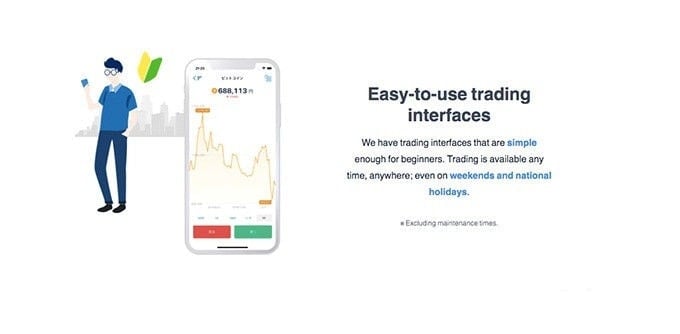 Supports The Majority of the Cryptocurrencies
The bitFlyer exchange supports the majority of the "main" cryptocurrencies on the market, including Bitcoin, Ethereum, Ethereum Classic, Litecoin, Bitcoin Cash, Monacoin, Lisk, Ripple, Basic Attention Token, Stellar Lumens, and NEM. However, the availability of these coins and tokens varies depending on the region. For example, if you reside in Japan, you'll be able to trade all of the assets, while European traders won't be able to trade Ripple and BAT, and US-based traders won't be able to exchange and trade Monacoin, Lisk, Ripple, and BAT. Despite these restrictions, you can be sure that you'll be able to trade and exchange Bitcoin, Ethereum, and some other more well-known crypto coins.
Fees are Really Low
This platform is one of the leading cryptocurrency exchanges on the market, offering some of the best fees that you can find. Depending on your region of residence, you can expect fees up to 0,15% for Japanese traders, 0,2% for European traders, and 0,12% for US clients. Futures trading is completely free of charge for Japanese traders. bitFlyer is one of the lowest fee-providing cryptocurrency exchanges, making it a great choice for anyone looking to trade crypto.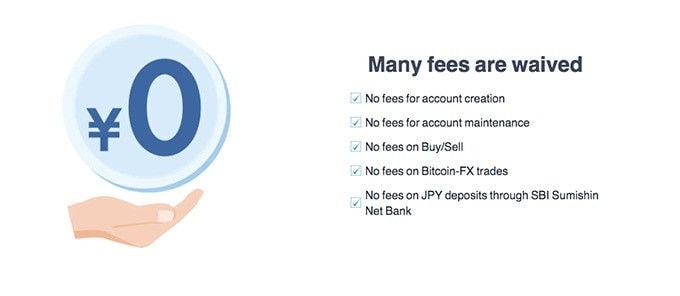 Reasonable Account Verification Limit
bitFlyer is a regulated cryptocurrency exchange that allows users to buy and sell Bitcoin without having to verify their identity. This is rare, as most exchanges require full verification before trading. Users can deposit and withdraw up to €249,99 per transaction and €2499,99 per cumulative year without having to provide ID and residential proof. bitFlyer also offers a range of other services, such as margin trading, futures trading, and more. The platform is secure and reliable and provides a great way to get started with cryptocurrency trading.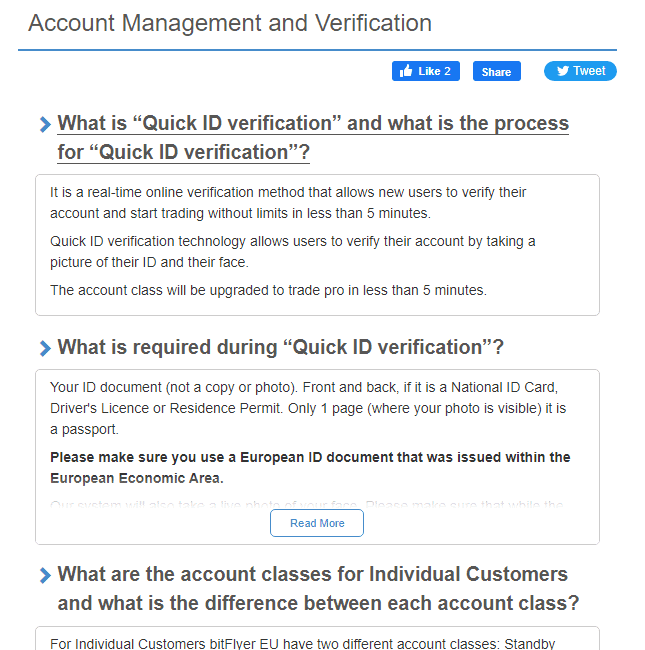 Key Disadvantages of bitFlyer
Let's take a look at some of the less-than-positive bitFlyer customer evaluations.
Cryptocurrencies Are Limited
BitFlyer is a popular crypto exchange, but it has a major drawback – it only offers 11 coins for trading and exchange. This might be fine for beginners, but more experienced traders may find this too limiting. Other mainstream exchanges offer a much wider selection of coins, so if you're looking for more variety, you may want to consider Binance or Coinbase.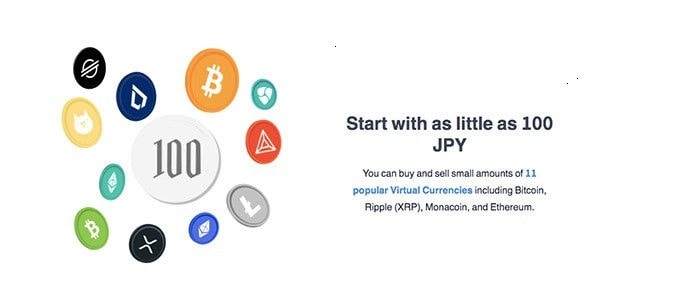 A Centralized Exchange
bitFlyer is a regulated, centralized crypto exchange that follows all of the rules and regulations in place. This means that users must identify themselves in full before they can start trading and exchanging. While this is not an issue for most users, it does not suit crypto enthusiasts who believe strongly in the concept of decentralization. This is because bitFlyer, like many other crypto exchange sites, holds users' private keys, meaning they do not have full control over their cryptocurrency. Despite this, bitFlyer has a professional nature and a spotless track record, so users should not have to worry about any issues.
How to Register on bitFlyer?
To begin, there is the registration process:
Step 1: Navigate to the bitFLyer website. The site may differ depending on your location;
Step 2: Click the Sign Up for Free button! – Your email address will be requested.
Step 3: You must now confirm your email address, create a password, and enable two-factor authentication. Given that an SSL certificate is also involved, the platform's security is quite solid!
Step 4: Once you have completed the 2FA and agreed to all of the documentation, your account has been activated! You can now opt to verify your identity right now or at a later time.
The signup process is quite straightforward and quick!
How to Add Funds to bitFlyer?
After you've registered your account, you'll most likely want to fund it and begin trading. The procedure is straightforward.
You'll want to go to the left side of your screen and select Account Funding. You will then be routed to a new page on the site.
Now that you've validated your account, you'll be able to contribute funds with ease. However, if you haven't yet completed verification, you must do so by providing the site with your name, surname, and all other essential information.
The funding process takes very little time and is quite simple – once you have your funds set up, you can start purchasing and trading the crypto-coins of your choice right away!
Conclusion
bitFlyer is a reliable and secure cryptocurrency exchange that allows users to purchase and trade a variety of main crypto assets. The exchange is praised for its simplicity and user-friendliness and is considered safe and secure. However, the available cryptocurrencies may vary depending on the region. If bitFlyer doesn't meet your needs, there are other alternatives, such as Binance and Coinbase, that may be worth considering.
Disclaimer: Cryptocurrency trading involves significant risks and may result in the loss of your capital. You should carefully consider whether trading cryptocurrencies is right for you in light of your financial condition and ability to bear financial risks. Cryptocurrency prices are highly volatile and can fluctuate widely in a short period of time. As such, trading cryptocurrencies may not be suitable for everyone. Additionally, storing cryptocurrencies on a centralized exchange carries inherent risks, including the potential for loss due to hacking, exchange collapse, or other security breaches. We strongly advise that you seek independent professional advice before engaging in any cryptocurrency trading activities and carefully consider the security measures in place when choosing or storing your cryptocurrencies on a cryptocurrency exchange.