Binance Smart Chain (BSC) was created by the team behind Binance exchange, arguably the world's most popular cryptocurrency exchange platforms founded in 2017 by Changpeng Zhao (CZ). BSC is a dual-chain architecture that encourages users to utilize one blockchain for building digital assets and decentralized apps in order to trade faster. This architecture will run alongside the existing Binance Chain (BC), a decentralized digital asset exchange, whilst providing a fast and secure system that enables smart contracts. This article will explore some of the exciting features of BSC and give users some insight into their security and reward system. For more detailed information we suggest taking a look at the whitepaper.
You can launch your own Binance smart chain validator for free on ANKR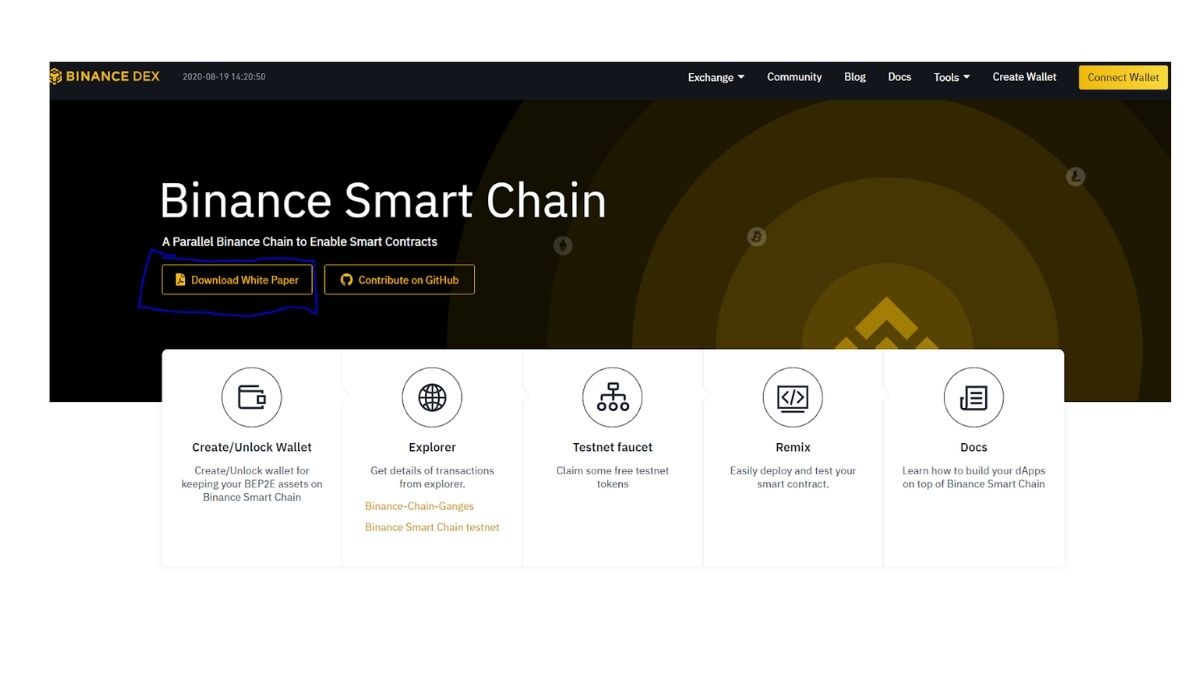 Features of Binance Smart Chain
Ethereum Virtual Machine (EVM) Compatibility 
As users may know, Ethereum is one of the most practical and popular Smart Contract platforms. Hence, BSC has enabled compatibility with multiple Ethereum tools and nodes to be used in this dual-chain architecture (e.g ecosystem components and dApps)
Cross-Chain Communication
Communication between BC and BSC will be supported in order for users to move digital assets (i.e BEP2 tokens), as well as any other BEP tokens in the future. This is further optimized for scaling dApps that run best with an efficient user experience.
Integration with Chainlink's Oracle solution for building DeFi apps
Binance Smart Chain integrates Chainlink's ($LINK) oracle solution. This means that developers on Binance Smart Chain no longer need to dedicate months of engineering time in order to set up their own oracle infrastructure, they can directly build smart contract applications that can connect to real-world data feeds from Chainlink. In turn, developers can build powerful Decentralised Finance (DeFi) applications which utilise Chainlink oracles to retrieve data from data aggregators or price information directly from Binance DEX or Binance exchange. According to Binance, this will bring more robust security and reliability to price feeds on DeFi apps, which in turn gives users more confidence in financial products which are built on Binance Smart Chain.
Independent Blockchain
BSC does not include a layer 2 solution, making it a standalone system. In the event that BC experiences a technical failure, most of BSC's functions are self-contained, hence they should be able to continue operating despite such occurrences. 
Staking-based Consensus and Administration
To promote the environment and increased network performance, BSC utilizes a staking-based consensus, additionally allowing for flexible options that the community can administrate.
Short Block Time
One of the highlights listed on the website includes a block time of approximately five seconds, ensuring efficient trading for users.
Binance Smart Chain vs Binance Chain: Differences?
Binance Smart Chain came about because Binance Chain was introduced as a single purpose high-performance DEX. It is on-chain order matching and intended to be very fast. It is able to handle around 100 thousand orders per second with 1-second confirmation. But for Binance Chain to achieve this level of performance, they had to sacrifice something, and that was the smart contract capabilities. However, it was a highly popular feature with users so Binance Smart Chain was released as a parallel chain which supports Ethereum compatible smart contracts, so it supports solidity and is EVM compatible.
Therefore, a key feature of Binance Smart Chain is that it is compatible with Ethereum-based smart contracts. So, if you have a DeFi contract that runs on Ethereum, you can port it over to Binance Smart Chain and it will run there too. It is meant to be an easy way for users to deploy smart contracts on Binance Chain without any additional learning curve. It will also be fully open-sourced so anyone can deploy contracts on the platform. Finally, in terms of performance, Binance Smart Chain is lower performance than Binance Chain, but it should still be higher than Ethereum 1.0.
Learn more about Ethereum, and the upcoming Ethereum 2.0 here.
Rewards and benefits of using Binance Smart Chain
The major reward implemented for users are transaction gas fees paid in Binance Token ($BNB) (Binance's native coin), and individuals can also be rewarded for Cross-Chain communication. BNB is the token used to stake for this dual-chain architecture, and allows the prevention of inflation since it is not an inflationary token. Although this token may not be as popular as Bitcoin or Ethereum, it has many uses so validators can still enjoy its benefits.
Proof of Staked Authority (PoSA)
BSC makes use of a system of 21 validators through PoSA, which allows lower fees and shorter block times. PoSA is a blockchain method that allows fast deliveries and fast transactions, making it a valuable algorithm to increase positive user experience. As mentioned in the white paper, BSC will be utilizing a combination of Deputy Proof of Stake (DPoS) and Proof-of-Authority (PoA). This means it will allow community governance, only a limited amount of validators will produce blocks, and it will follow a system similar to Ethereum's Clique consensus engine whereby validators act through a PoA protocol to produce blocks. Combining these will likely improve the efficiency, security, user transparency and satisfaction of the smart chain.
Security: How does Binance Smart Chain protect users?
Although PoA systems usually ensure the security of users, there are still risks of Byzantine validators that may breach the network through methods such as a "Clone Attack". Binance conducts measures to prevent such attacks by encouraging users to wait for blocks to seal after a certain amount of time in order to guarantee secure finality. BSC additionally implements Slashing logic, which is used to punish Byzantine Validators for instability or double signing. This will decrease the chances of "Clone Attacks" and expose malicious validators very quickly. 
Instability
Refers to validators who miss their turn to produce blocks, which consequently damages the performance of the BSC network. This can occur when individuals have problems such as configuration or hardware related issues. If a certain number of missed terms are recorded, there are risks of validators being able to vote users out so they receive less or no rewards. 
Double Signing
Refers to the malicious signing of more than one block that includes the same height and parent block. BSC already has its ways to prevent this so only a deliberate attack allows this to occur.
Status of Binance Smart Chain
The staking mechanism and mainnet for Binance Smart Chain should be launched end of August or early September 2020. Currently, Binance Smart Chain is in testnet phase.
Conclusion
Overall, this dual-chain architecture is enticing for those who want to experience fast trading while building their decentralized apps on one platform and we are definitely excited and anticipating their mainnet launch. Currently, you can go onto the Binance Chain testnet and test it out, as well as request free testnet tokens. Based on the functions of BSC, we highly recommend experienced traders and programmers to give Binance's new feature a try. For those who are new to Binance, it is also worthwhile to test and try out the platform in anticipation for the full launch.
Decentralised Finance (DeFi) series: tutorials, guides and more
With content for both beginners and more advanced users, check out our YouTube DeFi series containing tutorials on the ESSENTIAL TOOLS you need for trading in the DeFi space e.g. MetaMask and Uniswap. As well as a deep dive into popular DeFi topics such as decentralized exchanges, borrowing-lending platforms and NFT marketplaces
The DeFi series on this website also covers topics not explored on YouTube. For an introduction on what is DeFi, check out Decentralized Finance (DeFi) Overview: A guide to the HOTTEST trend in cryptocurrency
Tutorials and guides for the ESSENTIAL DEFI TOOLS:
More videos and articles are coming soon as part of our DeFi series, so be sure to SUBSCRIBE to our Youtube channel so you can be notified as soon as they come out!