Bibox is the world's first AI-powered digital asset exchange with a Swiss VQF license. It offers robust security, a wide range of trading options, innovative listing programs, and top-notch customer service. This exchange review will include both pros and cons of Bibox, including information about the company, the main features and even more.
Sign up here to get started.
What is Bibox?
Bibox, the pioneering AI-powered digital asset exchange, has been providing robust and secure systems. Moreover, it also provices a wide range of trading options, innovative listing programs, and top-notch customer service since 2017. As one of the few blockchain enterprises with a Swiss VQF license, Bibox has earned the admiration and trust of cryptocurrency experts and traders around the world.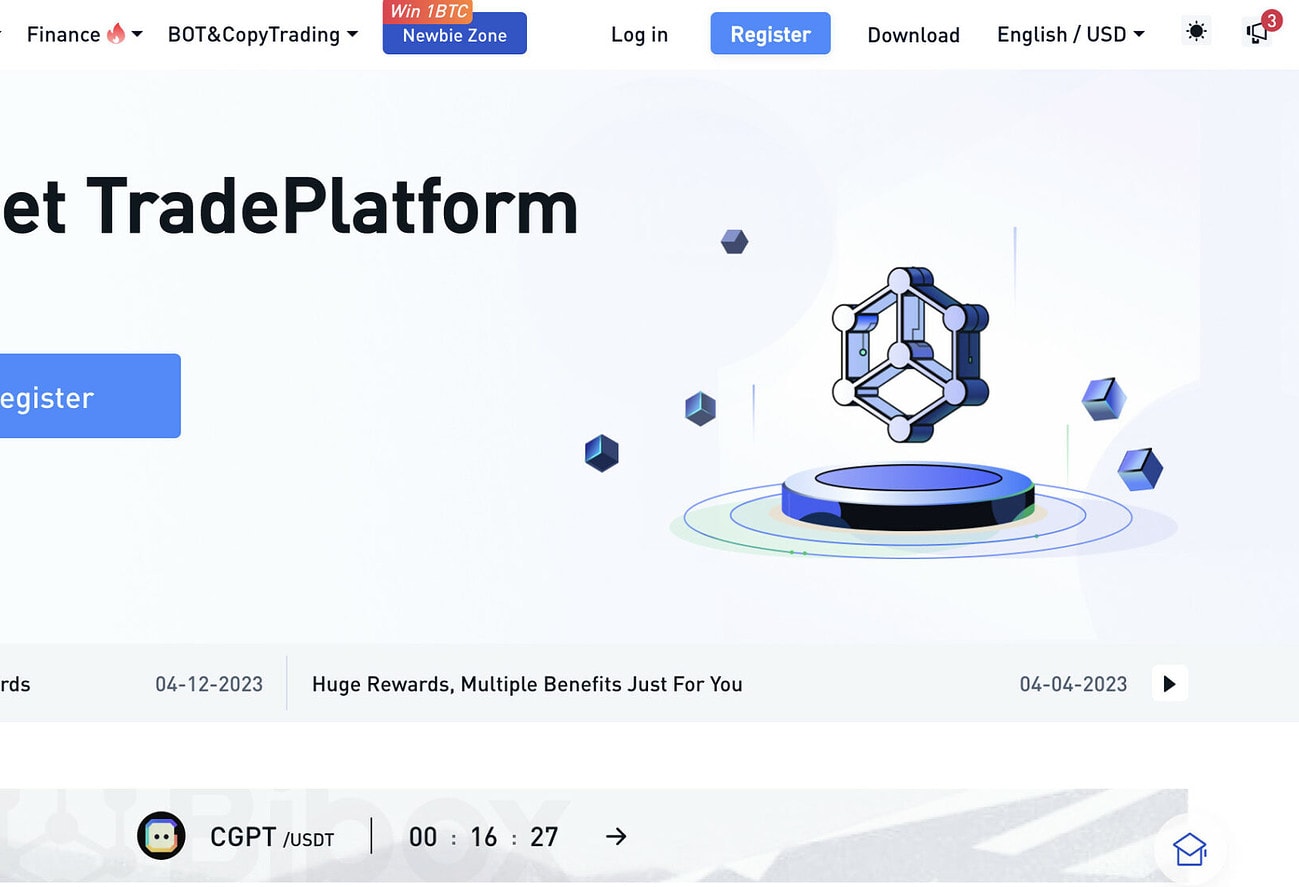 Bibox offers daily trading services trusted by over 1 million cryptocurrency traders and investors from 160 countries, particularly in Asia, Europe, and North America. With 579 tokens and 826 trading markets, Bibox's spot daily trading volume exceeds 1 billion US dollars.
Bibox offers a variety of products. Bibox CopyTrading is a pioneering cryptocurrency trading platform that allows traders to share in the profits of fund management strategies. Additionally, Bibox's AI-powered Trading Bot helps users maximize their trading profits through advanced quantitative analysis. Furthermore, Bibox's SELECTED service offers a unique line of listing and trading services. It includes Super Start, Pre-taste, and S-POOL, which only feature high-quality blockchain projects. Bibox users can take advantage of discounted prices and near-zero risk of loss when purchasing project tokens.
Key Features and Advantages of Bibox
Low Trading Fees
When selecting the best crypto exchange platform, it is essential to consider trading fees as they can significantly impact your profits. To maximize your earnings, it is wise to opt for a platform that offers low trading fees. Bibox offers some of the lowest trading fees in the top-tier crypto trading platform industry, with takers paying 0.20% and makers paying 0.075%. This is lower than the industry standard of 0.25% – 0.15%.
Makers are those who create an order to be filled by someone else, while takers are those who place an order to buy cryptocurrencies at a specific price. Generally, makers pay lower fees than takers. Bibox does not charge any fees for deposits, however, a 1% fee applies for withdrawals. The minimum withdrawal amount is $15.
Decentralized Exchange
Bibox is a popular decentralized exchange, allowing users to directly trade cryptocurrencies without any controlling institutions. This type of peer-to-peer (P2P) trading is becoming increasingly popular due to its lack of centralized control. Decentralized exchanges make registration quick and easy, allowing you to start trading without having to provide your personal information.
Decentralized exchanges such as Bibox offer users more freedom, but they often have lower liquidity than centralized crypto exchanges, resulting in less stable prices for assets. Additionally, there are some issues that people distinguish when discussing decentralized crypto exchanges, which will be discussed further in this Bibox exchange review.
Easy to Use
It's essential to select a platform that makes it easy to buy and sell cryptocurrencies if you're into daily trading. Fees and security measures are important, but usability should not be overlooked.
Bibox offers a user-friendly interface, making it ideal for beginners. The exchange provides all the necessary information to make informed decisions. These includes the current value, lowest price per day, fluctuations in the trade, and the highest price for 24 hours. Additionally, Bibox has a mobile app available for IOS and Android devices, which can be downloaded from the App Store and Google Play.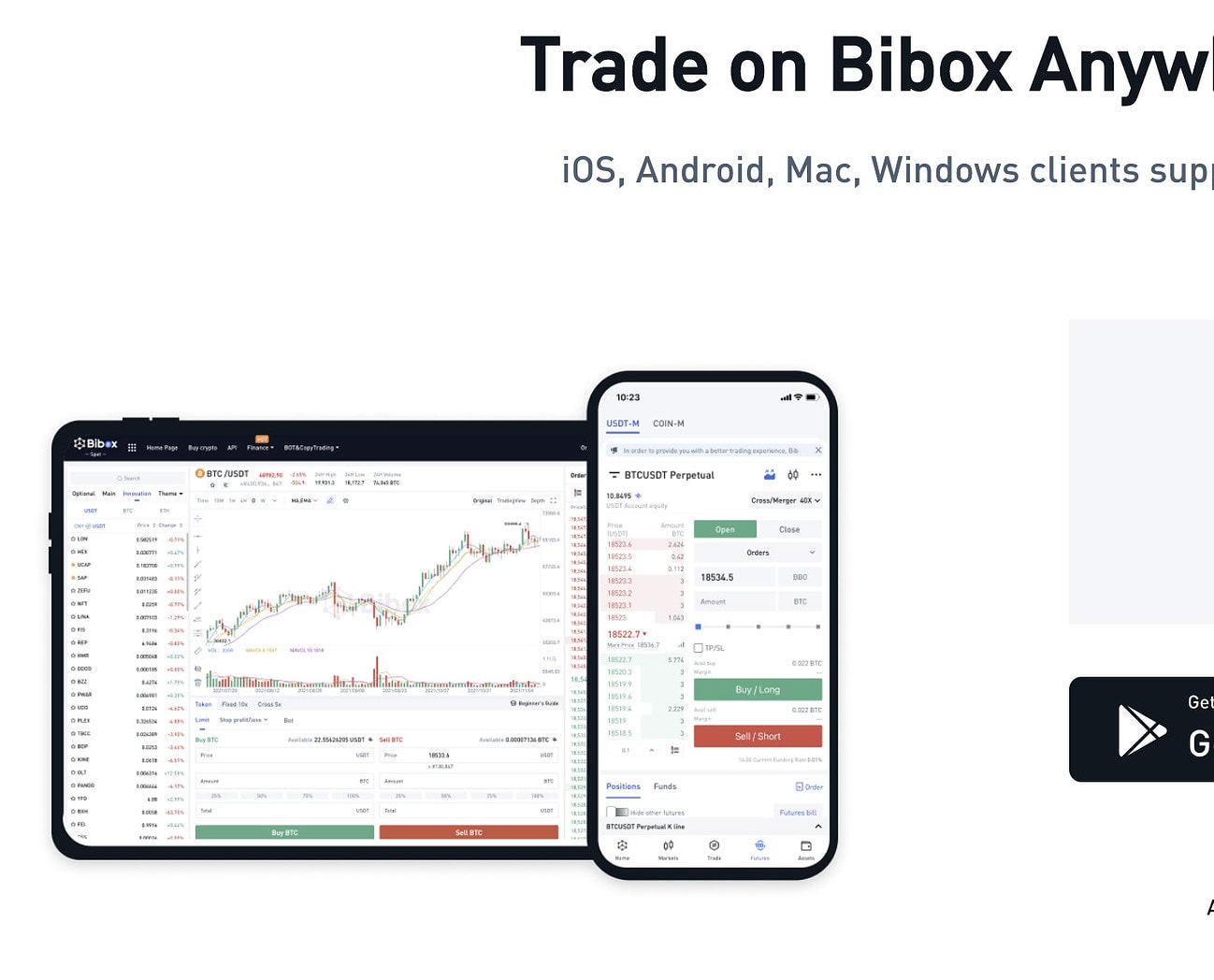 Very Secure
Bibox ensures the highest level of security for its users with SSL encryption technology, multi-factor authentication and Google 2-Step Verification.
For maximum security, it is recommended to store the majority (if not all) of your cryptocurrencies in secure wallets such as Ledger (Nano S and Nano X) and Trezor (One and Model T). These cold wallets keep your private keys offline, ensuring your assets are kept away from prying eyes.
Key Disadvantages of Bibox
Despite all the positive aspects of Bibox exchange, there are some drawbacks that should be taken into consideration. For those looking for a reliable cryptocurrency exchange platform, Binance, Kraken, and KuCoin are more suitable options.
Doesn't Support Fiat Currencies
One of the biggest issues with Bibox is that it does not support fiat currencies, meaning users must first purchase cryptocurrencies on another platform and then transfer them to Bibox. To make this process easier, we have provided a step-by-step guide on how to make a deposit at the end of this Bibox review.
Bibox offers a wide selection of over 50 cryptocurrencies to trade against Ethereum or Bitcoin, including but not limited to:
BTC
ETH
LTC
EOS
BIX
NEO
QTUM
etc.
After buying cryptocurrencies, you can choose from a wide range of available options, so you don't have to worry about the supported coins.
Negative Reviews Online
When conducting research for this Bibox review, I encountered a large number of negative reviews. Despite not having any issues when using this platform, I paid close attention to what other customers had to say. It's wise to be cautious when reading online reviews about any company. Many customers have reported that they were unable to delete their accounts, as well as claims of fake volume and hidden fees.
Decentralized = Not Controlled
Bibox is a decentralized exchange, meaning that it operates without a central authority. This is beneficial as it allows users to trade directly with each other, without their personal information being stored on the platform. However, this also means that there is no central authority to provide oversight or protection.
Since there is no central authority controlling the platform, it is vulnerable to hacking. If the platform is hacked, users will not be able to recover their cryptocurrencies.
How to Use Bibox Cryptocurrency Exchange?
How to Create an Account on Bibox?
Create your account on Bibox quickly and easily by following these simple steps:
Create an account on Bibox by clicking the "Sign Up" button on the homepage.
Sign up with your email and password, and enter a referral code (if you have one) to get started.
Click "Receive SMS" to get a 6-digit code for verification.
Create an account now by adding the code to access our services.
The Bibox registration process is quick and easy, as it is a decentralized crypto exchange.
How to Make a Deposit on Bibox?
Make a deposit to your account quickly and easily with this step-by-step guide. Follow these simple steps below:
Access Funds Quickly by Clicking the "Funds" Button at the Top Right Corner of the Page.
Deposit funds quickly and easily by clicking the "Deposit" button at the top of the page.
Choose the currency you wish to deposit and get started now.
Copy your deposit address by clicking "Click to copy" after selecting the asset.
Transfer your cryptocurrencies from your trading platform or wallet to your deposit address by selecting "Withdraw" or "Transfer".
Scan the QR code to quickly and securely transfer your assets.
If you're looking for the simplest way to purchase cryptocurrencies, Binance is the perfect choice. This digital currency exchange allows you to easily buy the most popular coins with your credit card. Unfortunately, Bibox does not support fiat currencies, so you cannot purchase BTC, ETH, or any other cryptocurrency on the platform with your credit card.
Choose reliable wallets like Ledger and Trezor to protect your assets from theft. These hardware wallets will ensure your assets are secure.
Conclusion
Bibox is a Singapore-based decentralized cryptocurrency exchange that offers low trading fees, good security measures, and an easy-to-use platform. However, it does not support fiat currencies, is not regulated, and has received multiple negative reviews online.
It is essential to keep your cryptocurrencies secure at all times when using this platform. To ensure the safety of your digital assets, we recommend using a reliable hardware wallet such as Ledger or Trezor. These wallets are also known as cold wallets as they store your private keys offline.
This Bibox review should have answered all of your questions and prepared you to join the crypto world. If you prefer exchanges that support fiat currencies and have a better reputation, there are plenty of options to choose from.
Disclaimer: Cryptocurrency trading involves significant risks and may result in the loss of your capital. You should carefully consider whether trading cryptocurrencies is right for you in light of your financial condition and ability to bear financial risks. Cryptocurrency prices are highly volatile and can fluctuate widely in a short period of time. As such, trading cryptocurrencies may not be suitable for everyone. Additionally, storing cryptocurrencies on a centralized exchange carries inherent risks, including the potential for loss due to hacking, exchange collapse, or other security breaches. We strongly advise that you seek independent professional advice before engaging in any cryptocurrency trading activities and carefully consider the security measures in place when choosing or storing your cryptocurrencies on a cryptocurrency exchange.