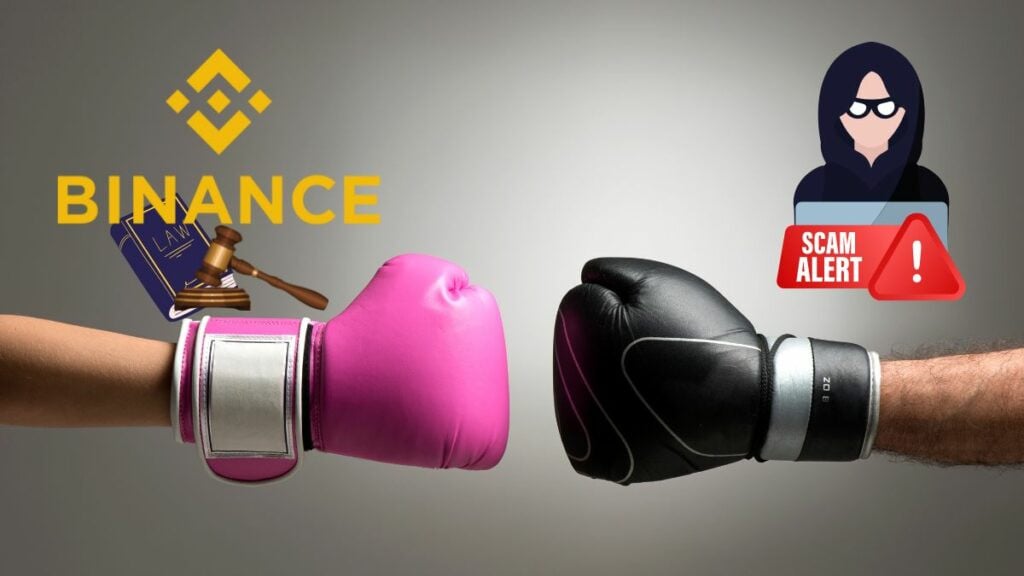 In the wake of growing malicious activities in the crypto space, more and more organizations and individuals are joining forces to battle the beast. Crypto investors have been hit hard by crypto-related frauds and scams, resulting in massive losses worth billions of dollars. This has resulted in increased support from law enforcement agencies to fight against such cybercrime. Among the most prominent names in the crypto space is the leading cryptocurrency exchange, Binance. Owing to the growing number of malicious acts, the crypto platform has stepped up its game and partnered with various law enforcement agencies to launch a unique Joint Anti-Scam Campaign. On 3rd March 2021, Binance announced the launch of the campaign in Hong Kong, with plans to expand it to other territories in the near future.
The pilot program was initiated in collaboration with the Hong Kong Police Force's Cyber Security and Technology Crime Bureau. Under this project, alerts are issued to potential victims to encourage vigilance. For instance, when customers tried to make a withdrawal, they were subjected to warning messages with details about common scams and tips to prevent such acts.
According to Binance's investigation, 20.4% of the potential victims either dropped the transaction or chose to investigate further for potential scams. From the outset, the program was unrolled with dedicated crime prevention messages for Hong Kong residents, as well as recommended resources from different outlets such as Scameter, the Anti Deception Coordination Center, Cyber Defender, and Binance Verify.
The warning also included facts and figures related to the number of scams that occurred in Hong Kong since 2001 and made clear that Binance will never directly contact its customers. By launching the campaign, Binance intends to prevent similar scams from occurring and ensure a secure crypto ecosystem. The crypto platform is optimistic about the project's success and is eager to work with law enforcement in other countries for bespoke warnings.
The crypto space has been the hotspot for a plethora of scams, from phishing to social engineering. For example, earlier this year, a fake version of the ETHDenver convention website was deployed to steal information from unsuspecting victims. The same month, an influencer in the nonfungible token (NFT) industry also became a victim of a phishing scam, losing over $300,000 worth of CryptoPunks.
To prevent such occurrences, the crypto industry needs to work in tandem. Recently, Europe combined efforts with crypto entrepreneurs and businesses to tackle cross-border crypto scams. Operated by Europol and Eurojust, the two EU agencies for law enforcement cooperation, the investigation identified a criminal network engaging in online investment fraud and incurred over €2 million in losses.
The investigation unearthed a criminal network of 261 individuals over four call centers, mainly in Bulgaria, Cyprus, Germany, and Serbia. Apart from the seizure of assets, cars, and electronic equipment, a total of 30 individuals were arrested. Notably, the Europol suspects that the total losses though unreported cases could amount to hundreds of millions of euros.
Statistics from the bug bounty and security services platform Immunefi revealed thatcrypto industry losses reached 3.9 billion dollars in 2021. The report suggests that 95.6% of the total loss was attributed to hacks, whereas frauds, scams, and rug pulls comprised the remaining 4.4%. BNB Chain and Ethereum were seen to be the most targeted blockchains.
The crypto community needs to join forces to protect itself from malicious activities. Besides proactively identifying and addressing vulnerabilities, industry bodies and organizations must take steps to educate the general public about such scams. For example, the UK National Crime Agency recently setup a crypto unit to deal with crypto-related crimes.
It is quintessential that people feel the need to be vigilant when it comes to crypto investments. Artificial Intelligence has been used to create fake videos, known as Deepfakes, of well-known personalities fooling the unsuspecting viewers. Users should always conduct due diligence before taking any serious action related to crypto transactions and refrain from clicking suspicious-looking links.
All in all, the crypto industry needs greater awareness and proactive preventative measures. With the increasing support of governments and law enforcement, platforms such as Binance are taking innovative steps to secure the ecosystem and protect users from fraudulent activities. All the stakeholders must continue to join forces to not only tackle the beast but also build a robust crypto system.